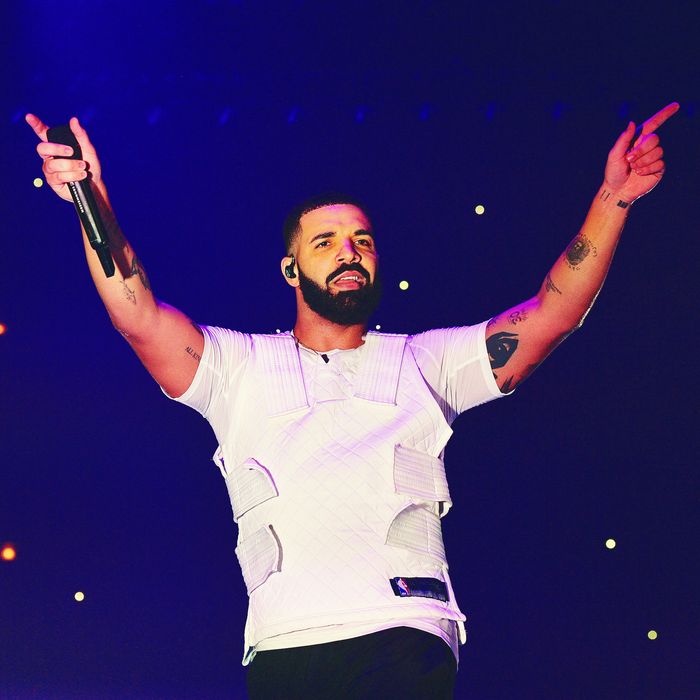 Drake.
Photo: PRINCE WILLIAMS @ATLPICS/WireImage/Getty Images
Drake, a festive man, threw a huge, elaborate birthday party to celebrate his turning 32 years old. The theme of the party was the early 2000s, so there was a wall of Blockbuster videos (RIP), an entire 7-Eleven, and a room filled with Pimp My Ride-inspired luxury cars. Guests wore lots of velour tracksuits, low-slung jeans, airbrushed tank tops, and trucker hats.
Drake actually wore two outfits to his party (wouldn't you, if you paid for an entire 7-Eleven to be at your party?). The first was a navy blue velour tracksuit, and the second was the classic basketball-jersey-over-T-shirt combo.
But maybe the best detail about his party was that he gave out plenty of party favors. All guests received T-shirts with Drake's face on them, with the words "The Boy" across the top — but that wasn't the best gift. Page Six reports that Drake also gave out Chanel handbags to the women who attended the party. This isn't too shocking, considering he hoards Birkin bags for his future soulmate, but assuming he invited a lot of women to his party, that's a lot of Chanel.
The birthday party was a private affair, but Shay Mitchell and Kendall Jenner were both reportedly in attendance, which means they likely got Chanel bags as party favors.
A small request, Drake (also, happy birthday): Since it's unlikely I'm going to be your soulmate — we're astrologically incompatible — and since I am therefore unlikely to inherit wealth via Birkin bags, could you at least invite me to the next party where you hand out $3,000 purses?