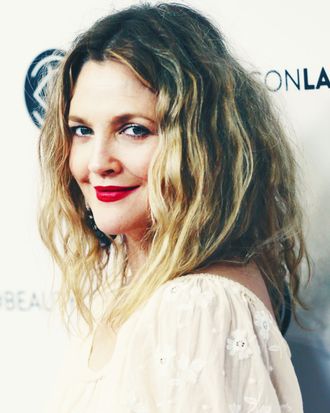 Drew Barrymore.
Photo: David Livingston/Getty Images
In early October, photographs of an interview that Drew Barrymore apparently gave to EgyptAir's in-flight magazine began to circulate on Twitter, in which the actress made remarks about motherhood and body-shaming that were so bizarre, many were quick to conclude that there's no way the interview was legitimate. Also, many felt there was no way that Barrymore would approve an article that reads, as this one did, "She has been subconsciously seeking attention and care from a male figure; but unfortunately things do not always go as planned." EgyptAir, in response to Barrymore's team's claim that the article was "bogus," pulled the issue of the magazine less thank two weeks later.
How this article came to exist, to this day, is still unclear; it's likely we'll never really know.
What exactly made the report so surreal?
The … whole thing? First of all, the way the writer introduces Barrymore is comically offensive:
Despite being unstable in her relationships most of her life, despite the several unsuccessful marriages and despite the busy life of stardom that dominated her life for several years; the beautiful American Hollywood actress Drew Barrymore has recently decided to temporarily take an unlimited vacation to play her most crucial role as a mother.
And Barrymore's responses to the writer's questions are equally as bizarre.
"Barrymore" on the status of women today: "I cannot deny that women made a great achievement over [the] past century, there is significant progress recorded by people who study women status throughout history."
And "Barrymore" on her "secret" to losing post-baby weight: "I feel overwhelmed when someone tells me that I have regained my image and managed to lose that extra weight, especially that I felt depressed due to the significant increase in my weight after delivering Frankie. However, I find this a great opportunity to encourage every woman who is overweight to work on regaining her beauty and body, especially that it is not as hard as one may think; it is all about determination and following the appropriate diet under the supervision of a physician."
This is fake, right?
A spokesperson for Barrymore told HuffPost the actress's team is "working with the airline PR team," and insists that she "did not participate."
But the writer and EgyptAir say it's legitimate?
Well, yes. The writer, former Hollywood Foreign Press Association president Aida Takla O'Reilly, defended the interview on Twitter after photos of it went viral.
" … the interview with Drew Barrimoor [sic] which took place in New York is genuine &far from fake," she tweeted. "As far as Drew we interviewed her several times I saw her grow up before my eyes she is charming and talented."
EgyptAir stood behind its writer, saying that the profile was "a professional magazine interview."
So who's telling the truth?
Well, it's possible that everyone is, as a source close to the situation offered up a totally plausible explanation: That O'Reilly certainly did conduct the interview, but that when it came time to translate the story into English, the message of the original article was compromised.
"This truly is an innocent translation job that somehow made it through the channels," the source told People.
On October 4, the HFPA confirmed that it is investigating the controversy, per a statement obtained by Vanity Fair.
"We are aware that an article under the byline of our member Dr. Aida Takla-O'Reilly regarding Drew Barrymore, published in EgyptAir's Horus magazine, has come into question," the statement reads. "Based on our preliminary investigation, we understand that parts of the article in question were not written by Dr. Takla-O'Reilly and that other portions of the article may have come from other sources. We regret any distress caused to Ms. Barrymore by this article."
While the results of the aforementioned investigation have not yet been revealed, on October 16, Page Six reported that EgyptAir has pulled the entire issue of the magazine.