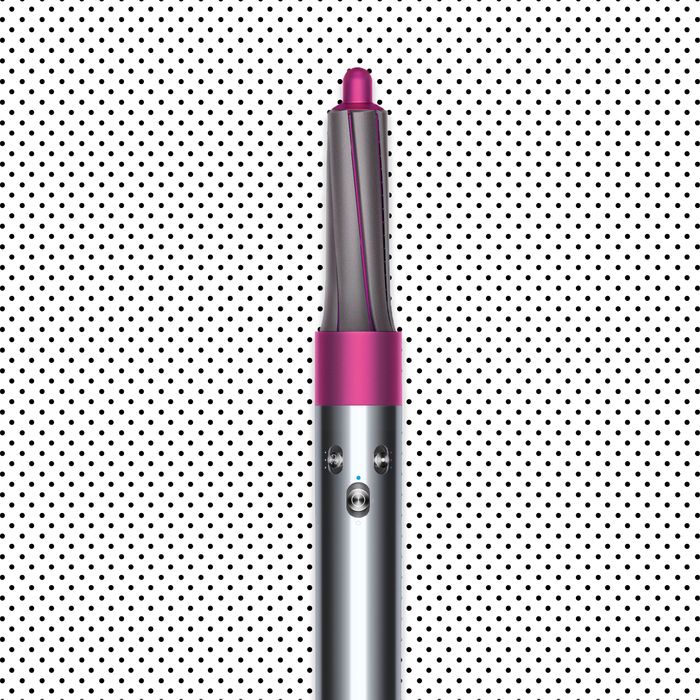 Excellent news for anyone who has continued chronic heat-styling despite its damaging effects because the end result looks good. Dyson has just launched a new hair-styling product that can curl, wave, smooth, and dry hair using air currents and a lot less heat. It's called The Airwrap styler and it's Dyson's second launch in beauty market, the follow-up to its successful Supersonic hairdryer that is sometimes plated in 23.75 karat gold.
Unlike Supersonic, Airwrap looks a lot less like a futuristic doughnut and a lot more like the traditional curling iron we're used to. The motorized base comes with six detachable heads for every styling need: A dryer head, a firm smoothing brush, a soft smoothing brush, a 1.6 inch Airwrap™ barrel, a 1.2 inch Airwrap™ barrel, and a round volumizing brush. And then there's the air inside.
The Airwrap literally curls hair for you. Thanks to a physical phenomenon known as the Coanda effect, the barrel gently draws hair to the rod and wraps it around, like magic. This method of air styling means you can curl your hair wet or dry, as it uses hot air rather than heat. You can also still get the wave, curl, or smoothness you desire at a much safer heat of 300 degrees or lower. Most curling irons heat up at the usual 360 to 400 degrees and come with the signature burning smell that signals that yes, you are still styling your hair.
"My reaction was, like, this is so incredible," Jen Atkin, Ouai founder, Kardashian hairstyler, and Dyson brand ambassador tells the New York Times. Watching the Airwrap in action is so incredible. The air current technology makes it looks like your hair actually wants to be heat-styled as it gladly wraps itself around the tool all on its own. This not only means fewer self-inflicted heat-styler burns for users, but removal of that guilty feeling one gets when watching hair emit visible steam as it's unwillingly clamped against a 400-degree iron.
The Airwave styler launches today and is available in two different attachment bundles for $499.99: Volume + Shape "for fine and flat hair," (dryer, soft brush, round brush, 1.2 inch barrels) and Smooth + Control "for frizz-prone hair" (dryer, firm brush and both barrels.) Or you can pick up a Complete kit with all six attachments for "multiple hair types" for $549. Either way you get healthier hair and a tan, cushioned leather storage case.
If you buy something through our links, New York may earn an affiliate commission.