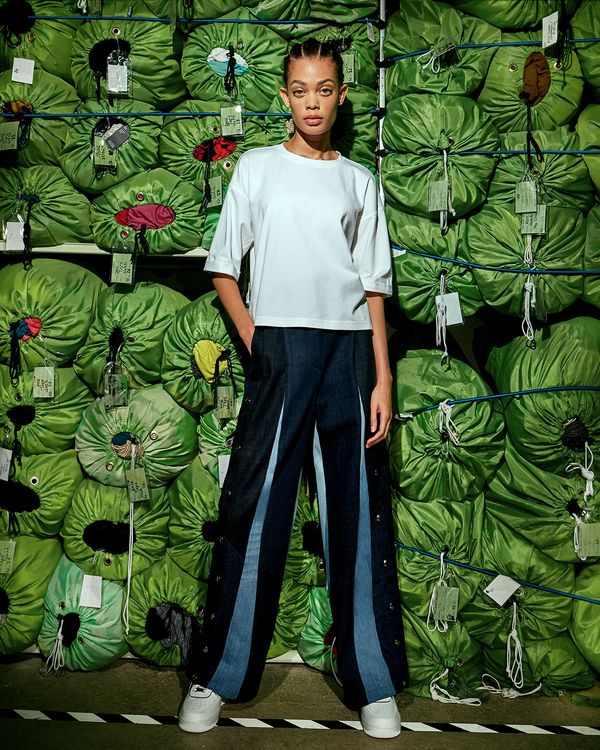 Denim pant for $478, (resewn from 7 pants).
Photo: Courtesy Eileen Fisher x Public School
The last time we checked-in with Eileen Fisher, she was being shadowed by streetwear designer Heron Preston, who eagerly volunteered himself as her intern last winter. He spent a week taking notes at the brand's Tiny Factory in upstate New York, where over 1 million used and damaged garments have been given a new life under the Eileen Fisher take-back program, which is called Renew. Now, Fisher has officially teamed up with designers Dao-Yi Chow and Maxwell Osborne, the duo behind Public School, with a similar mission.
After visiting Eileen Fisher's Tiny Factory themselves, Chow and Osborne were invited to set up shop in Irvington, New York, working with the Renew design team to take used garments like Fisher's classic minimalist blouses and make them new (and cool) again. The result is a zero-waste Public School x Eileen Fisher collection comprised of three ready-to-wear styles — two shirts, one sweater, and one hat — all made from resewn garments, and therefore all one-of-a-kind.
Although the clientele of Eileen Fisher and Public School come from decidedly different demographics — much like Heron Preston and Eileen Fisher — both are New York–based brands with a vision for a more comfortable, sustainable future.
"This is one of the most important collaborations we've worked on in terms of providing visibility and awareness around a critical issue — sustainability within our industry," Chow and Osborne wrote in a statement. They hope to eventually implement sustainable standards into their own practices. "Eileen has been such an amazing leader in the sustainable space, so we're really fortunate to be able to work and learn from her and her team."
"The next generation of designers are the future of the industry," said Fisher in response. "Through this experience, it is clear that there is synergy between our two brands to design garments that are effortless. It was energizing to see their design take on our brand concept and bring something unexpected to the table."
In fashion, not only do trends and clothes come and go, but also entire brands. Public School has been absent from the New York Fashion Week calendar for the past few seasons, so we're happy to see them back on the scene. Nothing says "comeback" quite like sustainability.
See the full Eileen Fisher x Public School lookbook, below.