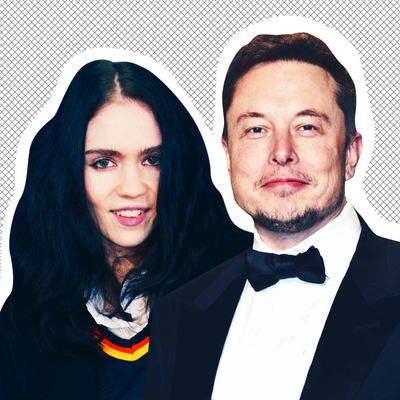 Elon Musk and Grimes.
Photo: Getty Images
When Elon Musk and Grimes unfollowed each other on social media, it was suspected that Grusk was over. But over the weekend, Elon and Grimes were spotted at a pumpkin patch in Los Angeles with Elon's five sons. The Daily Mail first posted photos of the couple with Elon's twins Griffin and Xavier, 14; and triplets Kai, Saxon, and Damian, 12.
Elon and Grimes haven't been spotted together since August. Their relationship was suspected to be over around the time of the debacle with Azealia Banks, Elon's tweets about selling stock for $420 (which was reportedly done to make Grimes laugh), and Elon accusing a British diver who rescued the soccer team from the Thai caves of being a pedophile.
Grimes and Elon's sons were photographed petting a puppy at the pumpkin patch and laughing with each other, and Elon appeared to be generally pleased, though much of his face was obscured by large, reflective sunglasses. Elon shares custody of his sons with his ex-wife, who he divorced in 2008. He was under investigation by the SEC for his $420 tweets, and forced to resign from his role as chairman of Tesla at the end of September.
Neither Elon nor Grimes has commented publicly on the current status of their relationship. Business Insider reported that in September, Elon followed and unfollowed Grimes on social media, so it's unclear if their pumpkin patch outing is a sign of a stable relationship. Will Grimes be involved in Teslaquila?