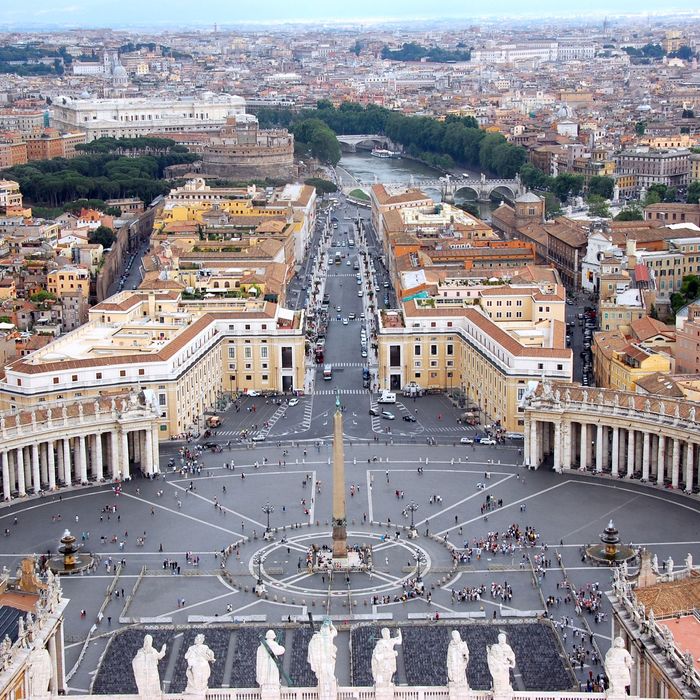 Holy See in Rome.
Photo: Deborah Lynn Guber/Getty Images
Detectives will be investigating to see if human remains discovered on Vatican property earlier this week could be connected to two teenage girls who disappeared in Rome in the 1980s — what has become one of Italy's darkest unsolved cases.
On Tuesday, the Vatican said in a statement that an entire skeleton and bone fragments had been found the day before during floor restoration work on property next to the diplomatic office of the Holy See, the episcopal jurisdiction of the Catholic Church in Rome. Per The Guardian, Italian news agency Ansa reports that the remains could belong to two people.
While the age, gender, and date of death of the deceased humans have not yet been determined, detectives plan to test the DNA to see if it matches that of Emanuela Orlandi, who was the daughter of a member of the Vatican's police, and Mirella Gregori — two 15-year-old girls who vanished 40 days apart in 1983. In June, Orlandi was never seen again after she left her apartment to go speak to a friend; just over a month later, Gregori never came home from a music class. Though the cases bear similarities, detectives never determined that they were connected.
Because of its Vatican links, most of the decades-old theories about the disappearances have centered on Orlandi. Some say that she was taken by a gang to force the Vatican into recovering a loan; others believe that she was kidnapped to pressure officials to release Mehmet Ali Agca, who attempted to assassinate Pope John Paul II in 1981. For the past few decades, Orlandi's brother Pietro has accused the Vatican of its complicity dropping in the case. As recently as June, he organized a related sit-in.
Following the Vatican statement, ABC reports that Orlandi's family lawyer said the announcement provided "little information," and that the family hopes the remains belong to Orlandi so they can "bring her home."
"We are asking Rome prosecutors and the Holy See by what means the bones were found and how their discovery was placed in relation to the disappearances of Emanuela Orlandi and Mirella Gregori," Laura Sgrò said.
However, Vatican spokesperson Greg Burke warned The Guardian that the family will have to wait more than a few days before getting any answers.
"The [outcome of the investigation] isn't anything that will be known in a few days," he said. "It will take some time."