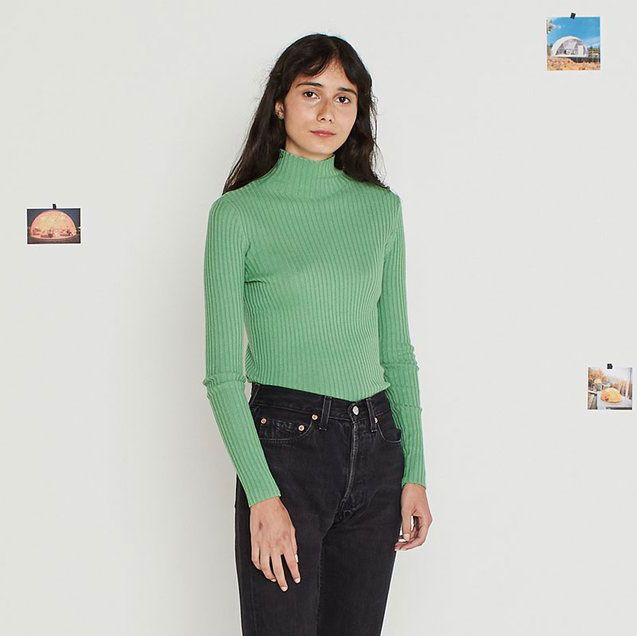 Photo: Courtesy of Entireworld
As soon as we hit October this year, I went straight to Uniqlo to stock up on as many $14.90 Heattech tops as I could afford.
By the second week in October, I was sweating everywhere. It was a mess. I was shedding layers mid-conversation at social functions, taking up more than one of those coveted hangers located underneath bar counters. I went too hard on the Heattech, too soon. But what else is a girl to do?
Enter an $85-dollar green cotton turtleneck sweater from Entireworld, a brand launched earlier this year by former Band of Outsiders designer Scott Sternberg. A turtleneck so good — so flattering and so comfortable — that yes, it's made me reconsider buying exclusively Uniqlo tops.
Entireworld sells what someone in fashion might call "elevated basics." In other words, they're selling you — to quote the brand — "the stuff you live in," like T-shirts and turtlenecks and underwear. But really nice T-shirts and turtlenecks and underwear. Eighty-five-dollar kind of stuff that is deceptively simple and made from fabrics that (hopefully) won't fall apart.
Yes, I rolled my eyes when I heard about yet another "elevated basics" brand. (This isn't even the first one that claims to service the "entire world," or everybody in the entire world.) I raise my fists and yell, "Uniqlo does it better!" anytime they're mentioned in my presence.
But I needed a change. I did the math and realized that I could buy five-and-a-half Heattech turtlenecks, or one nice, elevated turtleneck from Entireworld. I know it doesn't sound like a good deal, but here's why I decided to get the latter: I didn't own anything else like it.
Other reasons include: The color green is the perfect shade of almost-neon. It's thicker than Heattech, so it keeps you warm, but still thin enough to be flattering and not make you sweat, like Heattech fabric does. And, most importantly, it's a two-in-one deal. I usually have to wear sweaters over my Uniqlo tops, but this is a turt that does both. Plus, Jenny Slate has it.
My new Entireworld turtleneck also has emotional value: I got compliments when I wore it. And that's not a brag — it just made me realize how few compliments I get when I wear ones from Uniqlo. (Zero. The number is zero.) There's nothing exceptional about a black Uniqlo Heattech top, which is why it's so great. But I was happy to finally be wearing something with a little personality.
My co-worker has since bought this same Entireworld turtleneck. And when I saw her wearing it this week, you bet I gave her a compliment. It may not be for the whole entire world, but it does work for me and one other person I know. And in New York, that's good enough.