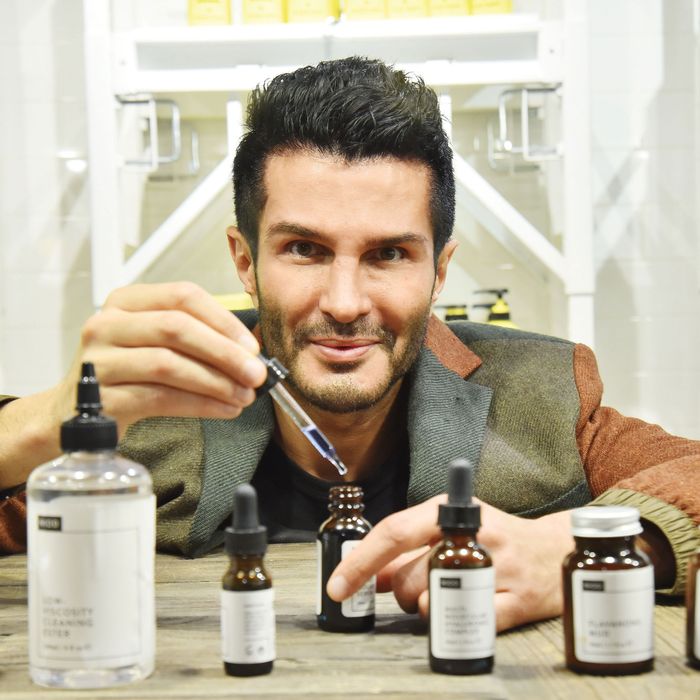 Brandon Truaxe.
Photo: El Universal/ZUMAPRESS.com
The drama at Deciem — the beauty company best known for millennial-friendly skin-care line The Ordinary — truly never ends. Just three days after CEO and founder Brandon Truaxe announced that the company was closing immediately, WWD reports that the Estée Lauder Cos., a minority investor, is suing Truaxe.
On Thursday, Truaxe posted multiple screenshots of the lawsuit and an email from Estée Lauder's lawyer Mark Gelowitz on Deciem's Instagram. According to the email, the company instructed the lawyers to "commence injunction proceedings in the Ontario Superior Court of Justice," as Estée Lauder believes Truaxe violated the terms of their shareholder agreement; therefore, they want to remove him as CEO and appoint Nicola Kilner, the brand's co-CEO (who was fired and rejoined the company in July) as the sole interim CEO. The first appointment before a judge is scheduled for today at 10:30 a.m. in Toronto, where they will determine the date of a hearing.
Under the photos, Truaxe wrote the abstruse caption, "3 emails to say less than one word but more than 0 words."
In June 2017, Estée Lauder Cos. Inc. bought 28 percent of Deciem, which Truaxe said formed "a family-like" relationship between the brands. However, amid all the Deciem drama — much of which centered around Truaxe's bizarre Instagram use, where he publicized the company's internal workings, posted photos of dead sheep, and made 911 calls for help — Estée Lauder has tried to distance itself from the company.
"The Estée Lauder Companies is a minority investor in Deciem, and, as such, we do not control the company's operations, social media, or personnel decisions," a spokesperson told the Cut after Truaxe announced the company was closing.
And while Deciem's company operations have halted, Truaxe has continued to be active on the brand's Instagram. Just an hour after posting the Estée Lauder lawsuit, he Instagrammed a half-empty bottle of liquor — "not of my choice" — that was apparently on the floor outside of his "lovely Master Suite." In the photo, he tagged Hilton Hotels and DoubleTree.
Now would be a good time to stock up on your favorite Ordinary products.