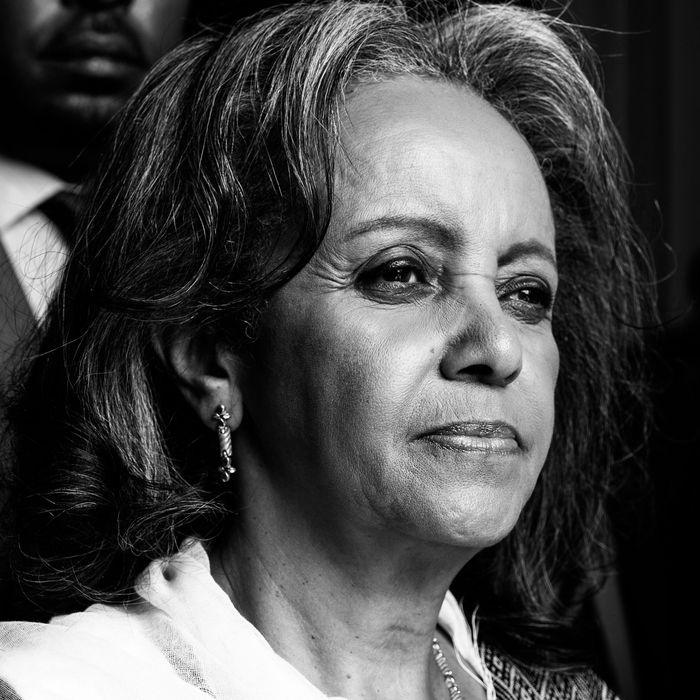 Sahle-Work Zewde.
Photo: EDUARDO SOTERAS/AFP/Getty Images
Ethiopia unanimously appointed its first female president on Thursday, a week after approving a nearly 50 percent "gender balanced" Cabinet. Sahle-Work Zewde, a veteran diplomat and former United Nations official, is Africa's only current female head of state; the region's first female president, Ellen Johnson Sirleaf of Liberia, left office earlier this year.
"I am a product of people who fought for equality and political freedom in this country, and I will work hard to serve them," Sahle-Work said in her acceptance speech to Parliament.
"In a patriarchal society such as ours, the appointment of a female head of state not only sets the standard for the future," Fitsum Arega, the chief of staff for Prime Minister Abiy Ahmed, said on Twitter. "But also normalizes women as decision-makers in public life."
In Ethiopia, women have long endured the effects of gender-based discrimination. "Women and girls in Ethiopia are strongly disadvantaged compared to boys and men in several areas, including literacy, health, livelihoods and basic human rights," according to U.N. Women.
But a record number of women are now taking on positions of power, with 50 female ministers — including the country's first female defense minister — among its newly approved Cabinet. Few countries in the world have governments in which at least half of ministerial positions are made up of women. Two days after Ethiopia appointed its Cabinet, Rwanda followed suit, announcing its Cabinet members would be made up of 50 percent women as well.
"The African continent is leading the way in showcasing that women's engagement and leadership are crucial to lasting peace," U.N. Secretary-General Antonio Guterres said on Twitter.
Sahle-Work, who was the first director-general of the U.N. Nairobi office and recently served as the U.N. secretary-general's special representative to the African Union, said she will focus mainly on achieving peace in a country rife with ethnic conflict. After months of anti-government protest, Ethiopia's recent transfer of power to Ahmed seems to be allowing for more progressive change. Sahle-Work calls the shift "exemplary," and promises to work on improving women's rights in the country.
She added in her acceptance speech, ""If you thought I spoke a lot about women already, know that I am just getting started."