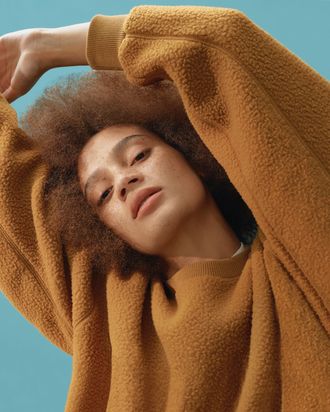 Photo: Courtesy of Everlane
Everlane is going green. The company has made its name on "radical transparency," but now it's leaning into the environmental side of corporate responsibility as well. Since its inception, Everlane's been forthcoming about where the factories are and how much it's marking up its clothes to make a profit. However, some environmental and fashion activists have dinged Everlane for not doing its part to use environmental-friendly materials.
Today, Everlane responded to those critics by announcing a goal to eliminate virgin plastics from its product chain by 2021. That includes no non-recycled polyester in any garments, no plastic bags covering the shoes in their boxes, and no virgin plastic buttons. All plastic used will be 100 percent post-consumer recycled. By March 2019, all products will ship in recycled bags, and by the year 2021, the company aims to eliminate plastic waste in all retail stores, office spaces, and garments.
It all starts with the ReNew collection, which consists of jackets and sweaters made from recycled plastic. Recycled plastic fabric cannot be broken down into new fabrics, but it does find a use for the massive amount of plastic waste that already exists — approximately 9.2 billion tons of it, to be exact.
"Plastic is destroying our planet and there is only one solution: stop creating virgin plastic and renew what's already here," CEO Michael Preysman said in a statement. "Companies have to take the lead and any company that hasn't made this commitment is actively choosing to not improve our environment."
Looking for more eco-friendly Everlane products right this very minute? In August, the company launched its Clean Silk collection, along with the news that it would be cleaning up its silk supply chain, with the goal of using only silk grown in regenerative farming by 2021, and by 2022 using 100 percent recycled water and renewable energy.