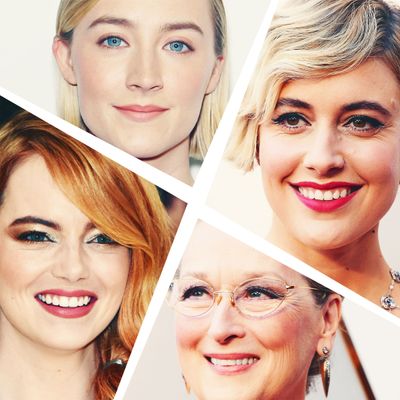 When my mom forced me to read a 600-page novel from the post–Civil War era in middle school, I was initially less than thrilled. That was until I dove in, exploring the distinct personalities and nuanced interior lives of the four March sisters. Though it was written in 1868, Louisa May Alcott's Little Women has become a seminal text for generations of women and girls. When it was announced that Greta Gerwig would be adapting the novel, a corner of the internet nearly exploded, eagerly anticipating next fall's release.
With the team set to begin filming in Boston come October, here's everything we know about the much-anticipated film so far.
Who's in it?
Saoirse Ronan, Emma Stone, Florence Pugh, Timothée Chalamet, and — just recently, Laura Dern — are in talks to star alongside Emma Watson, who will definitively play Meg, and Meryl Streep, who has been confirmed to play Aunt March. While many speculated Stone would take on the role of Meg, the oldest and most sensible of the March sisters, a newly-released clip from the Little Women set shows Watson in the role, in all her frumpy glory.
Though many anticipated that Streep would play Marmie, the March sisters' mother, she will in fact assume what may be a meatier role. "Meryl Streep gets to play any part she wants to play," said Robin Swicord, who wrote the 1994 film version of Little Women starring Winona Ryder and Kirsten Dunst.
Though Aunt March hasn't enjoyed nearly as much screen time as Marmie in most previous film and television adaptations of Little Women, Gerwig's screenplay will focus more on the sisters' young-adult lives after they leave the family home, which likely means more focus on Aunt March and her very contentious selection of which sister to bring to Europe.
So what are the other roles?
The casting "seemed to be straight out of an ex-librarian's secret Tumblr fan-cast fever dream," as Refinery 29 put it. While the team was last reported testing out actors for the role of Beth, Saoirse Ronan is expected to play Jo, the fiercely independent March sister who is basically Lady Bird's predecessor; and Florence Pugh, who starred in Lady Macbeth last summer, will likely take on the role of refined Amy. Chalamet will make an ideal Laurie, the middle-parted rich neighbor who proposes to two of the March sisters. If Ronan and Chalamet sign on, it will mark a reunion for the actors and director, who collaborated on 2017's Lady Bird. (Sadly though, they don't end up together in the book.)
Who will produce it?
Swicord will produce the film for Sony Pictures along with Amy Pascal, whose credits include The Post and Spider-Man: Homecoming, and Denise Di Novi, who worked on Heathers.
How did Greta get involved?
Gerwig joined the Little Women project two years ago, when she was about to complete her script for Lady Bird. Since she's familiar with coming-of-age tales about spunky young women, she was called in to rewrite a draft. She arrived full of ideas and was quickly offered the opportunity to direct. "Greta has a wonderfully associative, well-furnished mind," Swicord said. "Her take on the novel more than convinced us that we could bring something new to the screen."
How will the story be told?
Gerwig's story will center on the March sisters' lives as young adults after Meg, Jo, and Amy leave home. She will portray scenes from the girls' childhood as well, jumping back and forth in time as the women develop their identities and deepen their bond. "It's really taking a look at what it is for a young woman to enter the adult world," Swicord said. "It's a clear-eyed approach to the challenges women face as they try to bravely move into new situations."