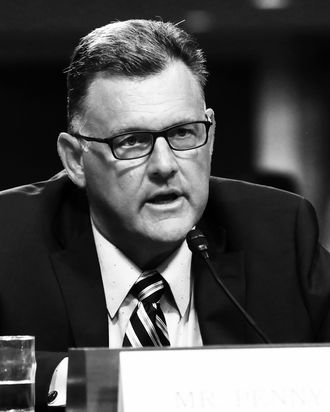 Steve Penny invokes the Fifth Amendment during a hearing about Larry Nassar in June.
Photo: Mark Wilson/Getty Images
In January, former USA Gymnastics doctor Larry Nassar was sentenced to prison for up to 175 years after more than 250 women and girls accused him of sexual abuse. Many of those gymnasts have argued that USA Gymnastics was complicit in Nassar's abuse; emails released in May reveal that the organization covered up for the doctor on at least two occasions.
On Wednesday, Steve Penny, USA Gymnastics' former president, was arrested for tampering with evidence of Nassar's abuse, allegedly destroying or hiding documents that would have provided evidence for an investigation.
While several among the leadership of USA Gymnastics have been accused of enabling Nassar, Penny — who resigned in March 2017 in the wake of the scandal — is the first to be arrested. If convicted, he could face up to ten years in prison and a $10,000 fine. Penny was arrested in Tennessee after an indictment by Texas authorities, who alleged that he ordered the removal of documents from the Karolyi Ranch in Walker County — where USA Gymnastics athletes trained — after learning about an ongoing investigation into Nassar's behavior there.
Once the documents were removed, authorities say, they were brought to the USA Gymnastics headquarters in Indianapolis, where Penny either destroyed or hid them. Despite attempts to recover them, they are nowhere to be found.
In June, when Penny was brought before a Senate subcommittee investigating Nassar's abuse, he pleaded the Fifth Amendment, refusing to answer lawmakers' questions. He was subsequently dismissed from the hearing. According to emails submitted to the subcommittee, one week before USA Gymnastics reported Nassar to the FBI, Penny ordered organization officials not to disclose any reports.
"Our clients are grateful to the Walker County DA that finally, after three years of waiting, Nassar's USAG and USOC enablers are finally being held to account," John Manly, an attorney who represents more than 180 of the women who accused Nassar of sexual abuse, told NPR. "Mr. Penny is currently where he belongs for his enabling a pedophile."