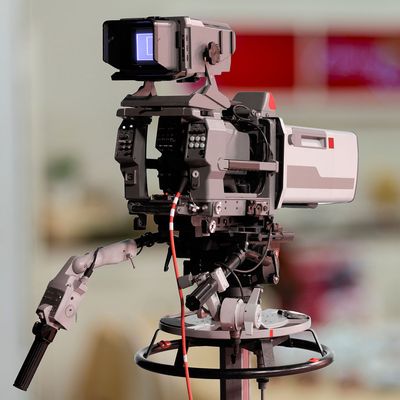 Video camera.
Photo: Rainer Zapka/Getty Images/EyeEm
A Dallas-area man who claimed he was a scout for a famous porn production company in order to trick a number of people into having sex with him will face no serious legal consequences — even after one woman and a legitimate employee of the company, Evil Angels Videos, got the fraud to confess his actions on camera.
According to a new report from the Daily Beast, 28-year-old man named Francisco Reveriano told at least three women that he was an agent for Evil Angel Videos and that he was interested in having them audition for him. In the case of 27-year-old Deana Embry, Reveriano messaged her on Facebook and invited her to a local hotel, where she says she signed contracts, discussed boundaries, and performed oral and vaginal sex with him. It wasn't until she left the hotel that she realized she had been duped.
"I thought it was for a job, but he was just being a pervert," Embry told the Daily Beast.
In early June, an industry agent tipped off Evil Angel's chief financial officer, Adam Grayson, that Reveriano was pretending to be an agent for the company. In one email he saw, Reveriano told a woman, "Our agent will be taking you through the process and hopefully you qualify and agree to work with us." Grayson sent a message to the email address, evil.angel.porn.castings@gmail.com, and told the account to stop what they were doing; Reveriano conceded and shut it down.
But weeks later, Evil Angels received Twitter messages from two more women — one of whom was Embry — saying that they had received similar emails from the fraudster. It was then that Grayson, Embry, and private investigator Gil Wilson teamed up for a sting operation to lure Reveriano to a house, where they would force him to confess. And it worked.
"Both of them texted me back like, 'Oh it worked perfectly, we got everything on camera,'" Grayson told the Daily Beast. "I was like, 'No way — it's like a movie!'" In the video footage, which the Daily Beast reviewed, Reveriano told the camera that while the sex with Embry was consensual, he lied about being an Evil Angels agent because he "wanted to trick her into having sex with [him]."
Embry felt violated after the sting operation, during which she claims Reveriano groped her and pushed he onto the bed, compelling her to file a report with with the Dallas Police Department. According to the Blast, the department issued him a citation for misdemeanor assault, as the police report says that the Reveriano only "grabbed [complainant's] butt." (Reveriano plead not guilty to this charge, and will reappear in court on October 29.)
Embry also filed a report with the North Farm Police Department, alleging that Reveriano tricked her into sex; the department told the Daily Beast that "no offense" occurred, as they claimed the sex was consensual. Between both departments' handling of her reports, Reveriano was both hurt and scared — all she says she wanted was for Reveriano to face consequences so he couldn't victimize any other women.
"[The police] want us as women to come forward when something like this happens, and then they don't do anything about it," she told the Daily Beast. "It's not fair."