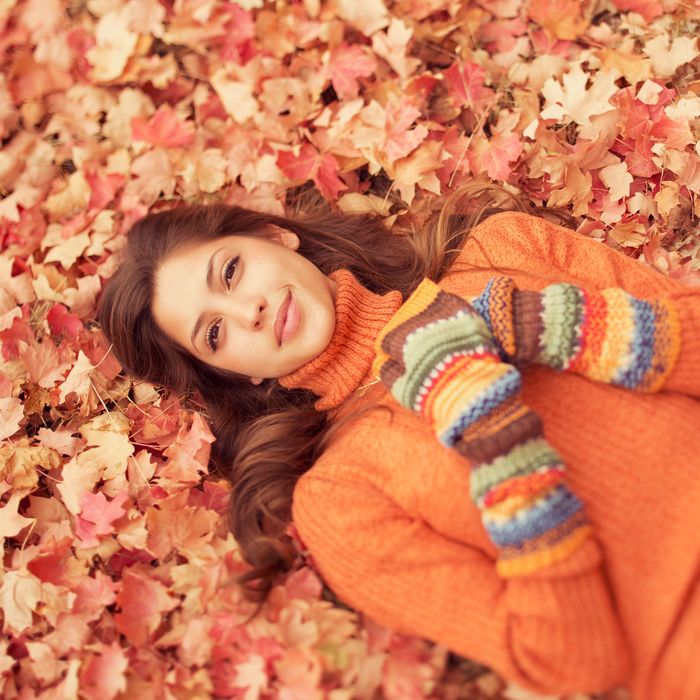 Photo: A.J. Rich/Getty Images
It's peak fall, which means instead of dealing with sweat, sun damage, and sweaty sweat, our skin gets to deal with dry air, cold air, and cold, drying air. This cool-down period before winter doesn't feel as harsh on the skin as a polar-vortex situation, but if you continue to treat your face like it's summertime, there's a possibility you'll be end up flaky, itchy, and splotchy when you don't want or need to be. Here, a quick guide on how to transition your skin-care routine for the most transitional of seasons so you're smooth, glowy, and prepared to take on the scarier weather that's coming for your skin in a matter of months.
Do Some Gentle Purging
Everyone gets hyper-sunscreen aware in the summer months which is commendable, but don't forget that you need to wear it every day. Your pores are most likely full of summer sweat and dirt and could use a good expunging. Mentally return from your metaphorical summer vacation and focus on exfoliating your skin before it gets painful to simply step outside without a ski mask. To get some gentle turnover going in your routine, try Meghan Markle's favorite powder or this gentle exfoliating pumpkin mask if you're particularly invested in fall.
Then Think Twice About Your Cleanser
Exfoliating will help you reset, but your cleanser will help you maintain, well, the cleanliness. Stop using anything sudsy or soapy that strips skin of moisture. Instead, switch to more nourishing cleansing balms and gel cleansers to make up for the lack of moisture in the air we keep referring to as "crisp." Better yet, use both types of cleanser and take this transitional time finally become someone who double cleanses. Lucky for you, K-beauty expert Charlotte Cho just released a convenient double cleansing duo that takes a bunch of the guesswork out of the whole process.
Add a Little Something-Something to Your Moisturizer
Like your cleanser, your moisturizer should get more and more moisturizing as the air gets more drying. Instead of jumping straight to dousing your entire face in oil or layering it in a thick cream, start adding a few drops of face oil into a moisturizer that has historically worked well for you. This ensures that your face not only gets the hydration it needs but that it's really locked in when skin is exposed to the chill it forgot about in the summer.
Then Start Browsing for Humidifiers
That humidity we were complaining about all summer finally left so naturally, we now want it back — in artificial form, at least. As your place of living gets cozier and cozier, there's a good chance your skin is getting thirstier and drier. Start looking for a humidifier now before you start waking up with chapped skin, so you're plugged in and ready to go once the forecasts get bleak and the heater is on full blast.
Eat More Salmon Benedicts
Another way to start setting up your skin for success in fall and the impending winter months it to start eating different things, like way more fish. Almost everything in the fish family — salmon, sardines, anchovies, sablefish, halibut — are packed with the omega-3s that keep your skin all supple. Add eggs, which are full of protein and healthy fats, while you're at it by eating more salmon benedicts in the name of glowing skin. If that's too extreme, permission to take fish-oil capsules instead.
Sorry, you still have to do it in this season, too. Aim for clear pee.
If you buy something through our links, New York may earn an affiliate commission.