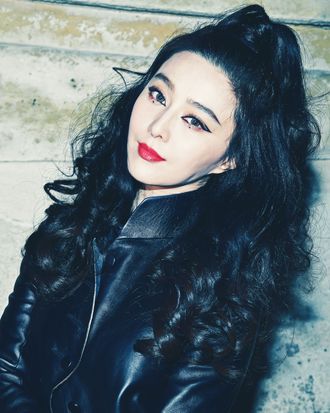 Fan Bingbing.
Photo: Pascal Le Segretain/Getty Images
After her months-long disappearance from the public amidst charges of tax evasion, Fan Bingbing — China's highest-paid actress — has been spotted at Beijing Capital airport. In a video posted by Baidu News and shared on Chinese social media site Weibo, she was seen in dark glasses and a baseball cap, being followed by a man with a large umbrella.
In early October, it was reported that Fan — most famous in the U.S. for her role as Blink in the X-Men franchise — had been fined nearly $130 million for tax evasion, accused of using "yin-yang contracts" to avoid paying taxes on the entirety of her paycheck. She accepted the charges and apologized in a lengthy Weibo post, her first activity on social media since suddenly disappearing from the public on July 1.
"I failed my country which nurtured me; I failed the society which trusted me; I failed the fans who liked me," she wrote. "Without the Party and the state's good policies, without the love from the people, there would have been no Fan Bingbing."
While fans still don't know where Fan has been all this time, a report from the South China Morning Post suggested she was released in late September from a "residential surveillance at a designated location," which one unnamed source described as a "holiday resort." It is reportedly located in the coastal province of Jiangsu, where government officials have previously been held for investigation. Prior to the report, fans speculated that she had been taken under the custody of the Chinese government, though some spread that she had fled to L.A. for asylum.
The Chinese government has led an increased focus on punishing tax evasion in the entertainment industry; according to CNN, Fan's case was clearly designed as a warning to other high-profile celebrities.