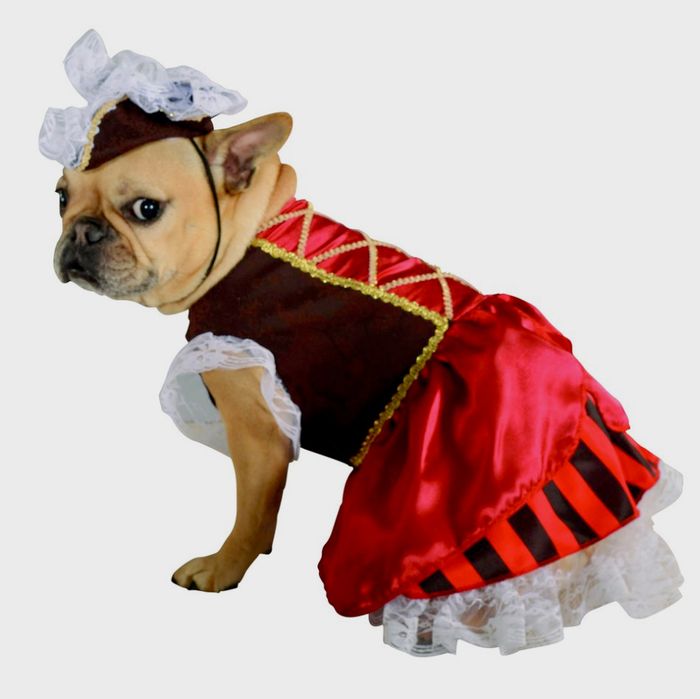 Fashion Nova "Pirate Girl" pet costume.
Photo: Courtesy of Fashion Nova
While trying to find a cheap and fast Cher costume for myself on Fashion Nova's website this fall, I made an important discovery: the brand is now also making cheap, sexy, tongue-and-cheek costumes for pets.
Yes, it's true. Fashion Nova dog costumes such as classics like "Pirate Girl" and "Police Dog" are currently on sale for less than $15, along with more culturally relevant, meme-worthy costumes like "Jokester Villain," which comes with a tiny dog wig, and my personal favorite, "Walking Vet Pet." As far as I can tell, this is the one time of year that this offer stands on Fashion Nova dot com, so now is your chance.
For those unfamiliar with Fashion Nova, it's perhaps best described as "the ultrafast fast-fashion brand that offers streetwear with high stretch content to women 16 to 35." The brand has been made popular (like 13-million-Instagram-followers popular) with the help of "Nova Babes" (paid enthusiasts) like Cardi B, Nicki Minaj, the Kardashians, and Amber Rose. As Cardi B says on one of her recent singles: "I could buy designer, but this Fashion Nova fit."
Like all of Fashion Nova's products, the brand's dog costumes come in a range of sizes. And! The best part is that many of the dog models shown on the website pose just like their human counterparts with the signature, seductive "Look Back At It" (L.B.A.I) pose. Woof!
Halloween costumes for dogs are a controversial subject. Some think they are great enough to warrant an entire parade, while others believe they should be outlawed for good. But when you think about it, how often in a dog's life does it get to be sexy, let alone a sexy pirate? Maybe it just wants to look cute. And honestly, we should be paying more dogs to be influencers. Just saying.
If you're considering dressing your dog in Fashion Nova for Halloween this year, below are some of our favorite costumes.