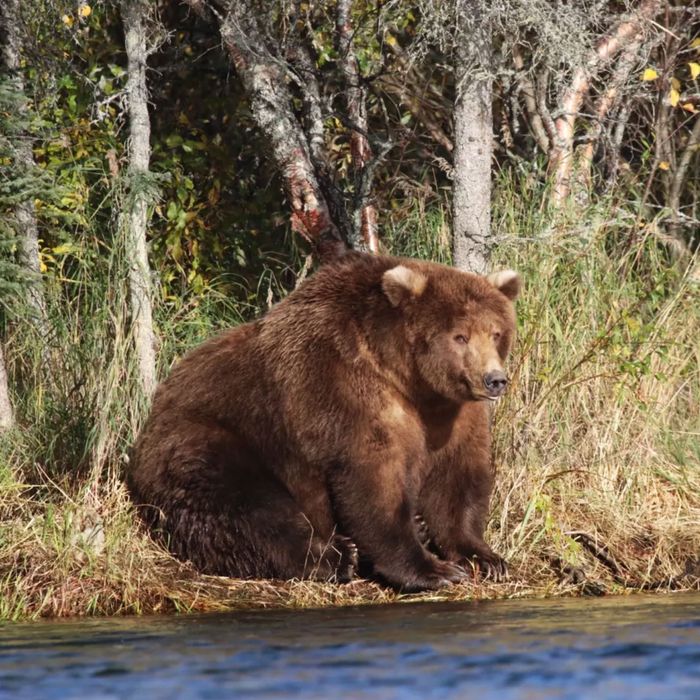 The beautiful 409 Beadnose.
Photo: Katmai National Park
Fat Bear Week — a fleeting celebration of enormous, perfect brown bears — has sadly come to an end. The battle started last week with 12 beefy boys and girls in Alaska's Katmai National Park, and culminated today in a Facebook showdown between the two finalists, bear 747 and 409 Beadnose. Though all the bears have put in admirable effort and showmanship, while having absolutely no idea that this contest is happening, there can only be one America's Next Fattest Bear. And the winner is: 409 Beadnose.
409 Beadnose received about 6,300 Facebook likes to 747's 2,800. She was first identified in the park back in 1999. According to the Bears of Brooks River 2018 e-book — the best book of the year and possibly the century — 409 is a mother who's had at least four litters of cubs. "When she is not raising cubs, this bear is usually one of the fattest females in the fall," the book explains. "Raising offspring is very energetically taxing for bears. Females with offspring must sacrifice body fat to raise cubs." (Women still can't have it all!) She easily displaced last year's winner, 480 Otis, in the second round of the competition. "She's an independent woman after emancipating her cubs early in the season and she was able to keep all that salmon for herself," Katmai park ranger Andrew Lavalle told the Cut. "And she's looking quite pudgy because of it."
Although Fat Bear Week has been an annual fixture since 2015, Lavalle said this year saw by far the most interest the contest has generated since its inception. "I think it's a little bit silly, it's fun, and in some aspects of our culture, we need that at this juncture," he explained. "And it's something we can all get behind – protecting and cherishing these really majestic wild animals."
"The whole point of it is to really educate the public — this is a struggle for survival for these bears," he added. "They're going to lose one third of their body weight in hibernation and so that's why they're eating as much as they are, just cause they have to gain all that weight back that they're going to lose in the winter." The bears's competition training diet primarily consisted of salmon, and the largest of the chunky beauties reach 1,000 pounds.
"747 is certainly a strong contender for that distinction," Lavelle said when asked about the fattest bear he'd ever seen in person. "This year, at times, he looks completely ovular."
For those reeling at the conclusion of Fat Bear Week, take comfort in the fact that Katmai's live bear cam will still be running for the next few weeks. Until next year, may your hibernation dreams be sweet and your bears … extremely fat.