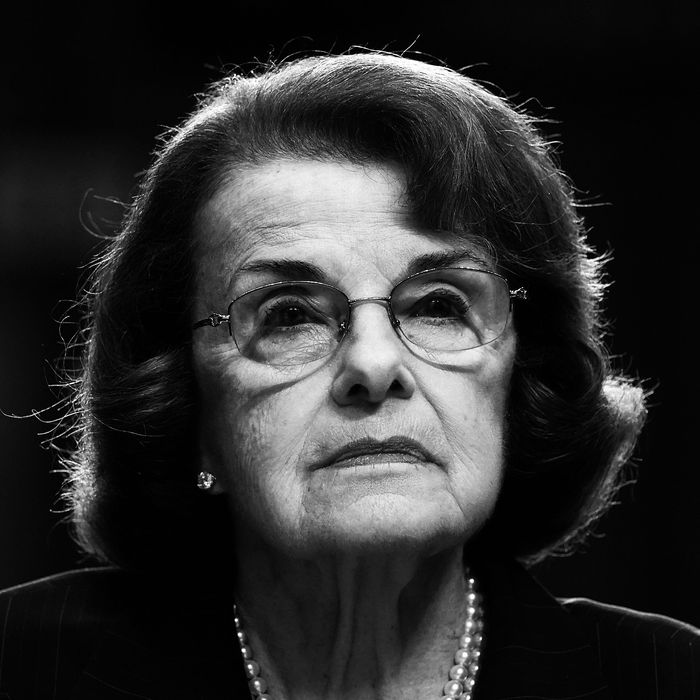 Senator Dianne Feinstein.
Photo: Alex Wong/Getty Images
On Wednesday, Senator Dianne Feinstein released a statement saying that the White House was limiting the scope of the FBI investigation into Christine Blasey Ford's allegation of sexual assault against Supreme Court nominee Brett Kavanaugh. According to a statement Feinstein sent to the Hill, the FBI will not question Ford or Kavanaugh, per the White House's instruction.
"The White House confirmation that it will not allow the FBI to interview Dr. Blasey Ford, Judge Kavanaugh or witnesses identified by Deborah Ramirez raises serious concerns that this is not a credible investigation and begs the question: What other restrictions has the White House placed on the FBI?" she said.
Feinstein said that she was not satisfied with the scope of the questioning done during the hearing, calling it "no substitute for FBI interviews." She also pointed out that Kavanaugh didn't answer many of the senators' questions at the hearing.
"When he wasn't yelling and demeaning senators," said Senator Feinstein, "he was making misleading statements that cast doubt on his overall trustworthiness. I don't think that would happen with FBI agents seated across the table."
In a press conference earlier on Wednesday, White House press secretary Sarah Huckabee Sanders said that the president "asked that the Senate be the ones that determine the scope of what they need in order to make a decision on whether they vote Kavanaugh up or down."
Bloomberg reported on Wednesday morning that the White House barred the FBI from interviewing Ford and Kavanaugh.
Sanders followed up that statement by asserting that the questions asked of Kavanaugh and Ford during the Senate Judiciary hearings were sufficient. "I can also tell you that both Judge Kavanaugh and Dr. Ford were questioned in the most public way possible by the members of the Senate who are ultimately the ones who have to make the determination on whether or not they vote for Judge Kavanaugh," Sanders said.
The results of the FBI investigation are reportedly expected to be turned over to senators by Wednesday. Neither Ford nor Kavanaugh have been questioned by the FBI.