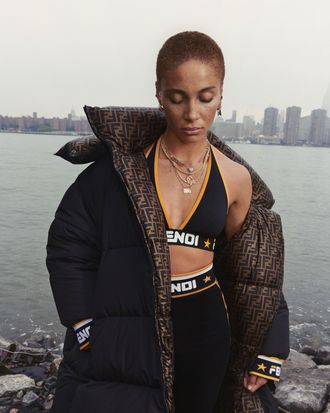 Adwoa Aboah.
Photo: Cass Bird
Hype culture has already come for Bill Clinton, toddlers, and whole Manhattan neighborhoods, and now it's coming for Fendi and its Italian leather and minks. The brand has launched Fendi Mania, a collection of luxury streetwear inspired by Fila and featuring a special Fila/Fendi logo designed by artist @hey_reilly. Last night, Fendi threw a party at its new flagship store on Madison Avenue. There, guests celebrated the collection alongside replicas of Michelangelo's famously handsome "David" statue and the famously handsome human Ansel Elgort.
Truly, Elgort is the key demographic for the capsule collection. The actor wore a navy-and-red tracksuit, duster, and giant white sneakers from the new collection to the launch. The outfit, combined with his newly dyed blonde hair, made him look equal parts movie star and a teen who sells wear-test samples on eBay for a living. He even jumped behind the DJ booth for a little bit, entertaining the guests. Chloë Sevigny, who was extremely cool at the same time that Fila was mainstream, showed up in a cozy sweater-dress and knee-high, kind-of-cowboy red boots.
"In all honestly, I'm not sure what hypebeast is," Sevigny told the Cut, adding that she had "such a strong affinity for Fila" and that Fendi "epitomized" Italian glamour. "The two iconic logos mashed up together, that's what people do nowadays. It's fun."
The full collection is now available online, ranging from $170 for a pair of socks to $12,900 for a mink and sheepskin jacket with star appliqués on the collar. Adwoa Aboah and Dilone starred in the campaign, which is reminiscent of the '90s skater-kid style that Fila is known for. See the campaign below.