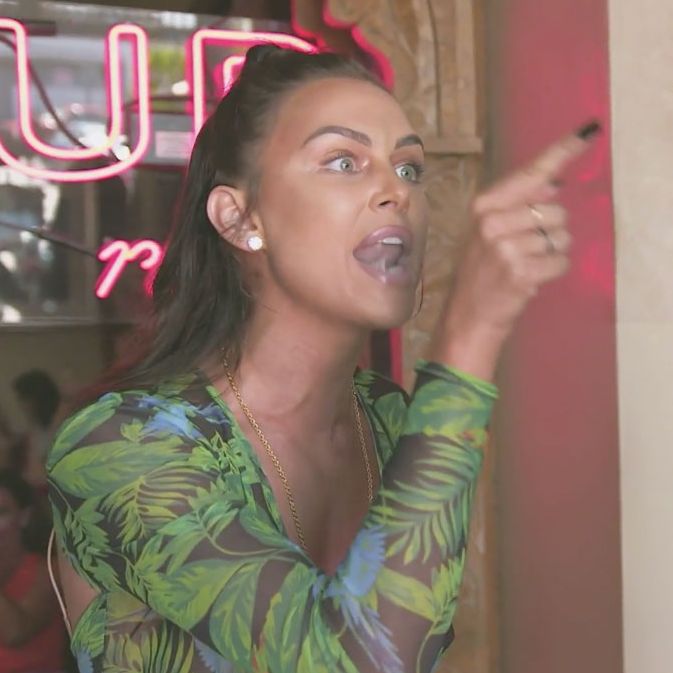 Thank the lord in WeHo Heaven: We have a new Vanderpump Rules trailer. Please watch it immediately and then we can discuss:
Obviously, this season of Vanderpump Rules — like every season of Vanderpump Rules, which is the greatest show of all time, a show we could never deserve even if we were given 100 lifetimes and filled them with exclusively good deeds — is going to be great. The gang's all here, and they are seemingly all breaking up with their significant others at least one time each, which is perfect. The season will contain, at minimum:
♥ Brittany and Jax's engagement.
♥ Lala calling Raquel a "Bambi-eyed bitch."
♥ Tom Sandoval telling Ariana — defensively, for some reason — "you've been in a relationship with a girl before" while wearing a terrible hat.
♥ Tom Schwartz telling Katie, drunkenly, "You don't let me do anything, I do wha I wahh."
♥ Stassi's new boyfriend saying, "You dick-punched my heart."
♥ Lala crying.
♥ Lisa giving a speech.
♥ Costumes.
♥ Birthdays.
♥ Public displays of sexual affection.
♥ Scheana and Lala making orgasm sounds.
♥ Tom Tom struggling.
♥ Tom Tom opening.
♥ The girls doing that scene with the printer from Office Space?
♥ Jax and Brittany attending what I have to assume is a single session of couple's therapy.
♥ Brittany on the brim of freaking out.
♥ James crying and begging Lisa for his job, again!!!!!!
♥ Everybody yelling.
♥ Everybody so drunk.
♥ Kristen clapping in Raquel's face.
♥ Stassi slamming a phone.
♥ FUCK EVERYONE, FUCK EVERYONE, WHO THE FUCK CARES!
♥ Kristen attempting to make a dramatic exit and then falling over a table of what looks like a hotel lobby!!!!!!!!!!!!!!
And that is only in TWO MINUTES OF A TRAILER!!!!!!!!!!!!!! As always, we do not deserve Vanderpump Rules, but I am so grateful it has been given to us.
Vanderpump Rules season seven premieres, finally, on December 3 at 9 p.m. ET on Bravo.