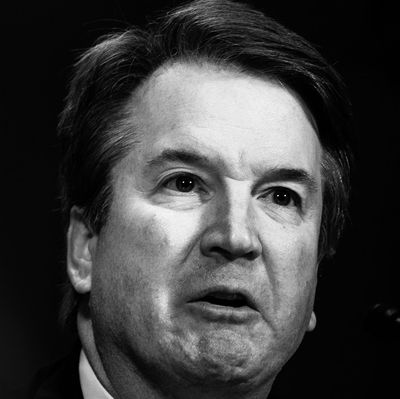 Brett Kavanaugh.
Photo: Erin Schaff/Getty Images
As the FBI investigation into Supreme Court Justice nominee Brett Kavanaugh wraps up, several former classmates of Kavanaugh have spoken out, frustrated that they have not been reached by the Bureau as potential witnesses; many of them have information they say directly contradicts statements Kavanaugh made under oath.
Shortly before Kavanaugh appeared before the Senate Judiciary Committee to testify about the high school-era sexual-assault allegations against him, the New York Times published a piece showing he had mocked a girl from a nearby school, Renate Schroeder, in his yearbook, calling himself a "Renate Alumnius" — a reference apparently meant to imply he'd had sex with her. Upon learning about this, Schroeder told the Times that "the insinuation is horrible, hurtful, and simply untrue."
At the hearings, an irate Kavanaugh insisted the moniker was meant to "show affection, and that she was one of us … It was not related to sex."
One of his classmates disagrees. In a statement obtained by the New Yorker, which he signed and anonymously submitted to the Senate Judiciary Committee and the FBI, the classmate wrote that he remembers hearing Kavanaugh "talk about Renate many times," giving the impression that "Renate was the girl that everyone passed around for sex."
He writes in the statement:
I recall that Brett Kavanaugh had made up a rhyme using the REE NATE pronunciation of Renate's name. I specifically recall one day walking down a hall with Brett Kavanaugh on the way to class, and hearing Brett Kavanaugh sing this rhyme. While I cannot recall the exact words he sang, the general theme was that Renate could be used for sex as a last resort. What I recall from the rhyme that I heard Brett Kavanaugh sing is: 'REE NATE, REE NATE, if you want a date, can't get one until late, and you wanna get laid, you can make it with REE NATE.'




The above rhyme may not be word for word, but the substance of the message is 100 percent accurate … I thought that this was sickening at the time I heard it, and it left an indelible mark in my memory.
Renate Dolphin — née Schroeder — told the New Yorker that upon seeing her name referenced in the yearbook, she had asked to be removed from a list of women supporting Kavanaugh's nomination. "If this report is true, I am profoundly hurt," she said. "I did nothing to deserve this. There is nothing affectionate or respectful in bragging about making sexual conquests that never happened … It is heartbreaking if these guys who acted like my friends in high school were saying these nasty, false things about me behind my back."