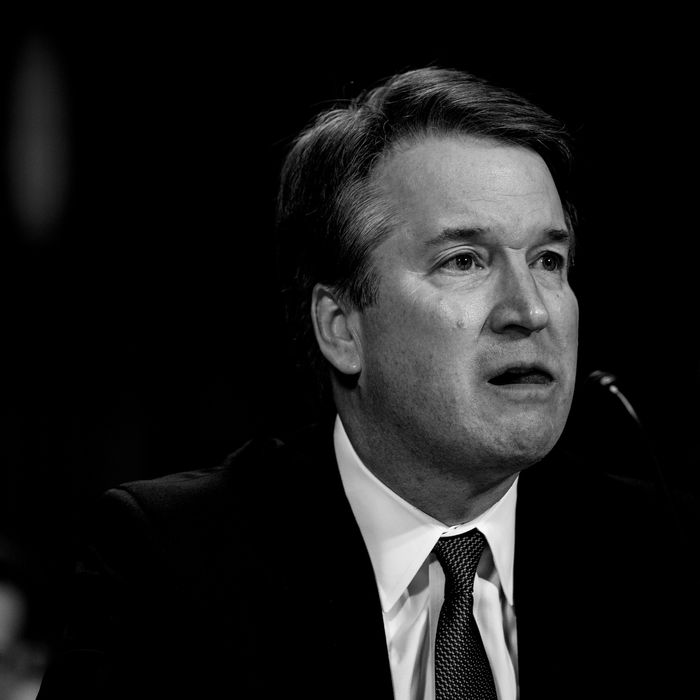 Supreme Court nominee Brett Kavanaugh.
Photo: Erin Schaff/Getty Images
Supreme Court nominee Brett Kavanaugh told the Senate Judiciary Committee that the term "Devil's Triangle" was in reference to a drinking game similar to a more well-known drinking game called quarters. Senator Sheldon Whitehouse asked Kavanaugh about the term in relation to a yearbook entry from Kavanaugh's senior year in high school.
It was just one of the many details former classmates began to call out as lies. Jaime Roche is the latest classmate to come forward to dispute Kavanaugh's Senate hearing testimony. Roche told Anderson Cooper on CNN that he was "shocked" when Kavanaugh said that a "Devil's Triangle" was a drinking game.
"I was shocked when I heard that. Those words were commonly used, and they were references to sexual activities," Roche said. "If you think about the context in which you might hear those words, the way that he described them and the way that they are defined, they are not interchangeable. I heard them talk about it regularly."
Roche then went on to say that he didn't like the way that Kavanaugh and his friends treated women, and reinforced the common claim from former classmates that Kavanaugh was a "notably heavy drinker."
Along with former friends and classmates coming forward with stories that contradict Kavanaugh's claims about his drinking habits and behavior, Kavanaugh's own writings from that period of his life serve as evidence that he mischaracterized himself during his sworn testimony. On Tuesday night, the New York Times published a letter that Kavanaugh wrote in 1983, in which he referred to himself as an "obnoxious drunk."
Kavanaugh's testimony was widely praised by Republicans, including the president himself, who called it "very strong." The FBI investigation into the sexual assault allegation made by Christine Blasey Ford will reportedly conclude Wednesday — though many people who reached out to the FBI with information have reportedly not been interviewed. The Senate plans to hold a floor vote on Kavanaugh's confirmation on Friday.