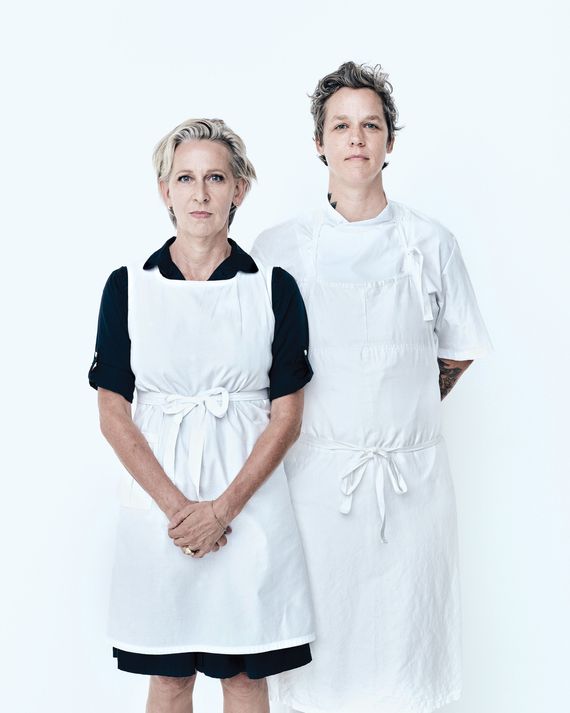 Chefs Gabrielle Hamilton and Ashley Merriman of Prune.
Photo: Amanda Demme. Hair by Leonardo Manetti at See Management. Makeup by Deanna Melluso at See Management.
At 11:30 on a weekday morning in late August, the chefs Gabrielle Hamilton and Ashley Merriman were both a little jumpy, though they expressed this at very different frequencies. Hamilton, who moves through the world with spring-loaded intensity, vigorously dissecting every exchange, was pinging around Prune, the 30-seat restaurant she planted here in the East Village 19 years ago this month. In between repositioning chairs and wiping up the odd overlooked spill, she fired questions at me: What exactly did I come here to ask? Where was I going to start? Easy stuff first or hard? (The two women agreed: Hard stuff first.) Merriman, meanwhile, looked as if her pilot light had momentarily flickered out. A miserable cold had reddened her eyes and fogged her voice, and standing there propped against her comfort zone — the counter of the open kitchen that she and Hamilton have co-captained for three years — she looked as if she were debating whether to stick around or go home and pull the covers over her head.
But restaurants don't do sick days. With magenta metal stools still up on the bar from last night's shift, the "Pruniverse," as Hamilton and Merriman lovingly refer to their place, reliably began to grind to life. A prepper, a porter, and members of the office crew filed in. Eventually, Merriman sat down and curled herself around a plate of spaghetti and meatballs that had been prepared for the staff's pre-service family meal. For Hamilton, there appeared a single, lovely pouf of chocolate soufflé — the efforts of an up-and-comer showing off his stuff for the boss. According to one fellow chef-owner, the thing we're observing here, this Pruniverse, "is a cult." To be clear, she says, that's a good thing. "You believe in Prune, you work for Prune. You live the Prune lifestyle. That's what every restaurateur wants: people who live and breathe the job."
If Merriman — who competed on Top Chef, cheffed at Butter, and ran the kitchen of the Waverly Inn — seemed hesitant, perhaps it's because her most recent interview, for the food-world site Eater in June, was eviscerated by a furious Twitter horde. Over the previous four months, Hamilton and Merriman had been called callous and cynical by their peers; Hamilton had been accused of "giving a hall pass to a predator" by a male colleague, no less, at a ritzy food festival for which she was assigned a bodyguard; their staff, Hamilton said, has been "ferreted out and yelled at"; the foreword she wrote to another chef's book was yanked before publication. Together, they'd been charged with setting back their industry, the #MeToo movement, and womankind in general.
And yet, on the day we met, Hamilton was watching the clock. She needed to get across town in time to introduce a new item to that night's menu at the Spotted Pig. They were forging ahead with the plan that ignited the fury in the first place: taking over the West Village gastropub in partnership with its vilified owner, Ken Friedman. Little by little, they were getting a handle on the Pig's 96-person staff, its stove, its freezers. "Cleaning the shit out of it," Hamilton said, "literally and metaphorically."
Speaking of literal, the chefs were talking about their plans to recast the Pig's dark walls in the soft moonlit yellow that envelops diners at Prune. Not that a coat of paint would cut it — of course not. But they were optimistic. "Every single issue this industry is talking about right now — sexual harassment, pay parity, immigrant-documentation status, upstairs-downstairs — exists at this place," Merriman said.
They knew what everyone was thinking: that it can't be done. That it shouldn't be done. That Friedman, accused by nearly a dozen former employees of groping and demanding sex, of blacklisting and harassment, had not expressed adequate remorse — indeed, any. That even if he had, he was probably undeserving of redemption, especially via the labors of two respected female chefs. But Hamilton has a long history of seeing things her own way. In her view, exile was both too simplistic — if an entire industry is infested with reprehensible behavior, is "banish the bad men" a sustainable solution? — and too good for the accused. Getting to slink away and lick their wounds? She wanted to grab these dogs by the scruff and push their noses into the messes they made while the messes were still fresh — and then slowly, gradually, show them a better way.
If Friedman continued to make money in the process, well, Hamilton didn't love that, but she hadn't come up with a better alternative. And she didn't want to wait. "Who wants to run the Spotted Pig?" Hamilton asked that August day. "Who on earth wants to align with a restaurant known as the ground zero of sexual misconduct?" She looked at her wife.
"I do," Merriman said.
"I do," Hamilton echoed. "Because that's the money shot. That is where we can do the most substantial work."
A little over a week later, when we were texting to find a time to meet at the Pig, Hamilton sent this: "It's a possibility that this whole deal is falling through." The next day, they both emailed the Pig's staff: "We have come to the final impasse of our ability to move forward as operators of the Spotted Pig. We felt we needed to be the actual owners and final decision-makers of the day-to-day decisions of the restaurant, and we couldn't make our case persuasively enough for Ken to agree to that."
In October 2017, Hamilton and Merriman, like everyone else, were reading about Harvey Weinstein. "I was like, Oh, this shit is headed our way," Hamilton says. "The first person I thought of was Mario [Batali]. Everyone knows he's a sloppy drunk."
At that moment, you'd have been hard-pressed to name a more feminist icon in the food world. For would-be chefs and restaurateurs, Hamilton had become a burnished example of how a woman could succeed with integrity intact. In 1999, with no formal training but a lifetime of the informal kind — hauling bus tubs and scraping plates in restaurants from the age of 13, slogging away through her 20s in the high-end catering trenches — Hamilton dug out what had been a cockroach-infested hovel at 54 East 1st Street to unearth, like some kind of culinary secret garden, a jewel box of a bistro. It had aged and speckled mirrors, a hodgepodge of cracked penny tiles, and a kitchen roughly the size of the back of a food truck. She knew from the start what she'd name it: Prune. It was her French mother's term of endearment for young Gabrielle — humble, a little sweet, a little off.
Hamilton created epic poetry in that haiku of a kitchen. Before "upscale casual" became a thing, Prune was unassuming yet perfectionistic and distinctly female, with its pale-pink signage and scruffy romance and also its elevated, unconventional renditions of comfort food — fried sweetbreads, roasted monkfish, deviled eggs. For regulars, Prune became the artsy magazine you put on your coffee table as much for what it says about you as for what it says: You value honest food done exceptionally well.
Throw into this recipe Hamilton's entirely separate skill set — indeed, identity — as a writer. Her vivid, unpredictable prose compels readers who don't care a fig about shad roe vs. Osetra to make the trek to the lower East Village, onboard for any experience this quirky contrarian could conjure. In her 2011 memoir, Blood, Bones, & Butter, 13-year-old Gabrielle, left to her own devices after her parents' abrupt, acrimonious divorce, snorts coke in shoplifted Candie's spike heels, "borrows" cars to joyride around her hometown of New Hope, Pennsylvania, and learns to cook out of necessity, using random ingredients abandoned, like Gabrielle herself, when her mother exited the family home. At 16, she graduates from high school, escapes to New York, and lies about her age to get a waitressing job at the Lone Star Cafe, where she nearly lands in jail for scamming tips. She checks a few conventional boxes — Hampshire College undergrad, M.F.A. in creative writing at the University of Michigan — and, unable to outrun the lure of the kitchen, opens Prune at age 33. Soon enough, Gabrielle cheats on her longtime girlfriend with a man named Michele, has their two sons, Marco and Leone (now 14 and 12), and proceeds to lay bare the seemingly inevitable demise of their relationship. The book, which enjoyed a few weeks on the best-seller list and was published in six languages, established Hamilton as both sage and firebrand. This woman will say anything. Seven years later, was the Spotted Pig announcement a total shock?
While Hamilton scooped up accolades, she never took a cheesy endorsement deal, never opened Prune Las Vegas. In an industry in which profit margins are thin to nonexistent, that made her a rock star of a different stripe: the critically acclaimed band that never sold out. Sonic Youth, if you will. Resisting what Eater editor-in-chief Amanda Kludt calls the traditional path — "You get your own restaurant. Then another one. Then another. Then, hopefully, you get to take time off the line, to run things and become a figurehead" — made Hamilton rare indeed.
One of Hamilton's standing jokes: "Nobody runs a nonprofit restaurant like I do." Indeed, the chef's own lean years — buying food from bodegas with however much she could scrounge from a jar of change — inspired some of the most lasting traditions on the Prune menu. Like canned sardines served with Triscuits, Dijon mustard, and cornichons: "Don't crisscross or zigzag or otherwise make 'restauranty,' " her magenta-bound 2014 cookbook instructs.
Hamilton brings home, she is more than happy to reveal, $1,112 a week from Prune, after taxes. She says she got a generous deal for Blood, Bones & Butter and periodically is pleased to discover a royalty check of $2,500 or so in the mail. There's her writing, for which she typically earns $3 a word. And in 2015, she says, she pocketed $50,000 for starring in the PBS series The Mind of a Chef. All told, though, she still lives in the same one-bedroom, rent-stabilized East Village apartment she's had for 30 years — these days along with two adolescent boys, Merriman, and a 40-pound pit bull–beagle mix named Ingrid. There's also a weekend place. But City Island is hardly the Hamptons, and that one's a rental too.
Sounds pretty good until you consider that Batali opened his first restaurant, Babbo, in 1998 and by 2015 co-owned an empire that raked in a reported $250 million in income. It's not that Hamilton is all that abstemious, and she certainly doesn't lack ambition. But feeling "well" is a big theme for her, and "I don't feel well when I am morally compromised in any way," she says. "I don't want to have to come up with seven recipes that use a Viking stove." The most powerful thing you can do, Hamilton says, is to "not be owned by any bank or rich person." It gives her the freedom to adhere to her own values, she adds. In her memoir, she writes about getting her first paycheck as a feral teen from a restaurant called, ironically enough, Mother's. After tax withholding, it came to $74.11. In that slip of paper, she says, she saw autonomy: "Mom and Dad, you are not the boss of me anymore. I make my own money, and now I get to decide how I live."
Hamilton was right: Batali was first. On December 10, he called to inform her the exposé was coming. He apologized. Her reaction was "kind of matter-of-fact," she recalls. "Okay, here it is. The thing we've known was coming." The next morning, blasted across the Eater home page: Four women, three of them former employees, accused the most famous chef in America of often drunkenly groping them with the ever-looming threat of retribution should they report it.
Days later, it was Ken Friedman splashed above the fold in the Times.
A tall, gangly guy who dropped out of UC Berkeley in the '80s to become a concert promoter, Friedman managed the Smiths and UB40, then signed on as a talent scout for Arista, spending three decades going out seven nights a week. He knew how to create a scene, and he had some pretty shiny friends. Jay-Z and Michael Stipe signed on as investors in the Spotted Pig.
It was his old pal Batali, also an investor, who helped suss out the star quality of April Bloomfield, a little-known 28-year-old plucked from the kitchen of London's revered River Cafe. Friedman reportedly liked the progressive, press-friendly optics of hiring a female chef to run New York's first gastropub.
Bloomfield's inventive spin on working-class English fare quickly established her as a force, not to mention as the mother of Gotham's $26 burger, nestled in brioche with crumbled Roquefort and crowned with a tumbleweed of shoestring fries. Meanwhile, Friedman stuffed the Pig with flea-market figurines bearing its namesake beast, creating a clubhouse for celebrities who wanted to feel like regular people and for not-quite-regular people who wanted to feel like celebrities. In 2006, Frank Bruni wrote that on a Friday night, the Pig "looked less like a restaurant than a mosh pit."
Accordingly, an empire soon mushroomed in which Friedman and Bloomfield shared a 50-50 stake: In New York, there was the Breslin and the John Dory Oyster Bar, at the Ace Hotel; Salvation Taco; and White Gold Butchers. In San Francisco, Tosca Cafe. And in L.A., the Hearth & Hound opened on December 8 — four days before Friedman's headline struck.
One exposé at a time, restaurants were imploding across the country. But nowhere were the offenses more entangled with a specific sense of place and atmosphere than at the Pig. With the ceiling blown off and daylight finally pouring in, its dark, sexy nooks and velvet-rope mystique — if in fact that mystique was still intact 14 years later — had been rendered sleazy, tainted. And the epicenter of it all lay behind a pair of unmarked doors on the third floor, the so-called "rape room," where some employees claim it was standard for them to be catcalled and touched by Friedman, his VIP pals, and guests.
Over at Prune, Hamilton and Merriman were watching the "grand calling-out of the douchebag men of every industry," as Hamilton puts it, as appalled and exhilarated as any of their compatriots. Hamilton looks at her wife. "I think for you it was like, 'This is the greatest fucking thing that's ever happened.' "
"Absolutely," Merriman says, nodding.
"Me too," says Hamilton.
But already, Hamilton and Merriman were skipping several steps ahead: What next? "I have as deep a résumé of sexual assault and rape and harassment and coercion and bullshit as any lady on the planet," Hamilton says. But the fact that the fate of the offenders was being writ, by and large, in an extrajudicial court of public opinion made her "very uncomfortable," she says. "Like, who decides what happens now to these guys? Who's qualified? Am I supposed to go get all this money? Or do you? Who's gonna cut his head off and put it on a stake?"
At first, "I was like, 'God fucking damn it. I didn't make this fucking problem; I don't want to clean it up.' " But there it was — a big, oozing mess growing larger by the day. Eventually, Friedman reached out: He had an idea.
In May, Hamilton and Merriman were having their morning coffee, Merriman still in her underwear, when they got a call from Sam Sifton, who edits Hamilton's column in The New York Times Magazine. It seemed like a social call until he told them he'd heard a plan was afoot to partner with Friedman. In other words, this was the paper of record calling, and they needed her to say something. Not a "no comment" kind of gal, Hamilton offered a quick response to what was likely the most controversial decision of her career.
Kerry Diamond, co-founder of lady-power food magazine Cherry Bombe, was on a flight when the news went out. As soon as she touched down, "I had a dozen texts," she recalls. "I was like, Oh my God, someone's dead. It was such a punch to the gut." Leaders of the female-chef world released a collective roar of fury and disillusionment that could be summed up in the tweet of New Yorker food correspondent Helen Rosner: "Just. Close. The. Fucking. Restaurant. Down."
"It's like saying you're swooping in to save Paul Manafort," says one restaurateur. Better yet, she says, "it's like if Jenni Konner said, 'You know what, I'm going to work with Harvey Weinstein. I'm going to save all the employees and run a more meaningful production company, but Harvey is still going to profit.' " To many, the decision was so baffling that any rationale Hamilton and Merriman offered was summarily tossed out.
You had the revenge theory: Was Friedman partnering with Hamilton to get back at Bloomfield, who'd announced she was splitting their empire and dumping him as her business partner? Or the catfight theory: Was Hamilton angling to even the score with Bloomfield, who had more restaurants, more money, and arguably more fame? Hamilton's statement to the Times had, after all, cast the union with Friedman as a second marriage: "As everyone knows, it is a bittersweet truth — everyone is a better spouse their second time around." But no one likes a dig at the first wife. And no one liked Friedman being cast in the role of one more lame dude, a philanderer who'd learned the error of his ways with the help of (another) good woman.
But it was the statement's José Andrés line that did it. Calling herself and Merriman "two highly qualified and capable women going into the ground zero of the man-made disaster," in a later interview with Eater, Hamilton compared their work to the chef who'd fed thousands in hurricane-ravaged Puerto Rico. Viewed charitably, it was a reference to the roll-up-your-sleeves nature of Andrés's work, but no one was feeling very charitable. What they saw was blatant self-congratulation for one's own heroism — and taking in vain the name of the Mother Teresa of the industry.
It was the money, right? Had to be the money. The irony is, Hamilton and Merriman might have won more sympathy from their peers if it had been about the money. The Pig, at 110 seats, is three times the size of Prune. Somebody's going to profit off it. Why not these two hardworking women? Okay, Hamilton had never been financially motivated before, but maybe she was thinking about her future, her kids, retirement, her savings. People wouldn't have loved that, but they might have understood.
For a female chef to get a chance to partner with and run a place that makes Spotted Pig–level dough is "incredibly rare," says Amanda Cohen, chef-owner of the Lower East Side restaurant Dirt Candy and one of the most outspoken critics of Hamilton's Pig rehab. She explains that investors rarely see female chefs on magazine covers or at awards ceremonies, so they assume women won't be able to attract the press that attracts the crowds. "Then again, if you never [hire] women, how are they ever going to win those awards and be on covers of magazines?" Cohen says.
On the other hand, we're talking about Gabrielle Hamilton, for Chrissakes. Prune may not have made her rich, but it gave her undeniable power. "She's the ultimate chef," Cohen says. "She has [four] James Beards. She's a best-selling author. She has a beloved restaurant. If you can't get investment off of that, then nobody can."
Maybe it's possible that Hamilton, being Hamilton, could have gotten the investment to buy out the Spotted Pig and operate it without Friedman. But, again, running the Pig without Friedman wasn't the point.
This year, James Beard Award voters had a new mandate: If you have any doubts about a nominee's ethics or behavior, "leave the person or business out." And on May 7, one month before Hamilton dropped her Spotted Pig bombshell, a record number of women were called to the podium at Chicago's gilded Lyric Opera. The correction was overdue, Hamilton says, but the wokeness felt a tad self-congratulatory. "Now? Now you guys have figured it out?"
That night, she sat in the audience, waiting for somebody to say the thing that she believed "absolutely needed to be said." But no one did. So when she went up to accept Outstanding Chef honors — compared to the Oscar for Best Director — in place of thanks, she offered a story. It was about the first time she won a James Beard, for Best Chef in New York City in 2011: "The next day, this guy wrote in Time that everyone knows that the award isn't merit based and that the only reason I won is that I had written a popular book that year. It took me the last seven years to recover from that comment … It would make me so happy — I'd be so grateful — if I didn't read tomorrow that the only reason I got this is that I'm a woman."
Later, she says, several African-American attendees commended her. "I thought I was just talking about the ladies," she recalls. "Turns out I was talking about everyone who was suddenly self-doubting: Am I here on my merits or because you're correcting so hard you need your tokens?"
To a room of her peers, many of whom would kill to accomplish what she has, Hamilton sounded as brilliant as ever. She just didn't sound all that … grateful. "We were all like, Wow. That's an angry speech," says one fellow nominee. "Not angry like, 'I'm a woman, and I'm going to change the world.' Like, 'This is my year, and I deserve it.' " Coming from a competitor, this could be sour grapes. But it echoes a now-familiar note of distrust, of resentment, that would surface a month later, when the Pig deal broke, in comments like this tweet from Toronto restaurateur Jen Agg: "I was once an admirer of Gabrielle … but sadly, after paying closer attention the last few years, I'm shocked but not surprised by this. That expression 'When people show you who they are, you should believe them' applies."
In some corners of the industry, there's a sense that Hamilton wasn't exactly "a chef's chef" — not a member of the female-chef community in particular. "She pretty much sticks to herself," says the Beard nominee. "At conferences, she does her speech, and then you won't see her again for three days."
What does it matter if a woman prefers standing a little apart from the group — preferably in front of her ten-burner Jade range, issuing directives to her mostly female staff and generally getting shit done — to sitting on a panel pontificating about the way forward or launching feminist missiles on Twitter? It doesn't — until that same woman decides to cross the #MeToo picket line more brazenly and publicly than any other woman in any other field that comes to mind. There was yet another remark Hamilton made to Eater — one about people in the industry talking "sotto voce," secretly wishing for a more nuanced take on the #MeToo movement — that stuck in the craw of more than a few colleagues. "It's like, 'You know what, Gabrielle? Fuck you. We've all been talking about this for a long time. Where have you been?' " says the restaurateur. The "us" here is a klatch of vocal female foodies who have united on Twitter and at woman-centric events. It includes Cohen, Agg, Kludt, Rosner, and Diamond, as well as chefs such as the revered Dominique Crenn of San Francisco's Atelier Crenn. The group began to coalesce pre-#MeToo to strategize how to make an industry in which there is virtually no HR, no maternity leave, no child care, and certainly no retirement plan more welcoming to a generation of young women who want to make food but are wary of making a life in food.
It's a funny thing to suggest to a gay chef who employs mostly women that she might not be a member of the "community." Hamilton crows at the idea. "I'm saturated in ladies. I employ them, I work with them, I'm married to them, I've dated them," she says before patiently redrawing the distinction she's been making for 19 years: "But not, like, every single lady. There's not just one of us." She has long resisted the false implication of a monolith, as well as the dubious honor of speaking on behalf of it. But you can tell that the suggestion of a schism pains her. For years, she says, "I went to every panel! Every meeting!" But as the community revved up, and with it more women-only events, Hamilton felt ill at ease. Such efforts are "well intentioned," she says, but lack the jumbled scrum of the workplace she loves: upstairs and downstairs, straight and queer, brown and white.
She has a theory about why she's pissed people off — and it's not about her lack of female solidarity. "I'm almost contemptuously impatient," she says, "which can read as condescending and haughty."
Hamilton has been arrested 13 times: once for trespassing with her mom to skinny-dip in a reservoir and 12 times, in her 20s, for participating in the ACT UP demonstrations that defined her sense of activism and urgency. "Your entire peer group was dying by the minute, by the hour. We didn't have time to form a committee. It was: Go right now to Grand Central and shut it down at rush hour." Stand down, tweeters: Hamilton isn't comparing working with Friedman to fighting for AIDS research. But in an era of virtue signaling — and also lots of earnest "pass the talking stick" meetings, as she calls them — what she craves most is action. "You wore your THE FUTURE IS FEMALE T-shirt to the Academy Awards. Dude, is that activism?" she says. "I don't have patience for that."
Those who never understood why Hamilton and Merriman announced their Spotted Pig deal without having an actual deal in place will be even more surprised to learn that they also started working there without a deal. In August they dove in — with the palpable relief of doing a thing rather than just talking about doing it.
Broadly, Friedman had offered them what he'd had with Bloomfield: her executive-chef salary plus ownership stake, shared between the two. While he "seemed rattled by his public shaming," Hamilton says, he also "seemed hugely enthusiastic, eager to get to work on our vision."
In September, Friedman replied to queries via email. "I'm very sorry things did not work out with Ashley and Gabrielle … My goal is to make the Spotted Pig the very best example of an extraordinary restaurant that is also a great and caring place to work, just as Gabrielle and Ashley have done with Prune."
What Hamilton and Merriman imagined was a true top-to-bottom cultural awakening — "with the whole world watching," as Hamilton says, "creating the ideal goddamn world we want to live in."
Hubristic as this will surely sound to her critics, over the years Hamilton has developed an actual manual of behavior for the Pruniverse, based on five core values that are expected to filter into every transaction, whether between customer and server, or chef and dishwasher. Among these are being "disarmingly honest" (as opposed to brutally) and practicing "servant leadership" — a reversal of the dictatorial hierarchy that can lead to kitchen bullying. This means that "G.H.," as she prefers to be known (the "chef" honorific being too befouled by bad leadership examples), also makes coffee for the early arrivals and takes out the odd bag of garbage.
The restaurant world may be the Wild West, a last bastion of truly deplorable workplace behavior — sexual and otherwise — but at Prune, there are systems. Starting with annual reviews for everyone on staff, which are never done one-on-one. Merriman says she has worked under only one chef who reviewed her, and "I've never seen a porter, a dishwasher, a line cook get formally reviewed." It is this stuff, the dry, idealistic organizational philosophies, that get both her and Merriman jazzed — not what to do with today's mackerel.
The further they excavated the Pig, the more urgently they felt this reform was needed. But in the end, the thing that broke them, that they couldn't move past? It really was the money. Not the money the women wanted to make but the money the man refused to give up. With business down and the Pig "hemorrhaging" cash, Friedman was still drawing a manager's salary. "We can't have the guy in the building, because we don't want him there. No one wants him there," Hamilton says. They were short-staffed, and he insisted on getting a check for a job he wasn't doing. (A Friedman rep calls this a "management fee" for overseeing the restaurant, not for being on-site.) If the Pig became profitable again, Hamilton says, they were okay with Friedman taking a cut as the lead investor, but they couldn't "ethically, financially" keep him on the payroll. So that's where it ended.
When the news hit that Hamilton and Merriman were out after months of groundwork and a few weeks of on-the-ground work, they were left with two paychecks each, for their share of the annual chef's salary of, Hamilton says, "$130,000 or $140,000," and an exhausted, sad, lasting woundedness. They were angry at Friedman for lacking vision and respect, and they were angry at the world at large. "The private support we've received has been helpful," Merriman emailed, "and also painful. It's a little weak, in my opinion, to privately support our work but to say nothing publicly. Yet I can empathize." She cited a woman who dared to back them on an industry-watched Instagram page: "I watched her completely get flamed."
Another of those Prune principles: No rhetorical questions. If Susie doesn't know how to make the toast properly, the response isn't "How do you not know how to make toast?" You ask real questions and then get in there and show her how to do it. Hamilton says she gets the confusion after her initial statement went out, but afterward the only questions anyone ever asked were rhetorical. It was "What do you think you're doing?!" versus "What do you think you're doing?"
Hamilton is still bothered by her colleagues' "lack of curiosity" with regard to her plans for the Spotted Pig. "Why didn't you ask me a question, you who I know, you, lady — we are friends," she says. "You're good enough to text me to say you're just about to go public to condemn me, but you didn't take the opportunity to be like, 'Hey, G.H., we're kind of friends, what are you up to?' " In the blink of an eye, Hamilton says, "People forgot everything they knew about me."
*This article appears in the October 15, 2018, issue of New York Magazine. Subscribe Now!