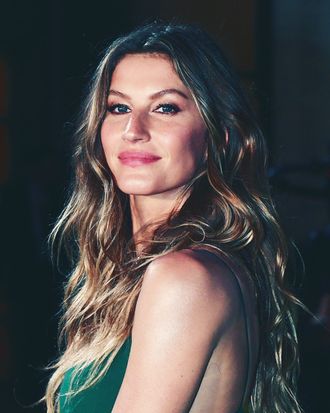 Gisele Bündchen.
Photo: Jacopo Raule/Getty Images
In Gisele Bündchen's new memoir, Lessons: My Path to a Meaningful Life, she opens up about a number of topics — some serious (motherhood, mental health, addiction), and some not (dessert pie, Tom Brady). Here, we'd like to unpack the latter.
Bündchen and Brady have always been forthcoming about their unique eating habits, which is why they are a continued source of fascination. Together, they follow a strict, uber-healthy diet. And Brady once told us that he'd never eaten a strawberry in his entire life. Still, Bündchen and Brady are human beings with wants and needs, just like us, and Bündchen is admittedly "obsessed" with dessert, so much that she has it every single day.
"I never go a day without dessert because it makes me happy," Bündchen tells Vogue in a new interview about her book. "I must be honest with you," she adds. "My thing is I have dessert with lunch."
Of course, this is not your average sad desk lunch. "Most of my desserts are avocado-and coconut-based," Bündchen says. On the day of her Vogue interview, for example, she "baked" a pie out of avocado, coconut, and bananas. The crust was made out of dates and nuts, with coconut "nibs" and coconut yogurt on top. Plus, for something sweet, she sprinkled 70 percent dark chocolate, her "favorite ever."
Our definition of dessert does not typically include avocados. Certainly not avocados, coconut, and bananas all at once. But hey, to each their own. "I want to plant a seed and let you decide," says Bündchen. But just so you know, her version is the "best thing for your brain and for your heart, and for your happiness."