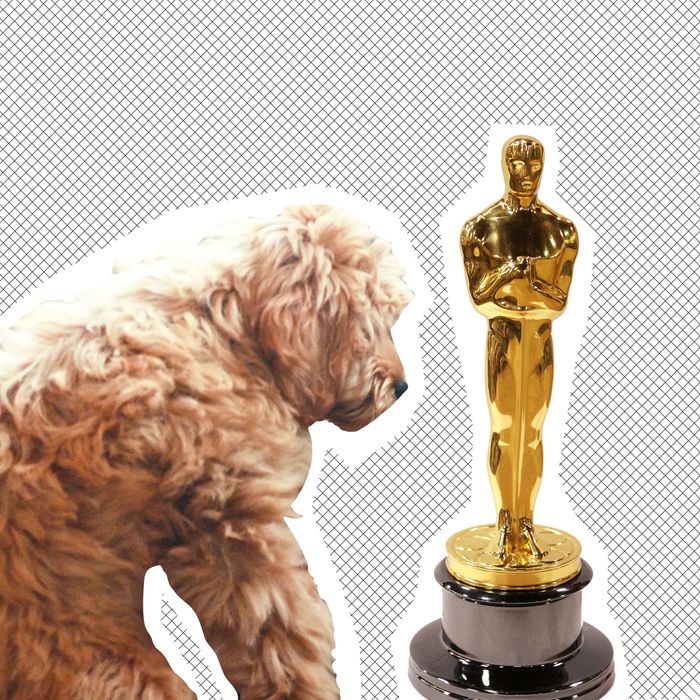 Photo: Courtesy of Warner Bros. Pictures/Getty Images
It was announced yesterday that PETA created a new award, called the "Compassion in Film Award," specifically to bestow on Bradley Cooper. The award acknowledges his decision to cast his own sweet dog, Charlie, in A Star Is Born. Of course I believe Bradley Cooper should have this award, even though the decision to cast Charlie would have been an obvious one, compassion or not, as Charlie is an amazing actor. But shouldn't Charlie also have an award?
Hm?
Shouldn't Charlie have an — Academy Award?!
According to the Wikipedia for Academy Awards, the awards "recognize excellence in cinematic achievements as assessed by the Academy's voting membership." Okay. According to that, it sounds to me like Charlie should have one. I assure you he played the part of "Charlie" excellently, doing everything he needed to do to communicate doglike compassion and joy. For example, he did all of these things really well:
• Romp around
• Play in leaves
• Be very fluffy
• Lie down
• Come when his name was called
• Look forebodingly out of a door
• Lie down again in a way that was sad to a comedic degree, particularly for a dog lover such as myself, undercutting perhaps the darkest moment of the film with something that felt manipulative and tonally out of place, which I have to believe is the instruction that Charlie was given, in which case he did it exactly right
• Have just the cutest little fluffy doggy face :)
Would Charlie have to go to the Oscars if he is nominated, or given an honorary Oscar outright? No, I don't think he would. I fear too many people would want to bother Charlie if he were in attendance at the Oscars, which is sad, because I'm sure he would look very handsome in a little tuxedo. C'est la vie.
Instead what I would recommend is the bottom-right quarter of the screen during the telecast be designated the Charlie area. Here we'll have livestream footage of Charlie from wherever he is that night, romping around in grass somewhere, or sleeping on a bed — wherever he wants to be. When he wins the Oscar, Domhnall Gleeson will walk into frame and give him a dog treat shaped like the standard award.
(Charlie will also receive a non-treat version, for Bradley Cooper to keep somewhere. Though Cooper has been nominated for an Academy Award three times, he, sadly, has never won. "Oh, oh my God, is that your Oscar?" guests will likely ask when they enter his home and see the Oscar displayed prominently. "Ahhh, no, no. No, ah, that's my dog's. That's Charlie's.")
So, why not give one of the awards to Charlie? Everyone will be happy about it, unless they're bitter. Thank you.