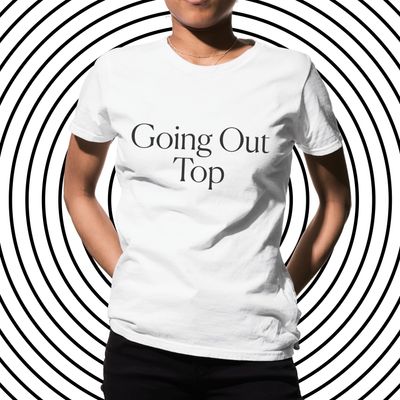 Photo: Courtesy of Amazon.
As promised, new and timely slogans that we're thinking about a lot will be added to the Cut Shop each week. Here's our latest addition.
This week, we revisited the subject of "Going-Out Tops," or G.O.T's, and the ancient social rituals surrounding them. Are they still a thing? Apparently. Do women still gather to decide which one to wear? Yes! Have they changed since the days of silk camis and bedazzled halters? God, we hope so.
What the going-out top looks like today, though, is up for interpretation. The look has expanded significantly since its heyday in the early 2000s. As the rest of our wardrobes have gotten more casual, so too has the G.O.T. On the other hand, going out is one of the only reasons to get dressed up anymore. So a going-out top can be anything that makes you feel good when you're about to leave the house for the night.
If you're someone who prefers T-shirts to just about everything else, then we've got the perfect G.O.T for you. You'll never have to toil over a going-out top again! Think of all the time you'll save for … going out! Or, better yet, just wear it on your couch at home.
See all the Cut Shop T-shirts, here.