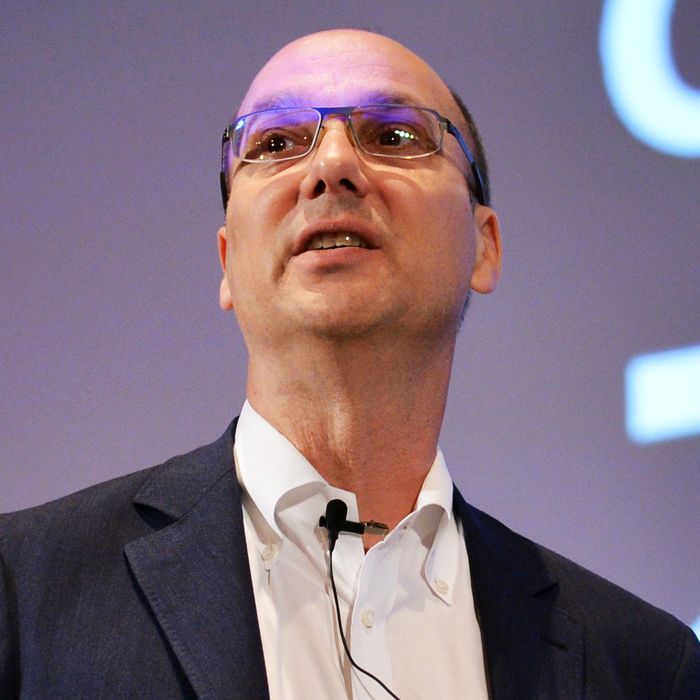 Andy Rubin was paid $90 million in exit payouts after an investigation found that he coerced a fellow Google employee into performing oral sex.
Photo: Yoshikazu Tsuno/AFP/Getty Images
It was viscerally satisfying to watch Harvey Weinstein walking into the New York Police Department's 1st Precinct in May to be arrested for rape, criminal sex act, sex abuse, and sexual misconduct charges. His smug grin, and the fact that he was later allowed to walk out of the jail after posting his $1,000,000 bail, and that stupid powder-blue sweater weren't enough to detract from the moment. The moment where, even if just for a moment, the bad guy is in handcuffs and is made to own up to his badness. Same goes for watching Judge Rosemarie Aquilina telling Larry Nassar, former doctor for the American gymnastics team, "I just signed your death warrant," while sentencing him to 40 to 175 years in prison. We so rarely get to see that.
Instead, we typically see something much more formulaic. Frustrating and saddening in its predictability. Something of a #MeToo Mad Libs. [Powerful man] is accused of [horrible behavior]. [Brave women] speak up, at great personal risk. [Powerful man] faces, in the best-case scenario, intense public scrutiny and is forced to depart from [place where he held said position of power]. [Once-powerful man] receives [ungodly sum of money] for said departure. Les Moonves at CBS? He's potentially set to receive a $120 million payout. Roger Ailes at Fox? $40 million. Bill O'Reilly? $25 million.
And those are, maddeningly enough, among the better-case scenarios. At least in those, the accused man is forced to lose something he valued, even if that loss comes with cash to soften the blow. For some men, things continue being business as usual. Even better than usual, if you, say, find yourself at the center of a sexual-assault scandal only to be exonerated via a brief and partial FBI investigation and confirmed to the Supreme Court.
Andy Rubin left Google in 2014, known to the world, or at least the tech world, as the man who invented the Android operating system. Since then, he has received $90 million in exit-package-payout installments, according to a new report from the New York Times on Thursday. Rubin's departure followed a sexual-misconduct accusation from a female co-worker with whom he'd been having an affair. In 2013, Rubin "coerced her into performing oral sex in a hotel room," the Times reports. She reported the incident a year later, at which point Google opened an investigation and found her claims "credible." (News of the incident and investigation are not new. News of the payout is.) Google co-founder Larry Page then asked for his resignation, and Google has paid Rubin roughly $2 million every month since. (The payments end in November.) A spokesperson for Rubin denied any wrongdoing and said Rubin only engaged in "consensual" relationships at Google. Page and Google never disclosed the payments nor the sexual assault that prompted his resignation.
Uber's SVP of engineering, Amit Singhal, resigned in early 2017 after it was uncovered that he had not disclosed the circumstances of leaving his previous job at Google. That is to say, Singhal failed to mention a claim about him groping a female co-worker at an event, which was, like Rubin's, also investigated and found credible. (Singhal also denied his behavior.) "The company did not fire Mr. Singhal, but accepted his resignation and negotiated an exit package that paid him millions," the Times reports. (The Times story also discusses two other men at Google whose careers have flourished despite their behavior, but both are still with the company.)
Larry Page sang Rubin's praises when he resigned in 2014. "With Android he created something truly remarkable — with a billion-plus happy users," he said in a public statement. A billion-plus happy users … plus the woman he sexually assaulted, a woman of whom Page was fully aware. After Rubin left Google, he founded a VC firm called Playground Capital. Google is an investor in Playground Capital. The reckoning — the techoning, if you will — of men of Silicon Valley looks uncannily like the reckoning we've seen of men in other industries. Like a slap on the wrist, or if we're lucky, the face, and a big ol' check to fund a ride off into the sunset.