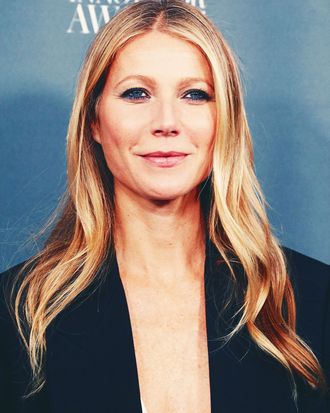 Gwyneth Paltrow.
Photo: Taylor Hill/WireImage/Getty Images
Do you own jeans and white sneakers? Can you stand on your feet for 12 hours? Do you live in or around Vancouver? Are you familiar with cupping and an energetic self-starter? Are you comfortable spending a day with women who are willing to pay around $300 American dollars a ticket to be educated on the dangers of tomato seeds? Can you lift 30 pounds and use a tablet? If you answered yes to all of those questions (plus a couple of more follow-ups), you may be qualified to provide Gwyneth Paltrow with free labor, if only for a weekend.
According to a missive popping up on local Vancouver websites, Goop is hiring volunteers to work at the company's first-ever international wellness conference, In Goop Health, in Vancouver on October 27. The workers will assist with crowd flow, like directing guests to a panel on astro-psychology, or helping them find a washroom after too much chlorofyll-infused water.
Despite the steep cost of entry to the summit (taking place at the Stanley Park Pavilion, one of the city's most popular wedding venues), volunteers themselves will not be paid in money but something less tangible: the essence of Goop. They will be able to soak up the atmosphere, which promises, per the help-wanted ad, to be "transformative." Working alongside the unpaid 18 or so volunteers will be a group of close to 100 staffers on the payroll. A Goop spokeswoman explained to the Cut that the company decided to offer a volunteer option after receiving dozens of queries from people eager to get involved, adding that the volunteers will operate "like docents."
Though it's unpaid, the work won't be lax. The posting details expectations befitting a $250 million company: a compulsory two-hour training session on the evening before the conference (October 26) and a 6:30 a.m.–6:30 p.m. work day on October 27 and/or October 28. Volunteers will be on-hand to make sure guests (who have all shelled out CAD$400 a ticket) have a calm and mindful experience with check-in and line-ups. They'll also help out at Goop Hall, which is where guests can stop in for a B12 shot and peruse the latest advances in jade eggs and collagen drinks. Unlike other cities like NYC (which charged $450–$4,500 for different levels of service, access and swag), In Goop Health Vancouver is egalitarian in its "one price fits all" approach, befitting the ethos of its Canadian clientele who are accustomed to things like free health care.
The application process for volunteers seems fairly breezy, with questions that are as generic as any you'd find for an on-site conference gig, focusing on experience levels (in retail and live events) and availability, as well as asking applicants to provide their T-shirt size and social-media handles. There's not a single question about astrological signs or aura colors, but there is a "tell us about yourself" section to include the pertinent details.
And although the main event is only one day, volunteers are asked to provide their availability for October 28 as well. There'll be an array of workshops for breath work, meditation, and body sculpting that are free to those who sign up in advance.
Volunteers will have access to food and snacks. If past In Goop Health conferences are a clue, Bulletproof coffee, lox burritos, and kale cookies & cream ice cream could be on the menu, as well as the requisite vegan/GF/allergy-sensitive dishes. They'll also be gifted with the same swag bags as attendees (likely a sweet haul; past iterations have included Goop skin care and those expensive dusts that make you horny), as well as free access to a $150 workshop with author and GP-approved psychotherapist Dr. Barry Michels.
But those thinking of volunteering just to catch a glimpse of the flaxen-haired guru herself need not apply. Gwyneth is not scheduled to attend the conference.