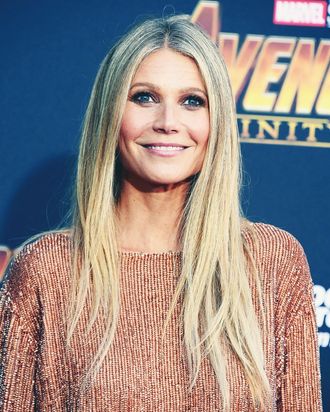 Gwyneth Paltrow.
Photo: Steve Granitz/WireImage
Long before Gwyneth Paltrow was a coffee-enema advocate or a vaginal-jade-egg designer, she was, apparently, "a dick" — or at least that's what her father told her when she was in her 20s.
In a new profile in Marie Claire U.K., 46-year-old Paltrow opens up about her relationship with her dad when her acting career was flourishing, saying that he pointed out the effect success had on his daughter.
"When you achieve the kind of fame that I did by the time I was 25 or 26, the world starts removing all your obstacles because you're now a 'special person,'" she said. "You don't have to wait in line at a restaurant, and if a car doesn't show up, someone else gives you theirs."
Twenty years later, she recognizes that "there is nothing worse for the growth of a human being than not having obstacles," but when reflecting on her 20s, she recalls being naïve and arrogant — a disposition over which her late father, Bruce Paltrow, accused her of "becoming an asshole."
"I was just believing my own hype, thinking that I was super awesome," said of her mentality. "And he was like, 'You're getting weird — you're acting like a dick.'"
Twenty-six-year-old Paltrow would have never been able to survive her recent harrowing Hamptons shopping experience with as much grace as she did this summer.