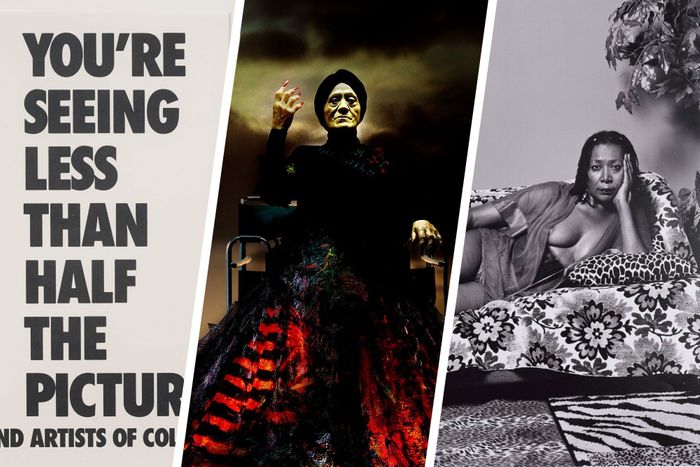 Photo: Jonathan Dorado/Brooklyn Museum, Lisa Reihan
One-hundred years of intersectional feminist art are on display in the Brooklyn Museum's latest exhibit, "Half the Picture: A Feminist Look at the Collection." Drawing its name from a Guerrilla Girls poster, the show features more than 50 artists who explore gender, race, and class, particularly highlighting the perspectives of women of color, immigrants, and the LGBTQ community.
Below, senior curator Catherine Morris shares five of her favorite pieces to check out before the exhibit closes on March 31, 2019.
Mickalene Thomas: Madame Mama Bush, 2007.
Mickalene Thomas reinterprets 18th- and 19th-century Romantic paintings, placing black women front-and-center in carefully staged portraits.
Morris: "The image is of her mother, who was a very important inspiration and muse for her. In this case, her mother takes on this recumbent nude figure that is a classic pose in art history. That a male artist often posed a nude woman in this suggestive repose is, in this case, complicated by Mickalene's relationship to the figure, who is her mother. It's still involved in this conversation about the change in the narrative of art history."
Lisa Reihana: Mahuika, 2001.
The figure in this eight-foot-tall painting represents a female god of fire, from artist Lisa Reihana's series of gods and goddess figures in Māori culture. Reihana is Māori, the indigineous East Polynesian population in New Zealand.
Morris: "In the case of Marae figures, those deities are typically represented by carved wooden objects made by men. So in this case, Reihana brings that history up to date as a female artist using digital technology to represent her goddess figure, not seated in a typical natural landscape, but seated on a Marcel Breuer chair. She presents her figure in a very over-scaled, highly saturated image so you definitely know this is an otherworldly figure with immense power. The real driving force here is thinking about the history of these mythological figures in her native culture and bringing them up to date in numerous ways."
Wendy Red Star: Alaxchiiaahush / Many War Achievements / Plenty Coups, 2014.
These famous photographs were taken of five chiefs from the Crow tribe, which was based in the Yellowstone river valley of the northwest United States; in the 19th century, they went to Washington, D.C., to strike a deal with the U.S. government about land ownership and rights.
Morris: "Wendy Red Star, who is Crow herself, saw one of these famous 19th-century photographs appropriated and used on a label for Honest Tea. It struck her, obviously, to see these historical figures whose descendants she knew, appropriated and turned into this weird symbol that had no historical value. So she took these five famous photographs that were taken by a photographer who didn't even identify them by name, and she dove deeply into this amazing history about a peace treaty."
"These five Crow chiefs arrived in Washington, D.C., and they wore symbols of their own power that they had gathered over the course of their lives. Wendy Red Star did the research into describing what these different symbols of power meant."
Ghada Amer: Heather's Dégradé, 2006.
Heather's Dégradé looks abstract from a distance, but up close the dangling red threads show "women in moments of pleasure," according to Morris. The work's title plays on the notion of fabric fading over time, subverting the idea that sex demeans a woman's value to society.
Morris: "Ghada Amer was born in Egypt and moved to Paris as a teenager, before coming to the United States. She understood the patriarchal nature of the history of painting, particularly in the U.S. So she finds this really smart way of acknowledging what she loves about painting and abstraction and turns it on its head in this very specific way of making images that are drawn from pornography. She takes that male-identified movement and turns it into a gesture of female empowerment, undermining the male-dominated narrative of painting."
The Guerrilla Girls: You're Seeing Less than Half the Picture, 1989.
"The Guerrilla Girls started making work in 1985," Morris said. "They worked anonymously, wearing gorilla masks. They are still an iconic feminist action group, and their roots are New York–centric in many ways, though they now focus on international activism as well. They came together as a group of women artists and decided to draw attention to the inequities they were facing in the art world, in very bold ways. This included putting posters up, particularly in the neighborhoods people went to see art. This high-impact graphic style hit with a salient point you could take away as you passed the poster on the street and could think about as you looked at art. Who are you seeing [represented]? Who are you not seeing? How are all these absences affecting the way you think the world is? Whose perspective is excluded [from the narrative] is equally, if not more important, than whose is included. You have to fill in those empty spaces by deciding that for yourself."