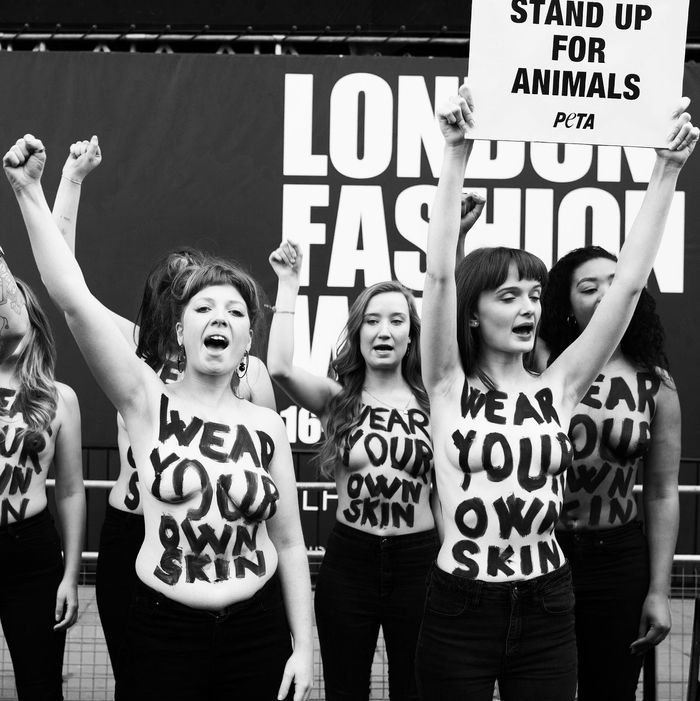 PETA protesters at London Fashion Week in February 2018.
Photo: Ki Price/Getty Images
Last winter, on a frigid February day, a group of women gathered in front of London Fashion Week's Store Studios headquarters and took off their tops. Clad in nothing but body paint reading "WEAR YOUR OWN SKIN," they marched behind signs emblazoned with the logo of the organization they were representing, PETA.
"Animal skin is not fashion! Where the hell is your compassion?" they chanted as camera crews from the British tabloids scrambled to report a story about topless women in the streets.
Two weeks ago, another London Fashion Week wrapped up. But unfortunately for the Daily Mail, this one afforded no such salacious opportunities. According to the British Fashion Council, not one of the 80 designers who participated in the week showed real fur.
Animal-rights activists have become as much a fixture of Fashion Week as Anna Wintour. They regularly demonstrate outside major shows and occasionally manage to ambush a runway, the way one protester from the group Surge did at Mary Katrantzou's February London Fashion Week show (ironically, she showed only faux fur). At Paris Fashion Week on Tuesday, PETA activists wore underwear and giant costume bunny heads to demonstrate at the Eiffel Tower, where Saint Laurent showed later that evening.
But these days a lot of people feel that fur is not acceptable, including some of the most influential names in fashion. Burberry, Michael Kors, Donatella Versace, Giorgio Armani, and Gucci's Alessandro Michele and Marco Bizzarri have all recently made pledges to never use fur in their collections again. Other famous labels like Marc Jacobs and Givenchy haven't officially gone fur-free, but showed only faux fur on their fall 2018 runways. The cities of Los Angeles and San Francisco have officially banned fur, too. In the decades-long battle between fashion and PETA, it seems as though PETA has finally won — despite its own best efforts.
The organization is loathed within the industry. In 2005, on her way into the Chanel show, a PETA protester threw a tofu pie in Wintour's face. Almost ten years prior, PETA claimed responsibility for another famous attack on Wintour during lunch at the Four Seasons, in which a woman screamed "Anna wears fur hats!" before dropping a dead raccoon onto her plate and scurrying out of the restaurant (the co-owner of the restaurant later said Wintour "didn't seem bothered at all" by the raccoon, which was removed and replaced with a burger).
In 1999, an unidentified protester threw tomato juice at then-Gucci designer Tom Ford at a fashion conference in Dana Point, California, while PETA protesters assembled outside in cages wearing donated fur coats to illustrate the inhumane treatment of animals on fur farms. Ford, who also showed faux fur in the February show for his namesake line, has said he remains distraught by the incident to this day. "[I]t was one of the most violent, frightening things that has ever happened to me," he told WWD. When his attacker reached into her handbag, clearly rooting around for something, "I thought it was a gun," he said.
Marc Jacobs called out animal-rights activists in an Instagram after a separate group protested his recent runway show, writing, "being abusive and aggressive to people while protesting about cruelty to animals is just plain hypocritical."
PETA's associate director of campaigns, Ashley Byrne, said the group never protests a designer publicly without trying to resolve their issues behind-the-scenes first, but feels their approach is justified: "I mean, I can't think of something that exemplifies harassment and bullying more than killing someone and taking their skin."
Perhaps unsurprisingly, fashion insiders don't credit the industry's newfound rejection of fur to the people who have been throwing food and dead animals at its most important members for 20 years. Instead, they cite a hyper–socially conscious generation of millennials who believe we should be able to experience luxury without contributing to animal suffering.
"The fashion industry's always concerned with the millennial consumer and the next wave of consumers and I think they're pretty firmly planted 'anti-fur,' " said Robert Burke of the luxury fashion consulting firm of the same name. "The last thing fashion likes is feeling dated or old."
Chloé Mendel is a self-described "sixth generation furrier" who worked under her father, Gilles Mendel, one of fashion's most famous pelt dealers. She recently launched Maison Atia, a line of luxury, reversible faux-fur coats. With every purchase of one of her coats, a homeless pet gets transportation to a no-kill animal shelter from Paws Chicago.
"I'm young. I don't buy furs," said the 25-year-old. "If you're going to buy something more expensive than a bottle of water, then you want something good to come out of it."
Those who do still buy fur like to argue that it's better for the environment than faux fur, which has a reputation for being bad for the environment. But even that millennial-friendly argument doesn't quite scan. So little real or faux fur is used for clothing in comparison to other materials that it's hard to find a detailed scientific study that properly assesses its carbon footprint. (Sales of fur and faux-fur items in the U.S. represent just 1 percent of total luxury apparel sales, according to retail data-tracking firm Edited.) At the least, it's fair to say the verdict is still out.
When Gucci swore off fur last year, CEO Marco Bizzarri said the material wasn't modern and that continuing to use it would impact his ability to attract the best (presumably millennial) talent to work at the company. (Half the label's customers are millennials; it also employs as a "shadow committee" of millennial advisers.) Michael Kors echoed this sentiment after his fall 2018 show, his first since joining the Fur Free Alliance, telling reporters that even women on the Upper West Side weren't interested in buying mink. Contrast this with the New York Times's proclamation in just 2015 that "fur is back in fashion," crediting Kors with "turn[ing] fur into a runway star."
Even some activists aren't sure how much PETA has contributed to the current faux-fur boom. The Humane Society's PJ Smith, who works with fashion labels to craft fur-free policies, has seen the shock-and-awe tactics commonly associated with PETA backfire. Not long after he started in his position nine years ago, he went into a meeting with Barneys armed with an arsenal of disturbing media, including videos of animals being skinned alive and fetal lambs being used for astrakhan fur.
"I remember watching their faces and seeing them shut down, and it happened very early on in the meeting and we didn't get anywhere," he said. "They know it's already bad and they don't want to see it."
PETA's gruesome viral videos of coyotes being trapped for the benefit of a fur trim on those ubiquitous Canada Goose jackets may make sense to a social media–addicted generation. But their reputation of exploiting women to make their points, as in campaigns like "I'd rather go naked than wear fur" or their topless protests, look dated and problematic in an age of activism powered overwhelmingly by young women who are tired of being taken advantage of. (Jezebel has been slamming PETA's controversial stances involving women — like Ingrid Newkirk's statement that "discrimination" against chickens is as bad as that against women — for more than a decade. PETA's Byrne says men regularly participate in nude protests but aren't the focus of as much media attention.)
For animal-rights activists, the question isn't whether the fur trade will end in their lifetimes; it's who will be next to take a fur-free oath. Joshua Katcher, an adjunct Parsons professor, anti-fur activist, and author of the forthcoming Fashion Animals, has an idea. "Karl Lagerfeld has Choupette. He's next."
PETA has its eye on Prada, Byrne said, and wonders why Marc Jacobs hasn't made a splashy announcement about his label going fur-free for the past year, when the brand has said in its own Instagram comments that it has done exactly that.
When I ask Byrne if she feels like PETA has finally won, she stops short of a simple yes. "Every one of our campaigns is a campaign for the animals. So the way we see it, this is a win for the animals."