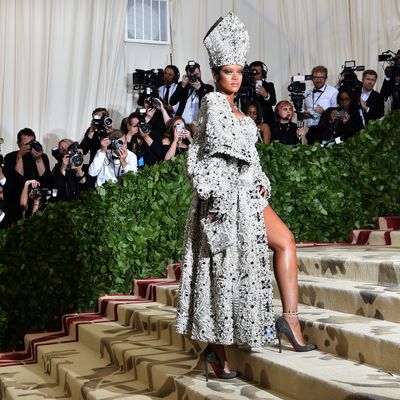 Rihanna at the 2018 Met Gala.
Photo: HECTOR RETAMAL/AFP/Getty Images
The 2018 Met Gala at New York City's Metropolitan Museum of Art was an unforgettable event — Rihanna was there, and the theme "Heavenly Bodies" inspired an endless selection of fashion moments. The gala's accompanying exhibit was debuted that night, with Anna Wintour helming the party, and then remained on display for the public from May until October 8.
The Costume Institute's "Heavenly Bodies" exhibit, which was housed at both the Met Fifth Avenue and Met Cloisters, was the most-visited exhibit in the museum's history, with 1,659,647 guests. The show even beat out "Treasures of Tutankhamun" from 1978, which had 1,360,957 visitors.
"Heavenly Bodies" was also the largest exhibit in the museum's history, covering 60,000 square feet in 25 galleries. The exhibit was curated by Andrew Bolton, who is the Wendy Yu Curator in Charge of the Costume Institute. The exhibition presented "a dialogue between fashion and masterworks of medieval art in The Met collection to examine fashion's ongoing engagement with the traditions of Catholicism," according to the museum.