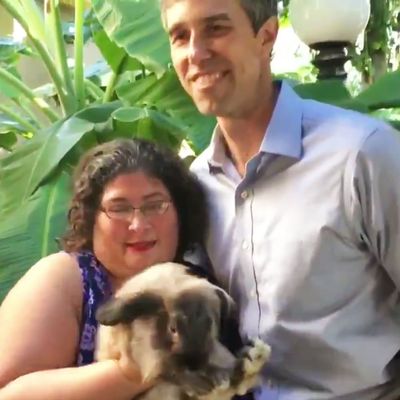 The bunny's human, the bunny, Beto O'Rourke.
Photo: @BetoORourke/Twitter
Beto O'Rourke, Ted Cruz's Democratic challenger, has done a solid job of convincing voters that he's cool. Some of that comes from the fact that he's running against Ted Cruz, a haunted memory foam pillow who looks like he's constantly gassy; some of that comes directly from the Texas GOP, which has taken to posting memes about how O'Rourke was in a band and loves to skateboard. Today, O'Rourke showed off another important personality trait: being super into petting rabbits.
"Oh my gosh, this is what I needed in my day today," O'Rourke is heard saying, while tenderly stroking a bunny named Rainbow who showed up to a campaign event with his human. (Rainbow and his siblings' account can be found here.)
Your move, Ted Cruz. Though, on second thought, please don't.