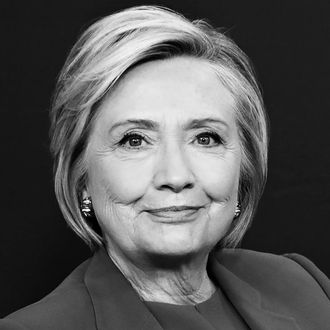 Hillary Clinton.
Photo: Cindy Ord/Getty Images for SiriusXM
On Friday evening at 92nd Street Y in New York City, technology journalist Kara Swisher pushed former Secretary of State to Hillary Clinton to address her latest controversial remark about the Monica Lewinsky scandal: that her husband's affair with Lewinsky was not an abuse of power because the former White House intern, who was 22 years old at the time, "was an adult." While Clinton acknowledged the backlash she has faced for her comments, she repeatedly dodged Swisher's questions, saying she doesn't want to "relitigate everything [she's] said for 20 years."
Before getting to the Lewinsky remark, Swisher and Clinton discussed everything from Stacey Abrams's gubernatorial run in Georgia to Pizzagate to Russian collusion. Then, about an hour after the conversation started, Swisher brought up the comment, which she said she found disturbing.
"Do you want a redo on that one?" Swisher asked.
Clinton started out by stressing that her husband's scandal was a "really painful difficult time in my life," and that she "[feels] very sorry for what [Lewinsky] went through." Still, she refused to walk back on what she said earlier this month.
"I understand how 20 years later, a lot of decisions are being reconsidered or being looked at again from different points of view," she said, before changing to subject to the #MeToo movement in general. "I believe strongly that this moment is especially critical for women's voices about their experiences to be taken seriously … [but] I'm not going to relitigate everything I've said for 20 years."
She went on to insist that she remains dedicated to uplifting women to ensure that "no voice stifled or ignored any longer."
"I'm very focused on doing what I can to make women's voices heard an respected," she said. "I'm hoping with all these amazing women running for office, we're going to have a lot more women's voices."
To this day, former president Clinton too maintains that he "did the right thing." Meanwhile, more than 20 years later, the scandal still follows Lewinsky wherever she goes.