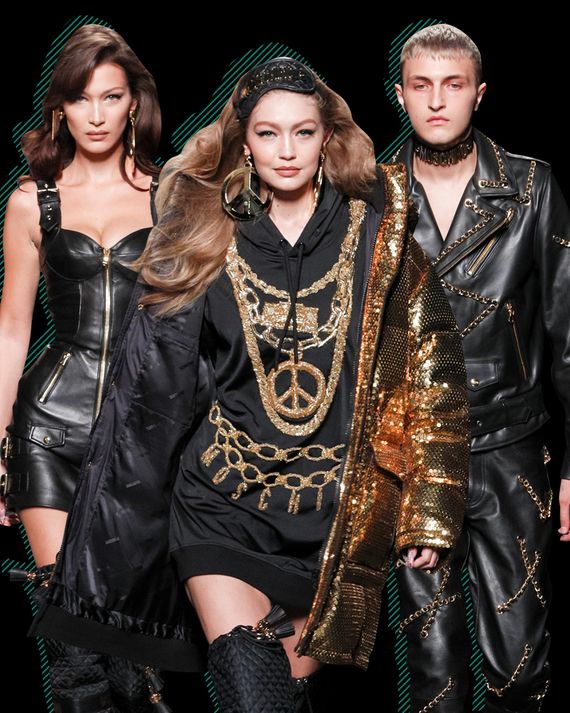 Bella, Gigi, and Anwar Hadid walk H&M x Moschino.
Photo: Courtesy H&M x Moschino
On Wednesday night at the South Street Seaport, it was New York Fashion Week all over again thanks to H&M and Jeremy Scott for Moschino. The two fashion powerhouses collaborated for the first time on an affordable collection ($25 to $300), which featured all the same elements you would expect from the designer's more high-fashion shows: cartoon couture mixed with streetwear, pop music, and everything shiny.
"I wanted to give my fans the full breath of Moschino," Jeremy Scott told the Cut backstage, cupping his hands to his mouth and blowing outwards. I could quite literally hear his breath entering my iPhone recorder as I transcribed our conversation later. (He probably meant "the full breadth," but it doesn't matter.)
"The price point that H&M is able to meet, while keeping the quality as good as it is — that's something I can't achieve at Moschino," Scott continued, referencing the luxury Italian house he's helmed since 2011. "It's not like, 'Oh, this isn't as good as the real stuff.' It's stuff that's cool, that I want to wear, and that I'm in love with. It's so genuine; it's my gift to my fans."
This warm-and-fuzzy feeling that Scott generates wherever he goes might seem like all gloss from afar, considering the context. But being in the designer's world of glitz and glam really does make you feel special, and his ability to round up such an all-star cast proves just how beloved he is in the industry.
The Hadid siblings — Gigi, Bella, and Anwar — added to this sense of family when they each walked the runway on Wednesday night, with their mother, Yolanda Hadid diligently snapping Instagram photos front row. Marc Jacobs was also in attendance to show his support, along with Aquaria of RuPaul's Drag Race and the next generation of young stars like Paris Jackson, Frances Bean Cobain, and Miles Richie, who all sat front row. Legendary makeup artist Pat McGrath was in charge of beauty, and model Soo Joo Park dyed her hair bright orange just for the event.
Supermodel Naomi Campbell closed the show wearing — you guessed it — so many sequins! Nostalgic references to CD-ROMS, MTV, Disney characters, and '90s TV shows like In Living Color were present throughout, as well as more pressing subjects like safe sex. Scott designed special "Ready to wear" shirts and accessories with condoms on them, as well as actual branded condoms, which were available at the pop-up immediately after the show.
"I wanted to promote [safe sex] and make it fashionable," Scott said. "I wanted to keep that in young kids' minds so that they don't feel embarrassed or hesitant about having safe sex." When he brought this idea to H&M, the company did not protest.
In the past, H&M has collaborated with luxury brands such as Balmain, Alexander Wang, Versace, and Marni, but Jeremy Scott for Moschino feels like a particularly fitting mash-up, given the designer's penchant for combining high and low, exclusive luxury and mainstream pop.
All in all, Wednesday night made me nostalgic for a time that maybe never existed — one where fashion was attainable for everyone, and ultimately brought people together. There was a virtual-reality element to the show, but it wasn't necessary. When Jeremy Scott breathed on me, I felt it.
The Moschino x H&M collection will be available online and in select H&M stores worldwide on November 8.