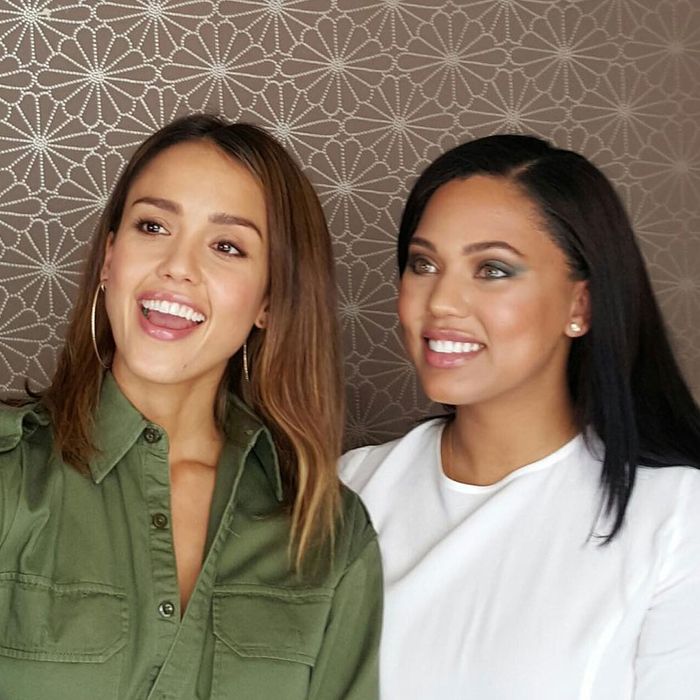 BFFs Jessica Alba and Ayesha Curry in 2015.
Photo: @ayeshacurry/Instagram
Business is always more fun when you do it with your buddies. So you can imagine the good times that multi-hyphenate gal pals Jessica Alba and Ayesha Curry are having now that Curry is a brand Ambassador for Alba's Honest Company.
The Honest Company is a wellness company that offers a variety of baby, home, and beauty products. Both Curry and Alba are mothers of three, and have been friends since 2013. Alba says of Curry becoming an ambassador:
Ayesha amazes me, she's an incredible chef, dedicated mom, and inspiring entrepreneur. She is all about living a happy, healthy life and what she uses in her home and on her babies has always been super important to her. Ayesha values perfectly align with Honest's mission which makes her the ultimate Honest Mama and I am thrilled to be partnering with her!
Curry has long been a fan of The Honest Company (and is a face of CoverGirl). Here's an Instagram of her visiting Alba at company HQ in 2013 with everyone's favorite press-conference participant, Riley:
And here's an Instagram post from 2015 that shows Curry's daughter Ryan decked out in Honest gear:
Honestly, it seems like a match made in heaven. And no, Heaven is not the name of one of Alba's children (that's Haven).