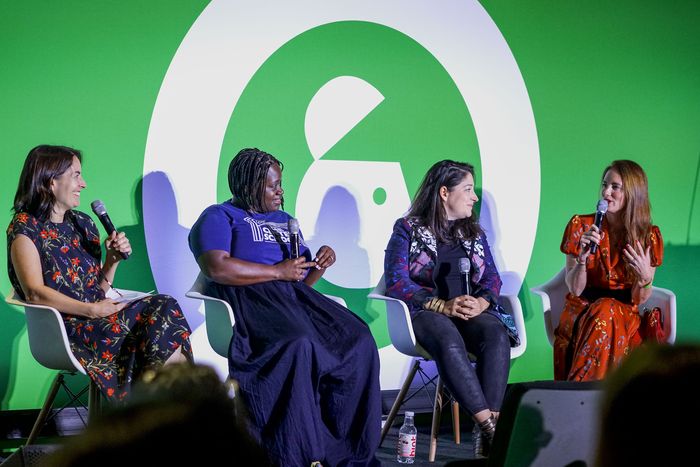 From left: Stella Bugbee, Shaniqwa Jarvis, Marilyn Ness, and Bettina Prentice.
Photo: Advertising Week
Last week the Cut hosted another live version of our How I Get It Done series with a panel moderated by the Cut's editor-in-chief, Stella Bugbee. She spoke with artist and photographer Shaniqwa Jarvis, documentary director Marilyn Ness, and communications consultant Bettina Prentice, asking the question we pose in all How I Get It Done interviews: How do you get it all done in one day?
They shared how they make room for more women of color in their fields, deal with stress, and balance work with their personal lives. Scroll down to read a quote from each woman on the panel, which took place during Advertising Week in New York.
Bettina Prentice, founder and creative director of Prentice Cultural Communications
"We took on a client, and were doing an artist collaboration. They asked me for a short list, and I provided it: All women of color who are really shaping the conversation about identity. They said, 'Can we have some more names?' So I did, I gave them more names of women of color. And the third time, when they asked for more names, we dropped it. I think that's the only way to affect positive change. I'm sorry — I'm not leaving my kids so that I can further the career of another middle-aged dude who has already had major museum retrospectives and has been in every magazine imaginable. That's not why I'm here."
About Prentice: She is the founder and creative director of Prentice Cultural Communications, a strategic consultancy that brokers partnerships between artists and luxury brands. Prentice is also a founding member of the Artemis Council at the New Museum of Contemporary Art, which funds solo exhibitions exclusively by women artists.
Marilyn Ness, documentary director and producer
"Be kind to yourself, and be patient. Life is long, and you can get a lot of things done, but you probably shouldn't be trying to get them done all at once — or life will be a lot less long. Just be patient. I am a believer in that we can have it all; My little mantra is, 'This is what I'm doing for now.' It allows [me] to be patient. It could all change in a month. I could be on a different film in a month. But this is what I'm doing for now."
About Ness: She's a two-time Emmy-, Peabody-, and DuPont Award-winning filmmaker, and a member of the Academy of Motion Picture Arts and Sciences. Ness most recently directed the Baltimore documentary Charm City, which premiered at the Tribeca Film Festival and is in theaters October 17.
Shaniqwa Jarvis, artist and photographer
"I try not to get super negative — I try to really stay positive and only keep positive vibes around me. That's something that I set the tone for at work and at home. I try really hard to keep very negative people away from me, because there is just so much [negativity] coming at you all the time. I think I'm more cutthroat about it than I used to be; I used to just be like, 'Oh she's cool, that's fine, whatever,' but now if I see you and feel that you are just not for the power of good, I just can't be around you. It's a very strong change I've made in my life."
About Jarvis: She's an artist and Cut contributor, known for combining a modern fashion aesthetic with sensitive and emotional portraiture. Her large-scale portrait projects have exhibited in London, Tokyo, Los Angeles, and New York, and she has worked with companies like Adidas and Supreme.