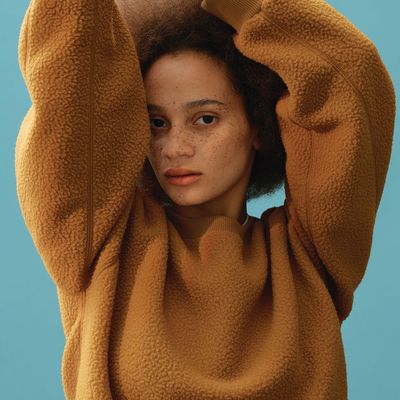 Ad for Everlane ReNew.
Photo: Courtesy of Everlane
Everlane has announced that it's planning on phasing out all kinds of virgin plastic from its business by 2021. Instead, all plastic will be recycled. The first phase, Everlane's ReNew collection, consists of fleece sweaters and outerwear and uses polyester made from recycled bottles. Everlane isn't the first company to use fabric made from plastic waste (Girlfriend Collective and Veja are two other brands that use similar materials) but it may be the most high-profile.
Everlane has always positioned itself as a conscious company — the tagline since the beginning has been "radical transparency" — but this is its biggest environmentally focused push so far. And it's partially fueled by the brand's popularity. "[Our] impact on the environment is greater and greater as we grow," founder Michael Preysman told the Cut. "We knew we needed to do better, to take responsibility and say no to creating more plastic and instead focus on renewing what's already here."
But how exactly does a plastic bottle become a fleece? It's a four-step process. The plastic bottles come mostly from Japan and Taiwan, countries with efficient recycling systems, according to Kim Smith, head of product at Everlane. Nine-hundred-and-twenty-six-pound cubes packed with bottles come to the factory, where they're sorted by machine and by hand, then washed to get rid of any labels.
Then it gets loud. The bottles need to be cut into 1 centimeter flakes in order to be melted. "Imagine a paper shredder, but cutting 926 pounds of water bottles into 1 centimeter flakes," Smith said. Once they're flakes, the plastic is melted.
Now the plastic is unrecognizable as a bottle, and is pushed into a pasta-maker-type machine to make long strands (fashion bucatini). The strands are cooled in water, but they're not yet fine enough. So they're cut up once again.
In the final step, the cut up crystals are re-melted and re-extruded into a finer fiber, which is then spun into polyester. Once the material is reborn as polyester, it can be fleece, fabric, or insulation.
And yes, Everlane has vetted the factories. The recycling facility and fabric mills are located in Taiwan. The collection is produced at its factories in Vietnam, which are listed on its site. Smith said the team started thinking about the ReNew project two years ago, but it took a while to find reliable factories to work with that met their standards. Specifically, they wanted to find factories that were Bluesign approved and Global Recycle Standard (GRS) certified. Basically, those certifications in tandem make sure the factories are minimizing its effect on the planet and also have good working conditions. After finding the right fit and process, Smith says, "it was definitely worth the effort."
Shop the Story
If you buy something through our links, New York may earn an affiliate commission.