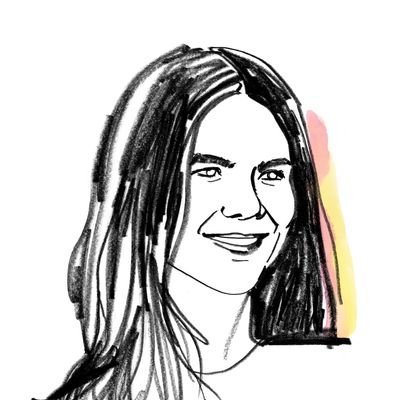 Illustration: Lauren Tamaki
Amanda Chantal Bacon, founder and owner of Moon Juice — the Los Angeles cult destination of dusts, powders, tonics, snacks, superherbs, and supermushrooms — is too busy to pretend she's balanced, too wild-hearted to ever have a standard routine. Her Moon Juice shops are booming with celebrities (like Gwyneth), glowy and dewy superfans from L.A. and New York, and pretty much anyone who's carefully read a wellness blog in the last six years. Her best-selling Moon Juice Cookbook was released in 2016, and a second book on adaptogens is set for publication in 2018. Bacon, who oversees one of the most-talked-about brands in the beauty and wellness industry, is also a mother to a 7-year-old son, a new wife who encourages a robust sex life, and a hard-core karmically oriented person who posts Instagrams like the one about a stolen rose-quartz crystal from her Silver Lake shop that read, "To whomever took her out the door, you do not want the energy of a stolen crystal, please trust me!" Though she's a self-proclaimed "stray cat" by nature, she lives in Rustic Canyon in Los Angeles. This is how she gets it done.
On managing her mornings:
My mornings are messy. There's a lot I like to do in the morning that I feel is crucial to my survival of life, my well-being in general, and my mental health. But I also have a 7-year-old and a job. So, more and more often lately, I can't get my morning ritual done. That sometimes means I won't have a clear, calm aim for the day, but sometimes I can make up for it in other ways.
On transitioning from single mom to mom with partner:
I recently got married, so I transitioned from being a single mom to having a partner and a stepdad for my son. I used to think, if I had a partner, I would have perfect morning meditation, perfect days, etc. I am forever grateful for my husband but I still feel rushed and disheveled. I've chosen to pack things on and get even busier. I will say, in the past, the mornings were scary, my child crying, me almost in tears. I'm such a long way from that. Now that I have a partner, instead of meditating in a parked car in an alleyway (which I've done!) I sometimes get to sit on the floor in my house. But not always.
On finding silence anywhere you can:
That's kind of the nice thing about L.A., the time in the car gives you a 30–40 minute buffer time of aloneness. I can be still. That helps. In the morning especially, I really need the silence. I'll just sit in the car, driving, really present, eyes go big, and I just "wow out." Look what work has done to my life: spirituality is sitting in silence in my car!
On falling in love when you have a child:
My husband and I had been friends for seven years, and one day we fell in love. I loved his mind and his heart and his music. I would look at him and always see sunshine. Love makes me feel as equally busy and ambitious as before. As a single mom for four years, a big part of my identity was to do all this heavy lifting on my own. I did it with my business and my child and I did it every day. But I was also really open to ask for and receive help, and I think that's part of why this love found me. When you're a single mom, the private part of dating happens really fast and suddenly it turns into a lusty family romance. You're newlyweds and you're in love and it's sexy, but you're also a functioning family unit with a 7-year-old. I'll be at Legoland on my husband's lap, kissing him, and Rohan will hop on top and be with us. And I watch all these other parents not talking to each other, and they're all staring at us. I think it's so awesome as a kid to see your parents really into each other.
On eating "normal" things like bagels and cream cheese:
I did have an everything bagel with cream cheese at Russ & Daughters recently. I'll save it for a moment like that. But I usually don't buy stuff like everything bagels with cream cheese. It has such an effect on me mentally and physically that it's not what I want from my workday. I'll have a tonic in the morning and quinoa toast or a seed bread with lots of butter; getting big hits of fat in the morning is so good for my brain.
On a typical day in the office:
I sit in the conference room and I don't stop talking or thinking from 9 a.m. until 6 p.m. I'll sip hot things all day long. I'm also drinking dust all day long. I like it in my instant coffee. Trashy instant coffee with spirit dust or sex dust — I love that.
On working late:
Working-bingeing motivates me. I like to get three office days into one and spend the other days bouncing around. If my son is with his dad, I'll be the last person at the office. I used to stay until 11:30 p.m., but I feel like I have a great crew of ladies and they have young children and lives, so I don't want to keep them there. These days, the latest we'll go is like 7:30 p.m.
On working out:
I haven't worked out in over a year, which felt a little strange at first because I've always felt athletic and physical, but what started as an experiment with lowering inflammation and cortisol in my body by not forcing it to do intense workouts on top of tons of work and travel and stress, turned out to be more successful than I thought and I actually became more comfortable in my body. So now I focus on sleeping eight hours a night and getting functional movement in, so taking a walk when I can, bouncing on a trampoline, walking wherever I can, playing with my kid, looking for the hardest way to get daily tasks done physically rather than the easiest. A happy, healthy, active sex life does wonders for me physically and chemically.
On traveling around America for work:
I really love visiting small American towns for work. Of course, there are a few places in America where I'm afraid of white males in trucks. If I'm afraid, I can't imagine how scary it can get. Outside of those places, I am just so charmed. I always do the following things in a new town: try to find local co-ops, health cafés, a cool vintage and some quirky metaphysical shops. I find myself falling in love with all these little towns and cities and looking at real estate.
On having sex even when you're a really tired working mom:
I'm obsessed with my husband. I love having sex with him. I'll make a little sex-dust tonic in the evening with a little cacao in it. It won't keep me up all night, but it gives me a little boost of sexy energy. If I'm really tired, a shower helps. Our sex is not a draining physical act, it has an energy of its own. So a lot of time all I need to do is clear my head, give myself a moment, and that realm of whatever we share will take over and take us on a ride. If you feel exhausted, it's okay to come to the table with that. Your partner can bring the extra energy you need. Be open to letting your lover put you in a different state.
On being the boss:
I have a president with a different leadership style than me, and that's really helped me. I am not that person who can show up at an office day in and day out, and be really consistent; a part of me is a stray cat. I left home in my late teens and traveled by myself. I loved being in foreign countries by myself. Alone, finally. That kind of is my happy place. So imagine that kind of person having a schedule and being held accountable, and helping people, and guiding people. That's been an evolution for me. It's why I'm really happy I have my great team leaders.
On her role models:
Alice Waters, Jane Goodall, my friend Emily Weiss, Amma, Kris Tompkins.
On her relationship with the state of the country today:
I am an awake human with a beating heart and am deeply disturbed by a lot of what goes on politically today. I will go out and rally and volunteer and donate money to some of the crises that have come up over the past couple of years when it becomes a humanitarian and environmental issue. My coping mechanisms are that I try to turn to heart-centered action rather than anger.