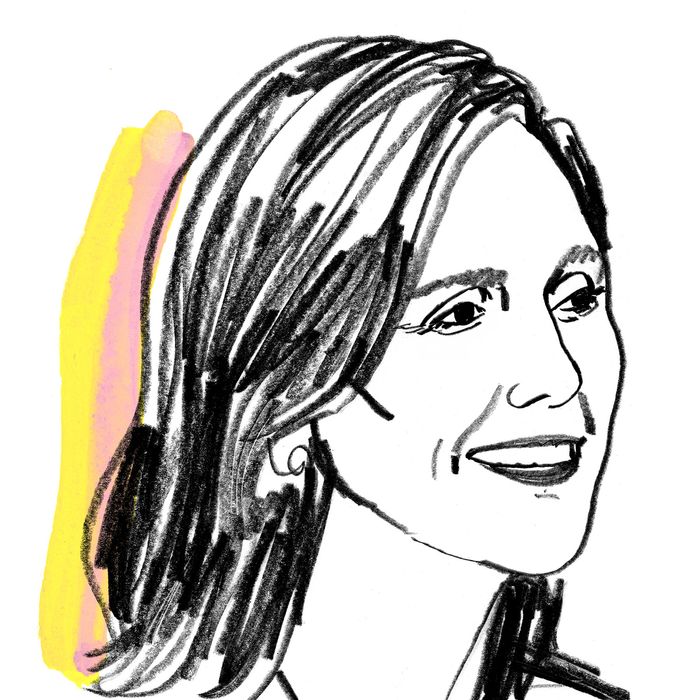 Illustration: Lauren Tamaki
As a single mom in her mid-20s, Beth Comstock, now 58, dreamed of becoming a TV reporter — a far cry from where she landed as vice chair at General Electric, where she ran the Business Innovations division for almost a decade. At the end of last year, Comstock left GE to become a free agent, and now guides other executives through the amorphous business of staying ahead of the curve; last month, she published a book on the same topic, Imagine It Forward: Courage, Creativity, and the Power of Change. Her counsel has been sought by the CIA (to boost agency-wide inventiveness), Australian officials (to help visualize "Australia 2030"), and the Saudi Arabian minister of health (to encourage Saudi women to get breast-cancer screenings). These days, her calendar includes back-to-back board meetings, speaking gigs, and 5 a.m. journaling — plus sound baths on the weekends. Here's how she gets it done.
On her morning routine:
Now that I have a more fluid professional existence, I work mostly from home. I'm pretty religious about getting up at 5 a.m. It's my favorite time of day. I get a cup of tea and I sit on the sofa and spend an hour writing longhand in a journal. If I had a crazy dream, or there's something on my mind, I'll write it down. I started doing it when I was working on the book, and it stuck — it's mostly a brain exercise. I do keep my journals once I fill them up, but I don't really go back and read them.
On getting unstuck:
When I've been working on something for like, five hours, and don't feel like I'm making any progress, I take a walk. I live near the West Side Highway in Manhattan, so I'll walk along the river and tell myself, "I'm not going to think about that thing right now." I usually don't listen to anything, because I want to give my mind a break, but every now and then I'll put on a podcast or music. If I really need to release my brain, I'll listen to Led Zeppelin. I also have two favorite podcasts that help if my brain is dual processing — I can have the stuck project in the back of my head while I'm listening to the podcast at the same time. One is the BBC's In Our Time. It's about philosophy and it's so nerdy; I just love it. And the other is On Being, with Krista Tippett. It's very spiritual, and it helps put things in perspective.
On her astrology habit:
I check my horoscope in the New York Post every morning. I also read Susan Miller every month. It's stupid, I know, and usually it just says nothing much, but sometimes it'll say something like, "This day is bad for whatever reason," and for the rest of the day I'm like, "Did that lodge in my head, and I'm now creating a bad day because of it?" I definitely worry about the power of suggestion there. But I don't plan my day around it. It's not like I avoid something because Mercury is in retrograde or whatever. Honestly, it's just a dumb habit I've had since I was a teenager.
On her routine but delicious breakfast:
I have a whole ritual in the morning, starting with tea. I used to drink coffee, but I stopped about six months ago because it makes me a little crazy. When I gave it up, I found that I could focus a lot better. I miss it every day, but now I have caffeinated tea instead. I drink a Darjeeling that I get from the Porto Rico Importing Company on Bleecker Street. I'm so boring and healthy with my breakfast. I have the same thing every day: avocado toast with kale and pumpkin seeds. I do gluten-free bread, and I get fresh organic kale at the Union Square farmers market. I have a whole method: I steam the kale, and then I toss it with olive oil and toast the pumpkins seeds in a pan and sprinkle everything on top of the toast and avocado. Sometimes I have an egg with it, or kimchi on the side.
On life after GE:
Since I left GE, I've worked a lot on rebooting my health. I wasn't getting enough sleep, and I'd been traveling too much. I started seeing a functional doctor at Parsley Health, which I can't say enough good things about. It's a start-up with doctors who focus on nutrition and holistic care. They did a battery of tests, had me monitor what I ate, and looked at my exercise routine, and we've been marking my progress over the last year. I check-in with them about once a quarter and they'll do more tests. What I like about it is that they integrate the medical practice with nutrition coaching. I heard about it after I was introduced to Robin Berzin, the founder.
On exercise and sound baths:
If I work out, it tends to be toward the end of the day, but I've been pretty lax while I've been getting this book together. Yoga on the weekends is about all I've been able to muster these past few months. On Saturday afternoons, I'll do yoga at Equinox, and then I'll go to the Integral Yoga Institute in the West Village for a sound bath. It's amazing. You just lie there and listen to gongs and chimes and the whole room vibrates. It's so relaxing.
On a regular workweek:
Since I left GE, a lot of my work has involved meeting with entrepreneurs and helping them with business challenges. Also, I've basically had to spin up a mini company to get this book launched, with different people helping me with PR and social media. This evening, I'm doing a dinner with a group of people to talk about innovation, which is pretty typical. And I'll squeeze some writing in if I can, and emails. I also do a lot of traveling. I've got a National Geographic board meeting soon, and then I'm off to Nike for another board meeting the week after that.
On being an introvert:
When I have crazy weeks like this one where I'm going from 8 a.m. till 8 p.m. every day, I'm totally spent by Friday. The most my husband and I might do is go get takeout then watch TV. Lately I've been watching Sharp Objects, with Amy Adams. As an introvert, I need to be conscious about conserving my energy; otherwise, I get depleted. It's important to just take an hour to read or walk, which is very therapeutic for me. When I'm traveling, I'll make sure to carve out one night when I'm not eating out or going to an event.
On her nighttime routine:
On a typical evening, I'll check-in with my husband and have a "What have you been doing? Here's what I did" conversation for about 30 minutes. I also do a little sweep of social media just to see what's going on and read stuff I didn't get to during the day. Then I have a whole beauty regimen. I'm religious about caring for my skin and my teeth, and that takes a good half an hour. I use P50 lotion, by Biologique Recherche, which I discovered at Rescue Spa. I'm also a fan of facials at CAP Beauty. I'm currently using face oils by Vintner's Daughter. And then I might watch a little bit of late-night comedy before bed. I'm big on Colbert and Fallon. I like to go to bed early, because I get up early — 10 p.m. is not too early for me.
On being the only woman in the room:
I've been to conferences where women were so outnumbered that they turned the ladies' room into a men's room. When I was working at NBC, I once had to go to a three-week training program and I was the only woman there, out of 35 people — for three weeks! At the very end of it, one of the men said to me, "I have a question for you." And I was like, "Okay. He's going to ask me about a business theory or something." But then he was like, "Do you think you can help me set up a date with Maria Bartiromo?" I was like, "What? No! No, I don't think that's possible." Research has shown that women need a couple of other women in a meeting to help their voices get heard — or in my case, so that guys aren't asking for dates at the end of it. Because I'm more reserved and quiet, my strategy at meetings is to ask questions or show people something new. I'll bring in a trend I've seen, or an example of a competitor's idea. Like, "Hey, have you seen the latest version of X?"
On writing with a partner:
Near the end of my GE career, I wanted to pass on my learnings to people who were struggling with the same challenges I had dealt with, so I decided to write this book. At the time, I still had a full-time job, and I knew I couldn't write it by myself, so I got a co-writer [Tahl Raz], which was critical. I needed someone who could take all the conflicting views in my head and create a narrative. What we struggled with the most was that there's so much information. It took me several years of working with my co-writer and a good editor to simplify everything. And even still, it's pretty long for a business book.
On lectures and local travel as inspiration:
For brainstorming, I keep white paper and markers at my desk, and I'll doodle stuff and illustrate things longhand when I'm capturing ideas. I've got about five different notebooks going at any given time. I have one in my purse, one at my desk, and other ones in different rooms. They're not schematic; they're just location specific. I also get a lot of stimulation from going to lectures. There's this group in New York called ThinkOlio, and they do talks with college professors at the Strand bookstore. I also use Thought Gallery as a good source for speakers, and I like going to art museums. Whenever I travel, I research something local and block off time to go see it. I was in Lexington, Kentucky, a little while ago and I took about an hour before dusk to go look at street art. I do my best thinking away from my desk.