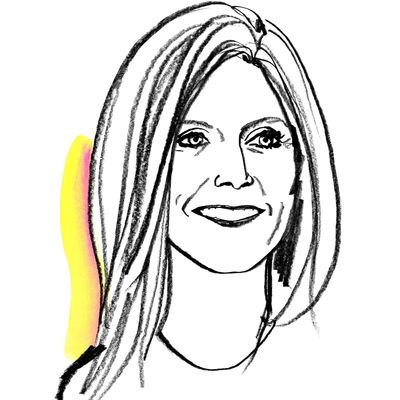 Marla Beck.
Illustration: Lauren Tamaki
Marla Beck is the co-founder of beauty retailer Bluemercury. A self-prescribed beauty junkie, she was inspired to create her own chain of luxury beauty shops in the late '90s after finding department-store counters "intimidating and uncomfortable." Macy's purchased Bluemercury for $210 million in 2015, but Beck remains at the helm as CEO. She also runs two new companies she's co-founded: M-61, a range of natural cosmeceuticals, and Lune & Aster, a vegan cosmetics line. Beck lives in Bethesda, Maryland, with her husband and business partner Barry and their three children. Here's how she gets it all done.
On a typical morning:
I wake up at 6 a.m. automatically. My husband Barry and I tend to connect early in the morning. If he's not traveling, we'll walk four miles. Otherwise I do interval training at Equinox. It's super intense, and I'll do five miles really quickly. Then I grab a coffee at Quartermaine [Coffee Roaster]. It's a Maryland-based coffee company and the coffee is outrageously strong. We know everyone in the shop — it's one of those neighborhood places.
I get back home around 8 a.m. and power through the New York Post, The Wall Street Journal, the New York Times, and the Financial Times.
I start getting texts really early from our product development team. They'll say, This is a priority, you have to finish this today. It's huge pressure. I have a home office and then a second home office in our master bathroom where I do product development [testing] every morning. I have a vanity that looks like a desk, and it's just packed with product all the time. We have 20 fluorescent yellow bags that go back and forth between me and the office filled with products for me to review that are in development.
I usually work for two to three hours on it. We have 116 items now, so there's plenty of work to do. And we're working on 2019 and 2020 for both M-61 and Lune & Aster. That takes a ton of time.
I drive myself to the Georgetown office between 10 and 11:30 a.m. I live in Bethesda, Maryland, so it takes about 20 minutes and I make a zillion calls on the way. In the morning I'm wearing my creative product development hat, and then I get to the company and I'm wearing my CEO hat.
On making decisions on the job: 
No day is ever the same, it's just always a frenzy. From the moment I arrive at the office, it's meeting after meeting with the team, generally going through and making decisions. It may be a social-media campaign, it may new vendors we want to bring in, it could be new store sights, reviewing digital emails to the clients, reviewing financial statements. It can be anything. I think being CEO of a company of our size — which is fairly large — you just become a decision-making machine. You're making decisions all day long, or you're helping guide people to make decisions.
On what's changed (and stayed the same) since the Macy's acquisition: 
I used to be involved in everything, and I've let go of a lot of the day-to-day decision making; otherwise the company wouldn't run. Up until five years ago I used to interview everyone that joined the company from store manager up. I was obsessive about our people matching the culture and making sure we're a family business. Of course, I still want to be that warm family business, but part of my job now is to try not to slow people up from doing their jobs.
Macy's gives us support with human resources, technology, infrastructure, finance. They've been great — because for them and for me, one of the most important pieces of the acquisition was making sure Bluemercury maintains its DNA. One way to do that is to keep as many of the things that touch the customer and that touch the staff the same. Our customer service and our client satisfaction is higher than it's ever been, and our staff are excited and happy. We've gone from 60 to 160 stores, but I'm happy to say that our energy is still the same.
On the challenges of growing her business:
When we had 60 stores, I visited every one, and I really knew almost everybody in the company. Not having that personal touch is a major challenge for me because our mission is so much about expert service and serving the clients where you're not pushing, but where you're helping and guiding. It's been hard to let go, but I've gotten better. For me, the way I think about it is to make sure everybody knows our mission.
Also, when you that grow this rapidly, things break, and you have to fix them. When you roll things into 160 stores, things don't always work perfectly and it's frustrating as you get bigger because scale becomes much harder. The key is to make sure we communicate.
On travel:
I've been to almost every city in the U.S. whether it's visiting stores, looking at new store sites, meeting with vendors, seeing what's going on in the marketplace, but I'm obsessive about the day trip. That's why I get up and take the 6 a.m. flight. I try to be home for my kids — not always for dinner — but at least for homework help. They are [ages] 15, 13, and 11, so they're older now, they have a lot of homework, and have a lot going on. Being home to put them to bed every night is really, really compelling.
I travel to New York most frequently to meet with vendors, marketing, or new chemists to talk about product development. Or I pop by Macy's corporate or walk the city for inspiration. The days in New York are usually booked every hour. I like to be very efficient.
If I go to a market like California to see stores, I go for one night and take a red-eye back. I'll see six or seven stores in a day. I drive from store to store, say hi to the staff, drop off a Starbucks gift card to keep them caffeinated, and thank them. I look at other beauty players that are opening nearby, what's happening on the street in retail, who's opening more stores, what are new concepts, what are new ideas going on. You can't do that in the Georgetown office.
On family time: 
I try to not be out more than one night a week, that's definitely a rule. Because I travel, I want to be home and present with the kids so managing that is important.
No matter what I make sure to kiss them good morning and to kiss them goodnight. That's an absolute given. My kids have a lot of obligations now. They're all on different schedules, but I think for me, I try to be present while they have things going on so there's a lot of family energy in the house. We have a rule everyone has to be home for dinner Friday night and we eat Chinese food every Sunday night. We like our meal times together.
On evenings: 
I leave the office between 5 and 7 p.m.  I'm definitely the homework supervisor, going from room to room and helping with questions if [my kids] have them. Getting the house settled down is really my focus. I may test a product at night before I go to bed if I need to see the results in the morning, and I'll have a cup of tea and read. That's how I learn and that's how I relax. While I'm doing my thing, I'm continually looping through the house to make sure the kids go to bed.
My husband and I also stroll every night around 10 o'clock. We walk for two miles to catch up on the day and get some fresh air before we go to bed. If I go to sleep without doing it, I feel like something is missing. It clears your head; it just makes for a great way to decompress. The first half-mile we talk business and the second mile turns to broader discussions.
I go to sleep between 11 and 11:30 p.m. I'm always thinking about products, I'm never off, but I'm lucky that I have the opportunities I have to create and have a family. I'm really lucky.