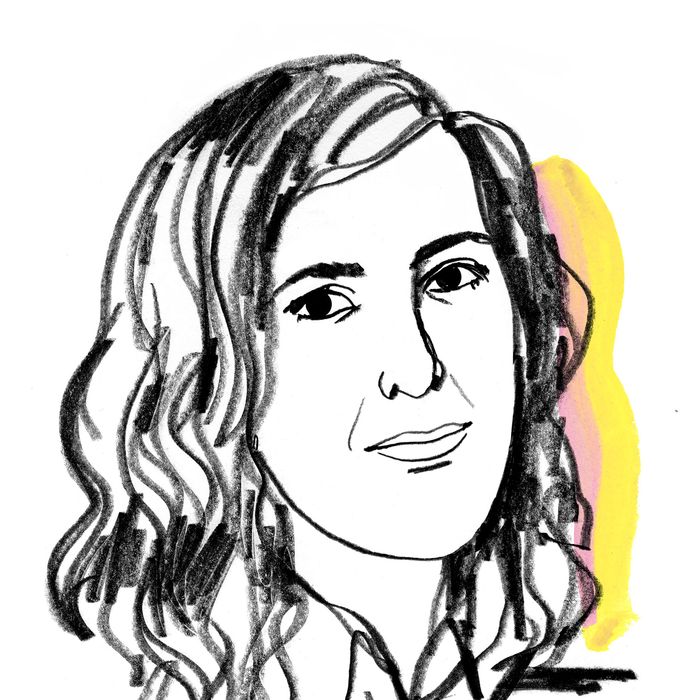 Clare Vivier.
Illustration: Lauren Tamaki
Clare Vivier founded her line of handbags ten years ago with a simple mission: to give working women a stylish way to carry their laptops and phones. Today, the Clare V line can be found swinging from the arms of women from Brooklyn to Silver Lake and is stocked in retailers ranging from Net-a-Porter to Nordstrom.
Vivier, who is based in L.A., has a total of seven boutiques in the U.S. and has collaborated with Apple, Goop, & Other Stories, and the Beastie Boys' Mike D. She lives with her 14-year-old son, her husband, and her dog. Here's how she gets it all done.
On her mornings:
My alarm goes off at 6:40 a.m. The first thing I do every morning is start a pot of coffee to drink all morning as I'm getting dressed. Then I go downstairs and see my son, who's usually already awake and dressed. I make sure that he makes breakfast for himself, we figure out what he's going to do for lunch that day (which usually just involves giving him money), and then I make sure he calls an Uber and gets out of the door at 7:10.
On getting dressed:
It takes me a long time to get dressed, usually — until 8:30, which is very weird. I love being in my dressing room. I love trying on clothes and figuring out what's the best outfit for that day. If it's a day where I have to do a lot of running around, I'll wear sneakers. If I have an important business meeting, I'll choose heels. I always build the outfit around my shoes.
On being the first one in the office:
Everyone is supposed to be at work at 9 a.m. If I can be here at 8:30, I'm happy. I like to have a minute at my office on my computer by myself. I like to be the one to turn on all the lights and make sure all the doors are unlocked. It's a mother-hen situation.
Plus, if I can get in early, it's the best time for me to look at all the emails I have. I get way more emails that I could possibly answer. Often times I'm just the one CC'ed, and I'm lucky that I know that I'm not going to be the one to answer. I'm pretty good at delegating to my team and have an assistant who deals with VIP clients.
On office life:
Julia, my assistant, usually comes in and tells me what we're doing during the day because often times it's not updated on iCal. What kinds of bags need promoting often dictates what we're going to be posting on social media. Every day differs, but Tuesday is always a morning all-staff meetings. It's my favorite meeting because everyone is together. It's a good touch-base to tell everyone what's going on, who's traveling that week, what they're traveling for and what are our production priorities are, what our sales are in each of our stores and online.
On designing handbags
Usually after the all-staff meeting, I'll go back into the design room and start a meeting with our design director, Greta. If we're not designing a specific collection, we're always working on special projects.
Greta and I design the entire collection. We take pictures of things, clip things, and go back and look at old styles. We're constantly thinking of things we're missing and things we could make better. After we get these general ideas, then we'll start sketching. Just by force of having done this for some many years, I can sketch a bag pretty well. After sketching, we meet with the product development team and we all kind of speak the same language — it's kind of a shorthand at this time. If the sketch isn't clear, I can say, "It's the hook from the Claude bag we did five years ago."
On taking breaks and finding balance:
I consider it a good day if I don't leave the office all day — it means I'm getting a lot done. I can't say that I have a lot of balance in my day. But I think I'm a pretty calm person. Knowing that we are running a handbag company and not saving the world helps me keep things in perspective. There are stressful moments, like when production comes in and it's all wrong or the materials didn't get ordered and the bags are going to be late. But I try to not get too freaked out about it. Fortunately, being calm by nature saves me.
On managing a team in a creative field:
The most important thing is trusting the people you work with enough to delegate work to them. Trust that they are going to get it done to the best of their ability. You can't micromanage.
As a CEO, you have to have an assistant. You're two people as a CEO. You can't do a lot of the memory work — you need people to help you remember to do so much stuff. There are so many letters to write, emails to answer, and appointments to keep. So much of it is just communication.
On ending the workday:
I usually leave the office between 6:30 p.m. and 7 p.m., and I'm usually one of the last people to leave. I go home and my husband has started dinner. When I come home, I always need a snack, so the first thing I do is look for something kind of healthy to eat so I don't just eat chips and salsa. I think food is a very calming thing. There's no mystery.
On her obsession with podcasts and radio:
I listen to a lot of podcasts while I'm getting ready in the morning. You're not rushing when you're listening to them. That's also my excuse about why it takes me so long to get ready. I listen to NPR's Fresh Air or How I Built This if I have to clean the kitchen after dinner. I think when you have a really engrossing job, it seems healthy to be taken out of that world and be engrossed in something else for a while.
On taking care of herself in the evening:
I always take a shower at night so I don't have to take the time in the morning. I like what my hair looks like in the mornings when I sleep on it wet. It's not as frizzy the next day. I've recently been lucky enough to have the True Botanicals products sent to me and I've been enjoying the five-step process of taking care of my skin at night. Anything that's good for anti-aging, I'm all over. I used to begrudge all of the steps of the face-washing process, but now I find it really calming. I feel like I'm doing something good for myself and my skin.
On how to make it in the fashion industry:
Follow your own vision and never compare yourself to others. Don't get down on yourself because you feel like somebody else has already done your idea. Just keep moving ahead. My advice is usually to put blinders on and just look forward, instead of looking to the side. I truly believe that if you follow your own vision, eventually you're going to get somewhere.