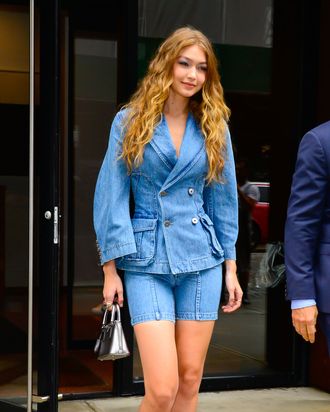 Gigi Hadid.
Photo: Raymond Hall/GC Images
On Thursday in New York City, Gigi Hadid wore denim-esque bike shorts with a matching blazer. I can't believe I'm saying this, but I like this look.
All month long, I've been feeling the urge to try bike shorts — a nagging sense I've tried my best to ignore. Bike shorts hide nothing and hit at the worst possible spot. They are essentially skin-tight Bermuda shorts, and I am neither Jane Fonda nor Kim Kardashian West. But I've seen them on enough fashion people (and Chanel models) to want to give them a try.
My dream: A bike shorts outfit that still looks polished enough to wear to my (admittedly pretty casual) office. With the help of the Cut's Diana Tsui, I assembled together three possible looks to see if I could pull it off. Read on to follow me on my journey.
Outfit 1: The Sweater
My first inspiration was a woman at Fashion Week who wore a pink sweater with a large back cut-out, bike shorts, and a saddle bag. It seemed like the easiest way to dip my toe into the trend. I chose a gloriously oversize sweater from One Teaspoon with a massive roll-neck and paired it with Doc Martens to balance out the proportions. My bike shorts are from ASOS, and hit just above the knee. Easy enough. I'd definitely wear this outfit.
Outfit 2: The Blazer
Having successfully conquered the sweater, I wanted to try something a bit riskier. I call this my Working Girl outfit. The blazer + sneaker + bike short combo seemed like the next level up from the sweater look. Michelle Li, a stylist at Refinery29, wore an outfit that stuck in my head — a super-structured blazer, matching black shorts, and a pair of neon sneakers. Since neon isn't exactly my style, I tweaked it to be a bit more me. One houndstooth blazer and white shirt later and I was set. I chose a classic white sneaker from Veja to round out the look. Alexa, please play "9-to-5" by Dolly Parton.
Outfit Three: Kitten Heels
My favorite look from Maryam Nassir Zadeh (and possibly Fashion Week) was a pair of mint green bike shorts with a blue blazer, some kind of cape appliqué, and strappy heels. I don't have the coloring for mint green or access to a cape-blazer, but I do have heels. The Mother of Pearl mules I wore for this outfit make me feel like a very fancy 17th-century French king. But ultimately, I don't think I pulled this one off. I loved the blazer and blouse, but I felt like they were a bit too short and violated my No. 1 rule: cover your crotch. More than that, I felt like the proportions were wrong. I liked having the business-on-top, spin-class-on-the-bottom balance that I got from sneakers.
So Do I Feel Like I Can Pull Off Bike Shorts Now?
You may disagree, but I think I can! My experiment went better than I expected it to, honestly, since a longer short helped me get over my wear of walking around in spandex. The most important rule I found was to cover my crotch. If my crotch wasn't covered, I felt totally out of whack. The sweater was definitely my favorite and something I would wear again, closely followed by the more oversize blazer and sneakers. Sadly the heels didn't work out for me, but maybe they will for you.
Shop the Story
Available in sizes 12–28.
Available in sizes XXS–L.
Available in sizes XS–XL.
Available in sizes L–XXL.
Author's note: This jacket runs pretty big. The sample I wore in the photo was a size 0, but normally I wear a size 6/8.
Available in sizes 0–8.
If you buy something through our links, New York may earn an affiliate commission.