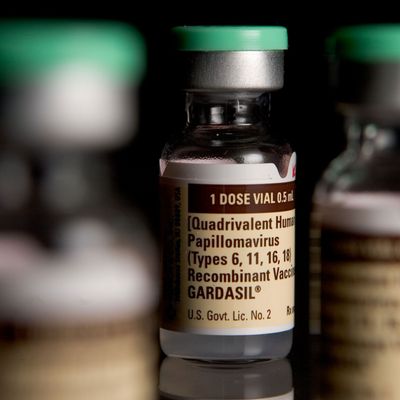 Photo: J B Reed/Bloomberg via Getty Images
According to a new report published this week in The Lancet Public Health, Australia is on track to eradicate cervical cancer within the next 20 years. Within just ten years, Australia is expected to reduce its cervical cancer diagnosis rate to fewer than four women per 100,000 annually, which means the disease would no longer be considered a public-health problem. And currently, Australia has one of the lowest cervical cancer incidence and mortality rates worldwide. How did they do it? Simple: free vaccines.
In 2007, Australia's national health-care system implemented a free, three-part HPV vaccine for teenage girls, and in 2013, extended the program to boys, who can also carry and transmit the virus. Since then, there has been a 77 percent reduction in those forms of HPV most likely to lead to cervical cancer, according to the Cancer Council Australia.
While Gardasil — the HPV vaccine — exists in some form in most developed countries, it's inconsistently given, due partly to misinformation spread by the anti-vaccine community, like that the vaccine negatively impacts fertility, and to parental concerns that the vaccine somehow encourages kids to have sex. Though the CDC recommends that all girls and boys ages 11 or 12 (or as young as 9) are vaccinated for HPV, in 2015, just 60 percent of American girls got the first dose of Gardasil, and only 39.7 percent of American boys did. In total, last year, only half of American teenagers were up to date on their HPV vaccines. And elsewhere, it's much worse: in Japan, where the vaccination rate was once 70 percent, vaccinations have all but ceased.
Eradicating cervical cancer is not the work of childhood vaccination alone, experts say — cervical screening is especially important for older adults who may have already been exposed to HPV, or who grew up before the vaccine existed — but it is a major factor in preventing its spread. Currently, cervical cancer is the fourth most common cancer in women, and, thanks to Australia, we know it doesn't need to be.