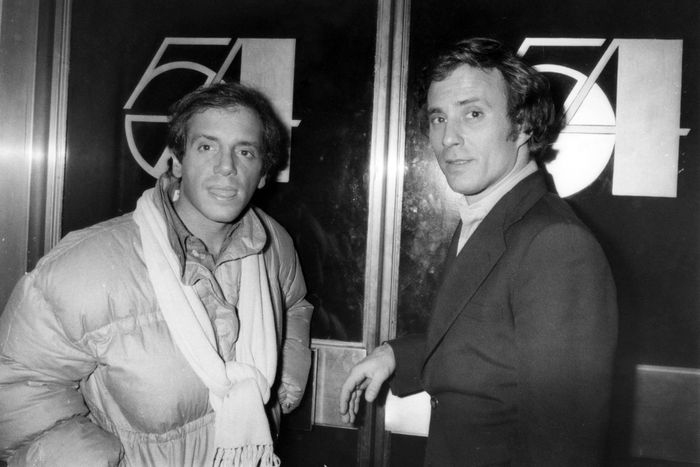 Steve Rubell (left) and Ian Schrager at Studio 54.
Photo: Photofest
"Over the years I was hoping to forget it," says Ian Schrager in his Brooklyn rasp, between bites of chopped salad and across-the-table reaches to touch my arm. It is Studio 54, the now-mythic discotheque he opened with an irrepressible college buddy named Steve Rubell in 1977. The two of them ran the club for just 30 manically publicized months before being busted for failing to pay taxes on all the money they skimmed off all the money they made there, and going to jail for 13 months. "I was always embarrassed by it."
Which is, nonetheless, a funny thing to say about the polymorphous pre-AIDS velvet-rope 'ludes-and-coke-Camelot that, in its brief, delirious moment, captured what celebrity and glamour meant amid that wrecked version of Manhattan. The mothballed former theater turned CBS TV studio on which he and Rubell landed the lease, was in a "rough, tough neighborhood, unsafe to walk," he remembers. "But it suited our purposes. Steve didn't like me to say this, but the idea of the ropes? Part of it was to keep out the street people." He pauses. "You know, it was very bohemian, New York then. Nobody had anything to lose."
But that was 40 years ago, and Rubell has been dead for almost 30 now — like so many people who worked for and danced at Studio, of AIDS — and Schrager is a pashalike 72 who has done quite nicely for himself. (So nicely that President Obama gave him a presidential pardon.) He's finally willing, anxious even, to look back on the disco that made him famous, and infamous, and launched his tastemaking reign as a hotelier and real-estate developer, perhaps only comparable in his influence as merchant of global FOMO and get-it-exactly-right design to Steve Jobs. (He likes that comparison.) Besides, he's been noticing that "there were a lot of revisionists out there about Studio 54, taking credit, saying this and that," Schrager tells me, (Don't get him started about that Ryan Phillippe movie 54, no matter how much campy fun you might think it is. He considers it "exploitative.") "And I had just read something about Berry Gordy saying: if the hunter doesn't tell the story, the lion will."
He'd proposed that we meet at Frankie & Johnnie's, the second floor "steaks and chops" joint on West 45th Street, founded in 1926. Back in 1977, this was one of the only places to eat near the club, so he and Rubell would go there on Mondays, the day Studio was dark, to read the copious press coverage. But it turns out Frankie & Johnnie's had to move in 2015, after 89 years in the same tenement building, presumably to make way for yet another new high-rise. We eventually find each other at its new location, a block away in a big, blandly upmarket gray-toned space. But they still have the chopped salad, with anchovies, that Schrager remembers. (He asks the waiter if it's okay that he just orders that, and nothing else, and then for a clean water glass.) He mentions that one of his Edition hotels, a corporate-boutique hybrid chain he does with Marriott, is opening is opening a block north from here.
We're here to discuss Matt Tyrnauer's new documentary about Studio. As Schrager began to reevaluate his Studio days, he'd first done a coffee-table book, and then thought about doing a narrative book. He called up Tina Brown and asked her to recommend an agent and she said "'You know you'll have to tell the stories about cocaine and all that.' And I wasn't interested in all that. And she said" — and here deploys his Tina imitation voice — "'Oh! You can tell them if they are dead!' But I thought people wanted to hear and feel the good part, the exhilaration, what happened, why it happened." And the film, full of bacchanalian and intimately louche archival footage, set to a soundtrack that Tyrnauer tells me is made up of largely of music played at Studio, does just that.
It does more than just that, though. Tyrnauer dredged up a lot of stuff Schrager would rather it hadn't, like the fact that his father worked for the mobster Meyer Lansky (he was known as "Max the Jew") and how he and Rubell got out of jail early by ratting on other club owners. In the documentary, he admits that "My father wouldn't have liked" his doing so. "Do your time like a man," he tells the filmmaker: "It was one of the things I was hoping you wouldn't get into."
Tyrnauer, for his part, tells me that "part of what was difficult" for Schrager in his making the film was that "you have to give up a measure of control." Tyrnauer is a skilled ego-whisperer — he made Valentino: The Last Emperor and Scotty and the Secret History of Hollywood — who'd already written about Schrager a number of times over the years for Vanity Fair. "Especially if you want to make a film which is at all respected and even possibly admired. I can see how that could be a big leap for someone who is a CEO and a control freak — and he's an A-plus control freak."
Schrager and Rubell are Brooklyn boys of a type, the hustling children of a hustling generation. "I'm lucky, I'm lucky," Schrager says. "Being raised in Brooklyn and having that hunger." What they wanted was respect, and their piece of the pie, and they were frankly willing to cut corners to get there. ("I'm a go-through-the-wall" type, he says. "I want to get it done.") The two became friends at Syracuse University, when Rubell, already a schmoozer who played tennis with the chancellor, saw Schrager wrestle a basketball player much bigger than he in the dorm. ("I wouldn't give up. I guess that resonated with him.") Schrager, the more studious of the two, went to law school while Rubell after graduation tried his hand at various endeavors, finally owning a small chain of failing steakhouses. Schrager, too impatient with the grind of working in a law firm, became his lawyer and partner in, first a club in Queens and, then, Studio.
It was a time, post-Stonewall, when "the gay population were setting the absolute cultural standard in this town. They were on the cutting edge for everything." And he and Rubell went to gay clubs because he thought straight ones "felt contrived, and I always felt uncomfortable," he says. "I would go to the gay nightclubs and there was this vibe: There was sex everywhere. And it was different from picking up a girl. There was a raw spontaneity and energy about the whole thing. You would see the dance floor like a wave."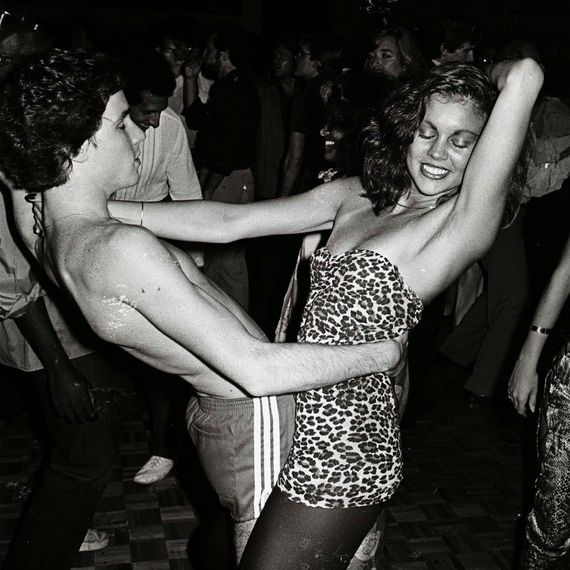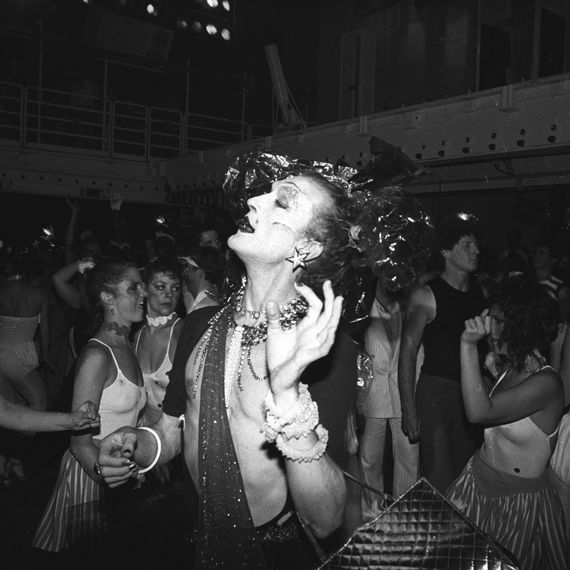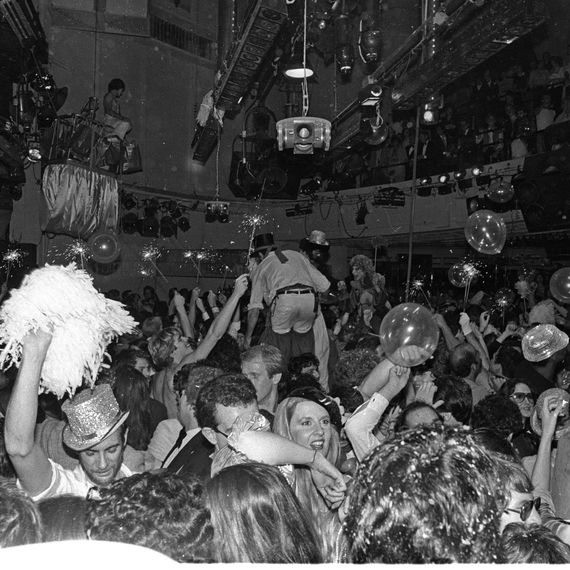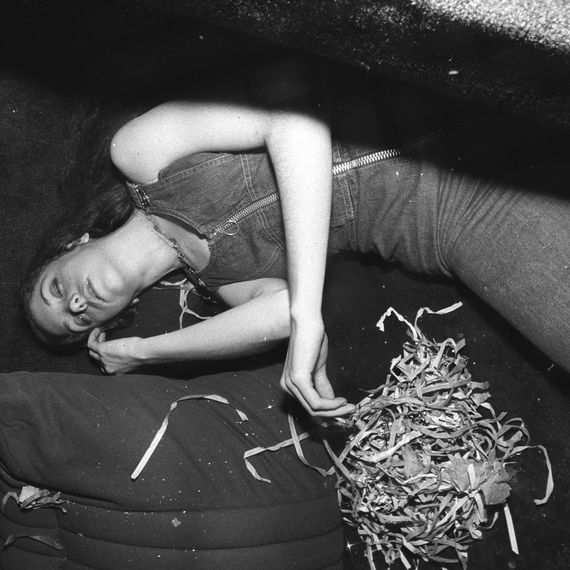 Schrager's ecstatic memories of gay life in the '70s are one of the odder things about him, given that he is heterosexual (married twice, both times to ballet dancers, with five kids). Studio, and the publicity around it, helped take gay culture, or at least a glittery image of it, into the mainstream. And yet, for the longest time, he somehow didn't know that Rubell, whom he's described as someone he had such a close business partnership with he was practically married to, was himself gay. "I think now and you always have to look back in order to connect the dots," he says. "He had relationships with women, but I don't think there was intimacy involved. He was in denial, I suppose."
I ask him if he was in denial of Rubell's being in denial, and he stops me. "I didn't care. I was the last person he told. I could care less." Back then, he denied to the press that Rubell died of AIDS (the official word was that it was hepatitis). According to the documentary, Rubell's mother didn't seem clued-in either, even at his death. To be fair, at the time, this kind of deliberate incuriosity wasn't uncommon, part of the complicated dance of power-and-closetedness of that era.
You can't argue that the gays haven't been good to them, though. According to a 1985 cover story in New York titled "The Comeback Kids," published when they started their club Palladium — with a Basquiat mural behind the bar — it was men like David Geffen and Calvin Klein who stuck by them after their conviction. Klein reportedly gave them a blank check.
And you also can't argue the press hasn't been good to them, too.
Or they've not been good to the press. Feeding the beast, as Schrager puts it.
One of the things that's most striking in the documentary is how almost absurdly well-hyped Studio was, from the front pages of the New York Post (they club had a publicist who got bonuses for that), often in appalling juxtaposition against the gritty late-'70s news of the day, to indulgent mentions in People magazine to at least one think piece in The Wall Street Journal. Most chummy was the TV news: One of the most memorable moments in the documentary is when Jane Pauley is hanging out in the office with Rubell and Michael Jackson comes in and says, adorably, and altogether humanly, of why he loved Studio: "It's where you go when you want to escape."
"That's how freewheeling the whole thing was," Schrager tells me. "Nobody cared. Nobody gawked at him. That was the reason for the door policy." Of course with Liza and Andy and Bianca (and Truman Capote and O.J. Simpson and Diana Ross …) and the freaky menagerie of regulars — drag queens and people like Rollerena (who wore roller skates and a chiffon dress and brandished a magic wand) — there were plenty of other distractions.
But the strict door policy also engendered a great deal of resentment on the part of people who didn't get in, and certainly thought they deserved to. And all that attention went to their heads. In November 1977, Rubell bragged to this magazine, for a profile titled "The Eccentric Whiz Behind Studio 54," that "profits are astronomical. Only the mafia does better."
According to Schrager, this particular moment of braggadocio got the attention of the tax authorities, setting their downfall in motion. But it wasn't like they weren't asking for it: Schrager and Rubell were showmen, arrogant young operators who didn't think the rules applied to them. They'd been in such a hurry to open Studio they'd neglected to get a liquor license and so opted instead to call it a catering hall (Studio was officially the Broadway Catering Corporation), getting a new permit every night, until the state shut down that scheme. Eventually they got the legal right to sell booze, thanks to the intervention of their lawyer, Roy Cohn, who very much enjoyed his VIP status at the club, hobnobbing with the celebrities and lissome young bartender boys in nothing but silk gym shorts. "There's nobody who was as effective as Roy," he says, still a bit amazed by this. "We got busted by the chairman of the state liquor authority. And we got our liquor license back."
How'd Cohn end up their lawyer? "We had an issue with the first club we did in Queens," before Studio, called the Enchanted Garden. "It was in a kind of residential area, and the neighbors were all pissed off, and a state senator got involved, and so I called Roy. He was just a very effective guy, and did things nobody else could do. He was in Washington during the J. Edgar Hoover years, who played the press like a fiddle, through Walter Winchell. And during McCarthy, I suppose. And he brought that to New York."
In the end, when they were busted for keeping double books — "they were really pigs about it," says one of the law-enforcement officers quoted in the documentary — they went back to Cohn, who advised them to push back hard, acting as if this club bust was the end of democracy and the rule of law as we know it. (They even outed President Carter's chief of staff, Hamilton Jordan, for doing cocaine at the club, although the wisdom behind that seems a bit elusive.) Watching the footage is vertiginously similar to seeing Donald Trump react to anything he's caught doing wrong. And we all know that Cohn and Trump couldn't have been closer.
Schrager and Rubell knew Trump too, of course. And after the election, "I got a lot of calls about Roy and about Donald. I wanted nothing to do with it," he says. And now Tyrnauer is making a doc about Cohn, which he's declined to participate in. "I know about all the bad things which Roy did. And I'm not going to talk about that. And if I go into there and say good things, I'm going to look like an idiot." Besides, "Roy hurt us in the end," giving too aggressive advice after the bust.
"Today I wouldn't be going to Roy Cohn. I was a different person then." He's changed, the city's changed. "The thing that I love is that you can play by the rules and be very successful. Back then, I did things by corner-cutting."
Schrager remains amazed at Studio's continued resonance — this ideal that nobody can quite get over, a landmark of the '70s New York that has vanished and been replaced by a far more orderly and refined urban consumer experience. "I think New York is living off its reputation for being the center of the world, but it really isn't anymore," he says. "I see articles about that recently. I've felt like that for a long time."
He doesn't see it this way, but arguably Schrager himself had a lot to do with this once raffish town's bourgeois ossification. After all, he was the one who made chic lifestyle hotels out of onetime dowdy fleabags (Morgans, The Royalton, the Delano in Miami, the Gramercy Park Hotel) and built starchitected condos (Herzog & de Meuron designed both 40 Bond, where he lives, with its graffiti-inspired fence out front, and 160 Leroy, where apartments are selling for $4,000 a square foot) and now those Edition hotels with Marriott. Not to mention his Public hotel, also designed by Herzog, which looms over the Whole Foods building on Chrystie Street Street just south of Houston, a flawless temple to up-to-the-minute global bling. He was so determined to make sure the concrete floor was just right in the lobby, that he had it jackhammered up twice and redone.
Which brings us back to the big question: Why hasn't there been another Studio 54?
"Well, I have my own opinion," he says, taking a bite of salad, and, again, reaching across to me. "It's not because of demographics, or AIDS. I think so much can be explained in terms of economics. The club business didn't take much capital, and there weren't a lot of rules or regulations. You just had to like music. I did my first club for $27,000. Studio for $400,000.
And there are lot of things involved with nightclubs: noise … drugs … fires. So there are a lot of regulations. Rightly so, I suppose." But it means the Schragers and Rubells of today can't play. "It's a young person's business, and young people can't afford it. That's a thing that a lot of people from Europe tell me — that they used to come here and it was upwardly mobile. You could do anything here. And it's not like that anymore."
We've finished our salads. The owner of the restaurant comes by to say a hearty hello. ("Hey! Were both grayer!") Right now, Schrager's excited that this movie could cement his legacy in some way. "I opened up, and I thought I would get some things excluded that I didn't want," he says. "But at the end of the day, I went along with it."
Ever the canny promotion man, he's been deeply engaged with the process of getting attention for the film. "I've been saying to everyone who will listen I want to get an Academy Award nomination," he says. He pulls out his iPhone to show me an excited email he sent Tyrnauer. "So every time we get mentioned, I send him an email."
And an Oscar is a good way to get over any long-ago embarrassment.
*A version of this article appears in the October 15, 2018, issue of New York Magazine. Subscribe Now!