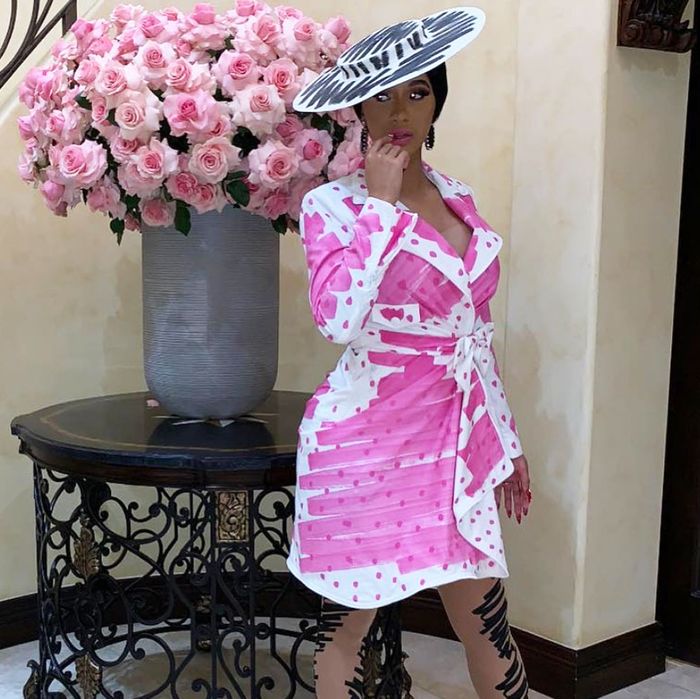 Cardi B's outfit from the night of the party.
Photo: iamcardib via Instagram
Cardi B thought she was going to a romantic dinner with husband Offset this weekend to celebrate her 26th birthday. Instead, she got a surprise party at Beauty & Essex in Los Angeles — filled with dozens of red roses, lots of diamonds, and a celebrity guest list that included Kourtney Kardashian and Tyga. But Cardi was still "fucking hungry."
In true Cardi fashion, she took to Instagram after the party, lying in bed wearing the massive diamond "Kulture" necklace Offset gave her. "Hubs told me he was gonna take me to dinner, and I appreciate the surprise party and all that, but I'm fucking hungry right now. I'm hungry, but I'm so happy, I just…"
Cardi seemed genuinely surprised when she arrived at the restaurant in an off-the-runway Moschino pink coat-dress and white hat — only to be greeted by a crowd of guests shouting "surprise." There, she was given six dozen red roses, an all-black cake with roses on top, and — of course — diamonds all over her body. Offset gifted his wife a diamond necklace and bracelet emblazoned with the name of their daughter, "Kulture," as well as a Rolex covered in diamonds.
If only diamonds could sustain a woman's hunger.