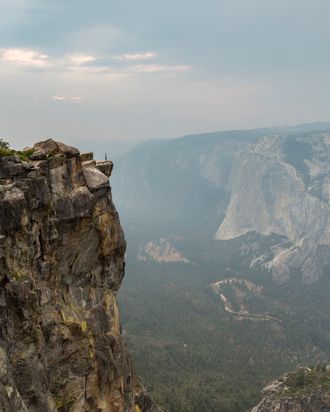 Yosemite National Park.
Photo: REDA&CO/UIG via Getty Images
Meenakshi "Minaxi" Moorthy, 30, and Vishnu Viswanath, 29, fell to their death while trying to take a selfie on a cliff at Yosemite National Park. Buzzfeed News reports that the couple, who ran the Instagram account holidaysandhappilyeverafters, were found dead last Friday, October 26.
Their bodies were found after other visitors reported seeing a camera and tripod on the ledge of the cliff, and a helicopter search discovered the couple, 800 feet down the side of Taft Point, a popular lookout spot.
Moorthy and Viswanath recently moved to the United States, and held graduate degrees in science and engineering. Moorthy reportedly wanted to be a full-time travel blogger, and Viswanath was a software engineer at Cisco. Their Instagram page was dedicated to traveling and featured vivid photos of the couple all over the world, doing things like skydiving, riding in hot air balloons, and stargazing.
"It is with great sadness that we learned of the passing of a Cisco employee, Vishnu Viswanath," a company spokesperson said on Tuesday. "As always, we will pull together to extend our support to Vishnu's family and our fellow colleagues during this difficult time."
An Instagram post from the couple's account addressed the very specific dangers of taking photos on ledges. A caption for a photo of Moorthy sitting on a ledge read: "A lot of us including yours truly is a fan of daredevilry attempts of standing at the edge of cliffs and skyscrapers, but did you know that wind gusts can be FATAL??? Is our life just worth one photo?"
Viswanath's brother, Jishnu Vishwanath, told NBC News that the couple fell while trying to take a selfie, though authorities have not officially determined how the couple fell off the cliff. The funeral will be held in the United States.