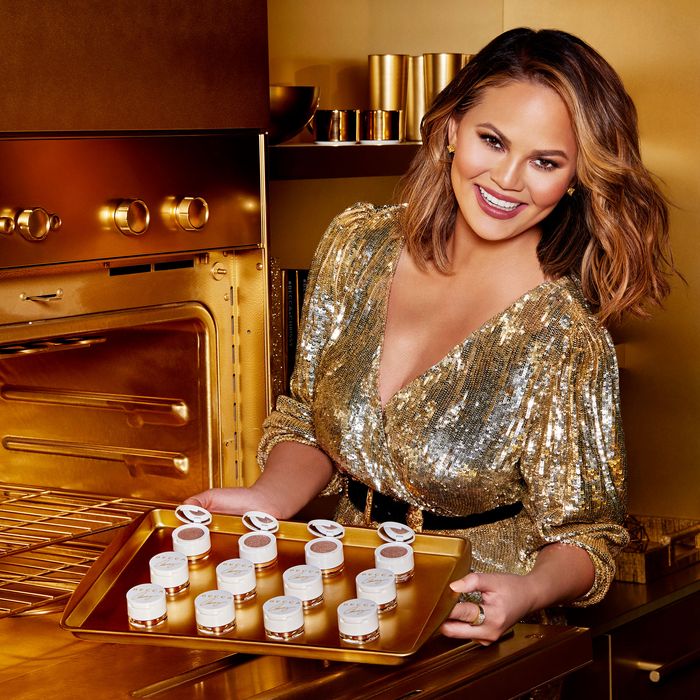 Chrissy Teigen.
Photo: Courtesy of Becca Cosmetics
"One of the most consistently disappointing aspects of my life is that I have never, not even for a moment, been Chrissy Teigen," wrote Madeleine Aggler earlier this year for the Cut. It's a feeling that a lot of us share, and it only continues to grow as the Twitter personality, activist, model, and chef adds more hyphenates to her name.
Teigen's latest accolade is two-time best-selling cookbook author, thanks to the success of her book Cravings: Hungry for More (a follow-up to 2016's Cravings: Recipes for All the Food You Want to Eat.) She's also creating a special holiday collection with Becca Cosmetics inspired by her love of food. It's comprised of lip glosses, liquid lipstick, highlighters, and eye shadows, all named after tasty treats (read: not salad). The Cut talked to Teigen for exactly 12 minutes about rehabbing her tongue after burning it with hot sauce, her process for writing her tweets, and her secret gift for spotting trolls.
I just watched the Hot Ones episode where you ate a series of increasingly hot wings. You were literally sweating after the last one. Did you have to do rehab for your tongue?
I actually felt worse than I looked. My makeup artist, Mary Phillips, was waiting for me on the side like, Can someone help her? I read all the comments and people were saying I was "so drunk." No, I was drinking water! I didn't even drink milk because I didn't want the internet to be like, She pussied out. But there's something about feeling that level of heat — it's like being on a weird cloud nine. You're very alert, you're awake, but you feel drunk and sort of funny.

I went to go see a doctor in New York City after the episode. I had to go to Jimmy Fallon right after, along with Lip Sync Battle. Because of the hot sauce, my eyebrow was constantly twitching. My throat was going. My tongue was dry on one side. He said that in situations like this, your tongue swells so it actually gets too big for your mouth. You can accidentally bite down on it. I went on total mouth rehab. I ended up taking CBD pills for my eyebrows.
I believe you've said before you're not a huge dessert person. But all of your Becca shades are named after dessert, like the liquid lipstick Red Velvet. What gives?
The first book didn't have any desserts. But then pregnancy and different cravings happened. It's also way more fun to get in the kitchen with Luna and bake something, rather than have hot, crackling oil nearby. I've been appreciating desserts a lot more.
In the new book, I have a whole desserts chapter. There is this incredible cinnamon sugar pretzel that comes with a soft, powdery, delicious vanilla ice cream. I knew I wanted to have a gloss like the icing on this pretzel. It's also a smell that conjures up holiday memories. For the Glow Powder and the Glow Kitchen kit, they're both sweet and vanilla-based, and the textures are really yummy.
I picked colors I already loved. I picked a bright red which was really luscious and nice, glossy, smooth, and soft. There are nudes; same for the nails too. I wanted colors you could use year-round.
I see you also have a highlighter named Cinnamon Churro. Is it inspired by the legendary ones from Disney?
Yes! It came from the warmth and yumminess of those Disneyland churros. I'm drooling just thinking about it. John and I went on a late-night tour there and it was so fun. It reminds me of being transported back to that time. We were munching on those hot churros in that paper and it was so delicious. My heart is so tied to that Disney one. I'll never be able to remake it. Plus, I don't want to invest in a churro machine.
Did you consider any savory foods for this? Like a potato gnocchi shade? Or matching them to the Cravings 2 recipes?
I'd had people say, "Would you ever do a perfume after bacon?" No. I want to smell delicious in a sweeter way. I don't want to smell salty and maple-y. Although sweet potato gnocchi would make a great scent.
I associate the holidays with so many delicious foods. But people might not want to put candied yams on the lips. Maybe next time.
You're known for being outspoken and honest. Has it always been easy for you to be that way?
Yes, but it changes with social media. You watch what you say more. You don't want things to be taken the wrong way. People can't hear you saying something, so they can't grasp sarcasm, or when you're being a bit sassy and cheeky. But obviously there's a fine line between outspoken and funny versus being a little monster.
Do you compose your tweets in real time? Do you keep a notebook of tweets?
I just write them. I don't know if that's good or bad. My own personal growth with Twitter is that now I'm able to write something, check it out, reread it, and decide to post it. I can go, Oh that's probably the not the right time to say it. Maybe it will come off wrong. But a lot does go into it. My draft folder is a mess.
Sometimes, I also just need to get a statement out of my system. If I don't want to write it, sometimes I'll talk to John in tweets. He'll catch me and he will go, "You want to tweet that, don't you?" And I'll be like, "Maybe…"
Everyone wants to be more "real," and people praise you for that. You've even done some Twitter activism this year, like offering to pay McKayla Maroney's NDA fine. What are your tips on being comfortable with being so authentic in public?
Honesty is always really good. You never want to hurt anybody (but it's a little different when it's the leader of our country and we're all affected). You also don't need to make a certain group feel bad about themselves. For example, when I see people posting their post-baby bodies, I'm always like, That kinda sucks. I see that and feel bad about myself.
You can't just share opinions, especially big one about politics, without being ready to have the other half say their piece too.  They're going to say what they want too. Once you're ready to accept that, that helps a lot. There's nothing worse than sharing something you're passionate about and hearing disagreement and not being able to take that criticism.
I've had ups and downs. Not everybody likes you or is going to agree with the way you think. You actually learn a lot from them. In the end, we all live together in society and you have to adapt to different types.
People call you the "queen of clapbacks." What makes you want to clap back at something instead of ignoring it?
I don't know. It's different moods. If I wake up feeling crappy, the comments will affect me more harshly than a day when I woke up in a better mood. It teaches me a lot of empathy. It's gauging who is doing the trolling and who you should clap back at.
I can smell a troll from a mile away. Maybe that's my true gift. I can tell if they're fucking with me or dying for a response. I like to do the opposite of what they're expecting. Generally if they think they're right and are completely wrong, then I respond.
I look at the past few days of their tweets. I look at their bios. I can tell by the photo sometimes and be like, This is not a photo of this person, it looks like something from Google Images. I can tell by who they retweet. If they say in the biography, "I've been blocked by so-and-so," that's a sign. I don't want to be in their biography, "Blocked by Chrissy." On Instagram, it's different. You can check out their last post, but trolls are always private. I seek justice in that way. It's embarrassing.