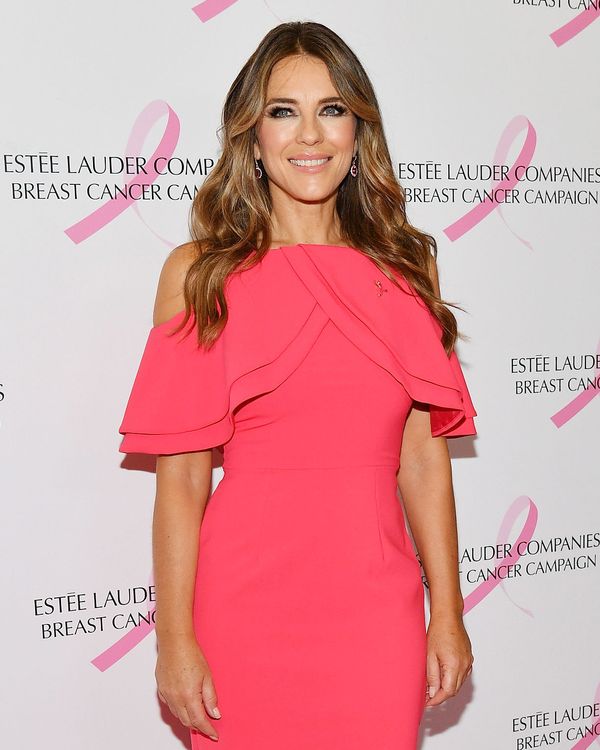 Photo: Dia Dipasupil/Getty Images
Twenty-six years ago, there were no pink ribbons. No one talked about breast cancer. But thanks in part to the efforts of Evelyn Lauder and the beauty community, a certain hue has become widely associated with breast cancer awareness month, which takes place every October.
Elizabeth Hurley has been working with The Estée Lauder Companies for many years to make the subject of breast cancer less taboo. The Cut caught up with her in the beginning of her monthlong pink tour to talk about what she's learned about the disease over nearly a quarter of a century. She also talked to us about chewing her food 40 times, planking before the bath, and being the face that sold a million lipsticks.
You've been doing this now for 23 years. Do you have a separate, massive closet full of pink dresses?
I have hundreds. Some we borrow, but a lot of them are mine. We do re-wear some of them, but it's all pink shoes, pink jackets, pink shirts, and pink skirts. Some are baby pink, some are hot pink. I work with a wonderful stylist named Ann Caruso. She's in some of our campaigns because she is a survivor herself. Every October, there are 25–30 outfits she has to pull together. It can be quite difficult because sometimes, the designers aren't doing pink. Luckily, this year they are.
What did you first think when Evelyn Lauder approached you to raise money for breast cancer?
She came to me and said, "I want to start a new campaign. Will you join in?" I said yes without even knowing what it was. Then she explained, "Women are dying of breast cancer all over the world and no one is talking about it. I want to change that." I had just lost my grandmother to cancer a year or two earlier. But cancer was a taboo word; breast cancer was more taboo than any other.
We had no idea how the movement would grow. We have given away more than 160 million pink ribbons now. We never dreamt that all of this could happen.
What has surprised you most in your years of campaigning?
Realizing how many people are affected. It's not just the women diagnosed — seeing the trauma it has brought to husbands, fathers, children, and how widespread it is. It's almost impossible not to be touched by it. In this last year alone, five to six of my friends have had breast cancer scares. One in eight women are diagnosed in their lifetime.
Women are getting mammograms and checking their breasts more often. It seems people are being diagnosed younger, too, in their 30s and 40s. Previously, no one was checking for it before. Many more people are surviving. Mortality rates are down 39 percent since the late 1980s. Things are on the up. But there's still a lot of work to do. That's why we are still here.
What is your fondest memory of campaigning with Evelyn?
She was old enough to be my mother, but her energy was off the charts. We would do a five-city tour, starting with an exhausting day in NYC, and then flying to Chicago where I would be ready to go to bed.
Evelyn would tell us, "I've arranged a cocktail party because there will be an important donor." Hair and makeup would be arranged to come at 6 a.m., but then she would tell us that she'd arranged to do a radio show. "Evelyn, that gives you only four hours to sleep," we'd say. But she never stopped. If there was an opportunity to have our voices heard and have donations, she wasn't going to pass it up. I never even saw her drink a drop of coffee.
When you were first signed to Estée, the New York Times asked "Can This Face Sell a Million Lipsticks?" Looking back on it now, what are your thoughts?
It's amazing. I remember the launch party. I remember Leonard [Lauder's] speech when he introduced me. I remember the Versace suit I wore. It was a huge deal for me. I was 29 and had never modeled before. Now they have lots of beautiful girls but back then, it was just me. I knew everything intimately inside and out. I advertised everything, did all the in-store appearances, and worked for a big portion of the year.
Leonard often tells the story of how they found me. He asked the then editor of a British magazine called Tatler, "What's your best-selling cover?" They said, this English girl named Elizabeth Hurley, you should meet her. I don't know what made my cover best-selling. Being in the right place at the right time, I suppose.
You have incredible hair and it's always look so luscious. Is there a secret?
No. I've always had long hair all my life. My hair wants to be long. It's miserable when it's short. I had an unfortunate haircut a year or two ago on a set when some idiot cut it too short. It's taken a long time to get it long again. I try not to use too much heat. If I'm at home, I'm in a ponytail. I don't use any special shampoos. I'll use whatever shampoo anyone gives me.
Your name has always been synonymous with health.
I used to do a great deal of exercise. My drama school was for dance. I go through stages. Right now, for me the best exercise is doing it fast enough to get into a fat-burning zone. I had a test to learn what that was. It's not that fast. I don't like running. I don't like being exhausted. You don't need to be exhausted to get the health benefits for your heart and rest of your body. A brisk walk for 20 minutes does it for me. I also like to do stretching. Occasionally, I'll do yoga or Pilates.
Sometimes, when I'm waiting for the bath to run, I might do a plank for a minute or two, stretch out the calves and limber up.
I saw on Twitter you went to a wellness clinic recently. You said they taught you to chew some your food 40 times.
Yes, I went because I felt like a reboot was necessary. It wasn't a weight-loss clinic, although there were side effects. It's about giving our body a break, learning to sit back a bit, relax and de-stress. It was fantastic. They actively encourage you to sit and do nothing. There are no phones or books at the table. You're encouraged to look at the food, enjoy it, and chew each bite 40 times. I tried to do it. It's very difficult to eat in front of everyone, if you're not eating and talking at the same time. But it's the right practice for sure.