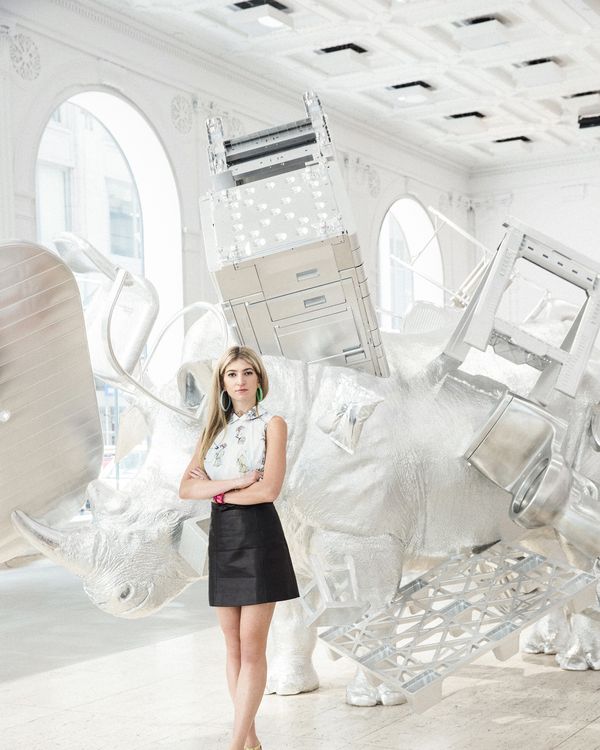 Sarah Hoover wears her own Valentino shoes.
Photo: Photo by Victoria Stevens
As an art dealer and artist liaison at Gagosian, Sarah Hoover doesn't have the most conventional work wardrobe. When your job takes you from checking out private collections to meetings with fabricators at workshops to attending evening galas and major art fairs, the dress code can change drastically. But Hoover considers herself a planner — every last outfit is pre-arranged the night (or even week!) before, down to her underwear. Being meticulous is easy when you know what you like, and in her case it's plenty of color, jewelry, and a little '90s-era Clueless flair.
Growing up in Indianapolis, Hoover developed a love of art by frequenting local museums with her grandfather. She studied art history at New York University and went on to get a master's degree in cultural theory from Columbia University. Hoover joined Gagosian while she was still a student and has risen through the ranks in the past ten years. The Cut caught up with her at the gallery's Urs Fischer exhibit to learn about her colorful wardrobe, love of heels, and why Alaïa is the ideal evening look.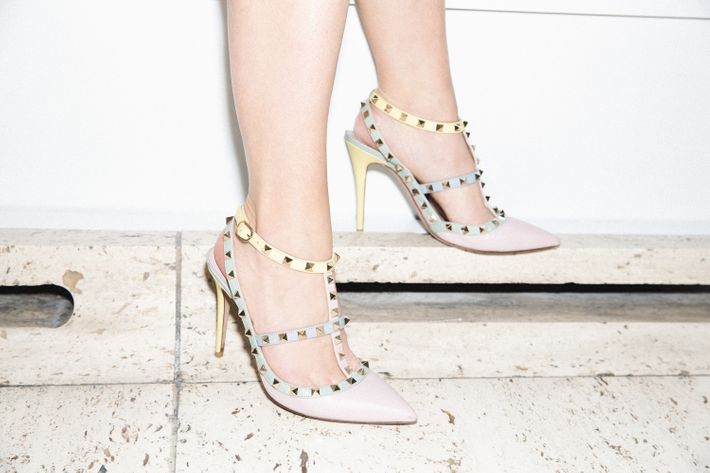 On her unusual approach to work shoes: I love an inappropriate shoe at work — especially in the art world's busy seasons of fall and spring. That's the time when we open our major exhibitions, with many collectors traveling to New York for auctions and fairs like Frieze. I choose a heel that's really high, often in a bright color or with some sparkle. Plus I love anything with a platform! I consider the greatest platform ever gifted to humankind to be the one by Prada. It's my year-round work staple since it looks cool with socks.
On comfortable shoes: When I do wear flats, I love the ones by Miu Miu with crystals in the heel. Prada brogues are another favorite — they skew my look to be a little more "schoolgirl," which I'm almost never against. As a '90s child I found Cher Horowitz in the second act of Clueless (after she realizes being nice is cooler than being mean) to be my style guru, and that hasn't really changed. I also really love Chanel. They make low heels that often have some exciting design element, like glitter. During the slower months, like summer, I'll wear sneakers. Céline's platform version is so comfortable but still gives you height. Plus they're very warm so I can wear them through winter.
Shop Fun Flats
On big meetings: I approach every meeting and project with enthusiasm, and that mind-set extends to my clothes, accessories, and even the paper and pens I bring to take notes. I'm always in heels because it looks more formal and like I put effort into my presence. In the winter I choose stacked-heel ankle boots with a leather pencil skirt or pants, and a colorful knit top with as many accessories as I can accommodate. I'm very picky about my knits. I will not accept anything less than baby soft, and I'm continually shocked by the big brands that sell crazy-expensive scratchy ones — that's abusive to the customer! My favorites are usually made in cotton because they don't get too hot, and I'm a chronic overheater. I tell myself it's because I have such an efficient metabolism.
In the summer I switch to stacked heel Mary Janes. Chloé and Gucci do great versions. I also love anything by Charlotte Olympia — they are the most fun and always go on sale! I like to wear them with short dresses and bare legs. I have a lot of vintage cotton sleeveless dresses that I rotate, and I love HVN since they're vintage-inspired.
On her accessory philosophy: I almost always wear earrings. I used to be a ballerina, and my coaches always said to pull your hair back to show one cheekbone and a little ear bauble. I love kitschy pieces — it doesn't have to be fancy in order to look like you put in the effort to "ice the cake." I love cheap rhinestone hair accessories, especially the bows from Zitomers across from the uptown Gagosian location.
Shop Colorful Earrings
On her lack of desk shoes: I keep nothing at my desk! I'm a major planner — I map out my outfits ahead of time down to the undies. I'll wear whatever comfortable shoes are seasonal to work, keep the heels I need in my bag, and swap out as needed. I actually get distracted with options, so this system works better for me.
On nights out: If I need to go out after work to a proper event, like a museum gala, I try really hard to go home to change. I have a 7-month-old, so it's nice to be able to spend even five minutes with him. On the days when I can't do that, I feel like I'm really messing up. And it's just sad because he's my little happy buddy and I need to get my fix.
I feel like my work outfits are very "day" since I wear a lot of color. I like a different type of costume come night, when I wear a lot more black and try to be more sleek. My dream-world work event looks are Alaïa or Alaïa-inspired, so they're slightly body-conscious even when they are covered up. My standard evening outfit would be a black Alaïa skirt and bodysuit with a high ankle boot. I'd throw my hair in a high ponytail and add 75 coats of mascara and some smoky eyeliner.
On her shopping philosophy: You need one perfect outfit for each type of occasion, not a million different mediocre options. I don't like lots of stuff. I buy a few things and I make them work for many, many years. If it's absolutely perfect, I will go to the end of the internet to find it on sale, and I will treat myself. But most clothing out there is a waste. It's trendy, not well made — it's designed to be consumed and tossed. I'm not into those ethics. People get tricked into thinking they "need" so much stuff. I'm definitely in the very luckiest of lucky positions to be able to afford clothes that I want and like, so I feel a responsibility to not be wasteful about it. I appreciate the things I own, choose them for their perfection, and treat them like they deserve to be treated. I wear my things to death but I repair them and maintain them.
On Mondays: Galleries are open Tuesday–Saturday, so most people have the day off on Monday. So I'll wear RE/DONE jeans, Nike Mars Yard sneakers, and a sweatshirt or a vintage hard-core punk T-shirt I stole from my husband. Tuesday, which I consider my "Monday," is often my busiest day of the week. If I'm planning to be in the office doing desk work most of the day, I will do a short A-line skirt in a bright color or plaid (I prefer Miu Miu or vintage), a collared shirt with a cardigan over it, and a tailored blazer. I bought an Alexander McQueen blazer on sale in Paris during grad school and it has never let me down. I'll add on little socks in the summer and fall or black tights, and sparkly flats. If I'm going to be public-facing, I'll wear heels instead.
On her personal style: People read the way you dress as a projection of your personality, so if you're in a public-facing job you have to understand that. I get a lot of happiness out of getting dressed in a way that feels true to me. Getting ready for work is a true joy for me — I pick out my outfit the night before and sometimes I even plan my entire week on Sunday, when I'm doing my schedule.
I used to dress a little more quietly at the office, but at some point I was like, You know what? I didn't work really hard for years to get a job in the art world so that I could dress like I hate life. I was sick of only wearing the clothes I've worked so hard to buy only on the weekends. It's more fun to be myself, it makes me more excited to go to work, and it makes me feel more empowered when I'm there. People might see my outfits and think I'm the most hetero-normative stereotype on the planet, with all the pastels, sparkles, bows, and costume jewelry. I like to play with those conventions. If someone underestimates me because I wear pink, then that sucks for them. I will work any hours and do anything to get the job done, I'm vigilant, a perfectionist, I cross every T, I am type-A as hell and I love my job.
If you buy something through our links, New York may earn an affiliate commission.